Motorola is known for its late software updates. Currently, the OEM is rolling out a software update which brings the June 2018 Android security patch for Motorola Moto G6. This latest update brings a new build number OCN27.79-28-38 based on Android 8.0 Oreo. The current software is available in China. Apart from the security level step-up, there is no other important upgrades or features that the latest software has to offer.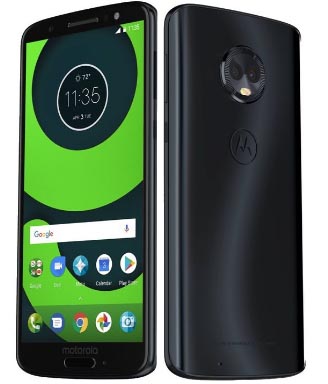 Motorola Moto G6 is a dual SIM and budget smartphone that is available since April 2018. This device flaunts a 5.70-inch touchscreen display with a resolution of 1080 X 2160 pixels. It runs Android 8.0 Oreo out-of-the-box. This handset from Motorola runs on an octa-core 1.8 GHz Qualcomm Snapdragon 450 processor. Also, this has a 4 GB of RAM in the set-up. This phone has 64 GB of expandable internal storage. In the camera section, the Moto G6 brings a dual camera of 12 MP +5MP. An 8 MP selfie shooter teams-up on the front side.
The software OCN27.79-28-38 is knocking into the devices as an over-the-air(OTA) update. OTA always drops in a phase-wise manner. Not all devices are going to see the update at one time. However, if don't like waiting, you may try capturing the OTA manually. Go to device Settings > System > System Update. If you see the OTA showing up with the latest version, download and install it.
Connect to a Wi-Fi connection to download the OCN27.79-28-38 OTA update. Using Wi-Fi will save your carrier data charges. Also, before downloading and installing the OTA, make sure that your phone has a minimum battery charge of 50%. In case, you want to update your moto G6 with the June security patch, then we have also got the firmware which you can download and flash manually.
Download OCN27.79-28-38 for Moto G6 [OTA Firmware]
Here is the stock firmware download link that brings the June 2018 security patch for the Moto G6.
OCN27.79-28-38 Firmware for Moto G6 | Download 
How To Install Latest Firmware Update on Moto G6
You may flash the firmware by ADB sideload or by using the fast boot method. However, before processding towards installation, you have to follow certain guidelines which we have listed below.
Pre-Requisite:
This firmware will work only on Motorola Moto G6
Charge your phone to at least 70% more
You need either PC/Laptop
Download Minimal ADB and Fastboot Tools Zip
Download the Motorola Device Driver
Charge your phone for at least 70%
Backup your device just in case if you need it later
ROM ADB Sideload
Below you can find the link to the complete guide that you can use to ADB sideload the latest ROM for Moto G6.
How To Flash the Latest Firmware on Moto G6 by ADB Sideload
Alternatively, you can try installing in another way, fast boot method. Below you can see the steps.
Step-1 First of all, Unlock the bootloader on your phone. If your device is already unlocked, then skip this step.
Step-2 Now Install the ADB Fastboot on your PC.
Step-3 Move the Moto G6 firmware you downloaded to ADB fast boot folder.
Step-4 Now boot your Moto G6 into bootloader mode by turning the phone off, press and hold the VOLUME DOWN + POWER button simultaneously for few seconds until you see the bootloader menu on your phone screen.
Step-5 Once you are in the bootloader menu connect your Moto G6 to PC using the USB Cable.
Step-6 Open the ADB Folder where you moved the firmware file.
Step-7 In the ADB folder, hold the Shift Key (keyboard) and click the Right-click button (mouse) on an empty screen inside the ADB Folder.
Step-8 You will be seeing this option to open the command window. 
Step-9 Once you see the command screen, now you can type the below command one by one on your PC.
mfastboot flash partition gpt.bin
mfastboot flash bootloader bootloader.img
mfastboot reboot-bootloader
mfastboot flash modem NON-HLOS.bin
mfastboot flash fsg fsg.mbn
mfastboot erase modemst1
mfastboot erase modemst2 
mfastboot flash bluetooth BTFM.bin
mfastboot flash dsp dspso.bin
mfastboot flash logo logo.bin
mfastboot flash boot boot.img
mfastboot flash system system.img_sparsechunk.0
mfastboot flash system system.img_sparsechunk.1
mfastboot flash system system.img_sparsechunk.2
mfastboot flash system system.img_sparsechunk.3
mfastboot flash system system.img_sparsechunk.4
mfastboot flash system system.img_sparsechunk.5
mfastboot flash system system.img_sparsechunk.6
mfastboot flash system system.img_sparsechunk.7
mfastboot flash system_b system_other.img
mfastboot flash oem oem.img
mfastboot erase carrier
mfastboot erase userdata
mfastboot erase ddr
fastboot reboot
So, that's it. Now your Moto G6 will be updated with June 2018 security patch with build OCN27.79-28-38. Though its quite a late update, we suggest you don't miss it and install it soon. We hope this guide helped you.