From this guide, you could download the latest OnePlus USB Drivers for Windows and Mac. OnePlus devices have always been known to provide feature-rich devices at an affordable price. Recently it has launched its latest flagships and it has managed to impress one and all. Its underlying customized Android skin, OxygenOS, is often regarded as among the most customizable Android OS. To further complement its usage, you could connect your device to a PC and carry out tons of tasks.
These include the usual file transfers, making full use of the ADB commands, using MTP and MIDI mode, and a plethora of others. But for all these tasks, your device needs to be recognized by your PC in the first place. It doesn't matter if you have Windows PC or a macOS, until and unless the necessary drivers are installed, the connection stands futile. Therefore, in this guide, we will show you how to install the latest OnePlus USB drivers on your Mac or Windows setup. But first, let's check out what exactly is a USB driver and why are they needed in the first place.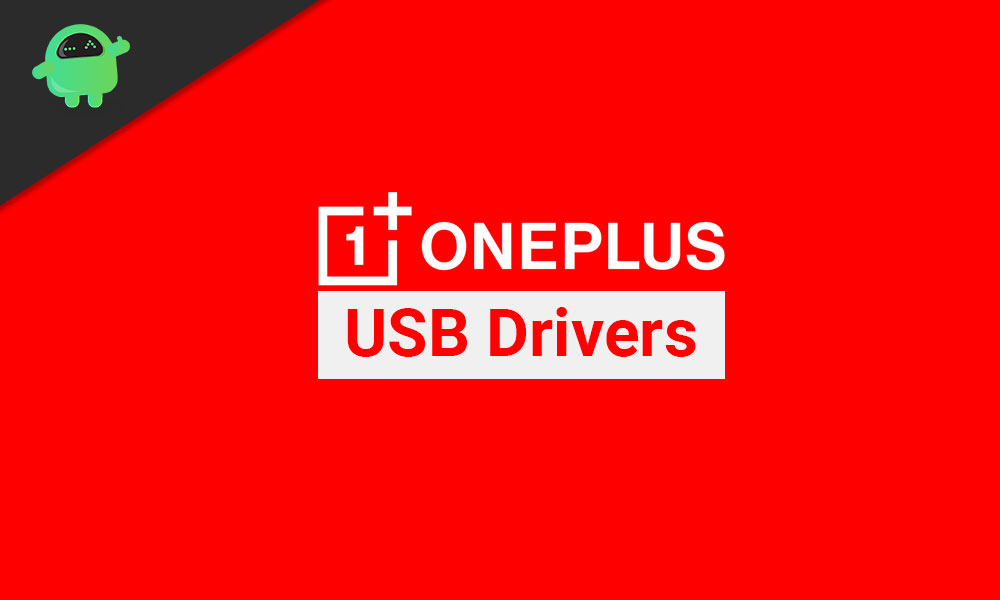 What is USB Drivers
For the unawares, USB Drivers is a software program that helps a hardware device to communicate with the operating system. It provides the necessary tools and interfaces for efficient communication between both these devices. Furthermore, they aren't only limited to smartphones. Be it a camera, mouse, keyboard, or an external hard drive, everything that is connected to your PC via a USB cable needs these drivers.
Once installed, your PC will display the menu according to the connected device. For example, if you connect your camera, it might display options related to the transfer of photos, or for a music player, the transfer of songs. All in all, to establish a successful connection between your device and PC, USB drivers are a must. With that said, let's check out the need for these drivers, keeping the spotlight on the OnePlus USB Drivers.
What is the Need for USB Drivers
There are a plethora of things for which you might need these USB drivers. To begin with, you could connect your device to a PC and transfer any type of files between your smartphone and PC. The transfer could be done to your Internal Storage or Memory card, there isn't any limitation in that. Similarly, there ain't any restriction to the type of file that could be shared across the devices. Furthermore, sharing of your device's WiFi via USB is also possible, using the USB Tethering feature. Along the same lines, you could use the MIDI for dealing with musical devices or the PTP mode for transferring photos via the camera software.
These are some of the general-purpose software. The tech geeks could take this a step further and carry out a plethora of tweaks. But for most of these customizations to try out, USB Drivers are a must. For example, executing ADB or fastboot commands, unlocking the device bootloader, booting the device to bootloader fastboot or recovery mode, flashing ZIPs, and IMG files require the appropriate USB Drivers installed on your PC. As far as OnePlus goes, they are always known among the best players in the custom development scenes. So the requirements of the USB Drivers for your OnePlus devices should be even more.
So all this might have given you a perfect idea regarding the USB Drivers and their advantages. You could download the USB drivers corresponding to your OnePlus devices from the below section. After that, you may proceed with the installation steps of OnePlus USB Drivers on Windows and Mac. Follow along.
Download OnePlus USB Drivers for Windows and MAC
Here is the complete list of OnePlus USB Drivers. This includes all the 7 smartphones Onepalus made and selling as of now.
Download OnePlus ADB/Fastboot For Windows and Mac
Here are the respective links for OnePlus ADB/Fastboot files for Windows and Mac OS users.
How to Install OnePlus USB Drivers on Windows and macOS
Download and extract the OnePlus USB drivers on your PC.
Then double-click on the .exe file to launch the setup.
Select your language from the pop-up that appears and hit OK.

Next up, click on the Install button to begin the process.

This takes a few seconds after which you will be notified about the installation success. You may now click on Close to close the setup box.

That is it. You have successfully installed the OnePlus USB Drivers on your PC. If you have any queries with regards to any of the aforementioned steps, do let us know in the comments section below. Rounding off, here are some iPhone Tips and Tricks, PC tips and tricks, and Android Tips and Trick that you should check out as well.