It's a common trait in Android to see when a new version of operating system releases its features gets integrated with other Apps. Android Pie is a good example of this. With the 9th version of Android OS, we have the new Recent Apps. This feature is of course integrated on Pixel launcher. However, other launchers are compatible with it as well. this includes the 3rd-party launcher too. Now you cannot simply put in any launcher on your device. It's not that simple. So, to make it simple we bring you a Magisk module called QuickSwitch. In this post, we will tell you how to install it.
With QuickSwitch, you can install any launcher has access to quickstep (Pie recents App). It automatically detects which launchers support the recents App feature. Also, it is fairly simple to use. However, you need root access on your device to install this Magisk Module. Speaking of which, it's mandatory to flash your phone with latest magisk before flashing this module. You can find all the necessary links in the download section. This Magisk module was developed by paphonb who is also a developer of Lawnchair App. Cheers to him for his hard work on this.
Though this Magisk module supports a number of 3rd party launcher, it apparently doesn't support Nova Launcher. According to the developer. soon Hyperion launcher will also get supported. Below you can see QuikSwitch in action. It supports Pie Recents.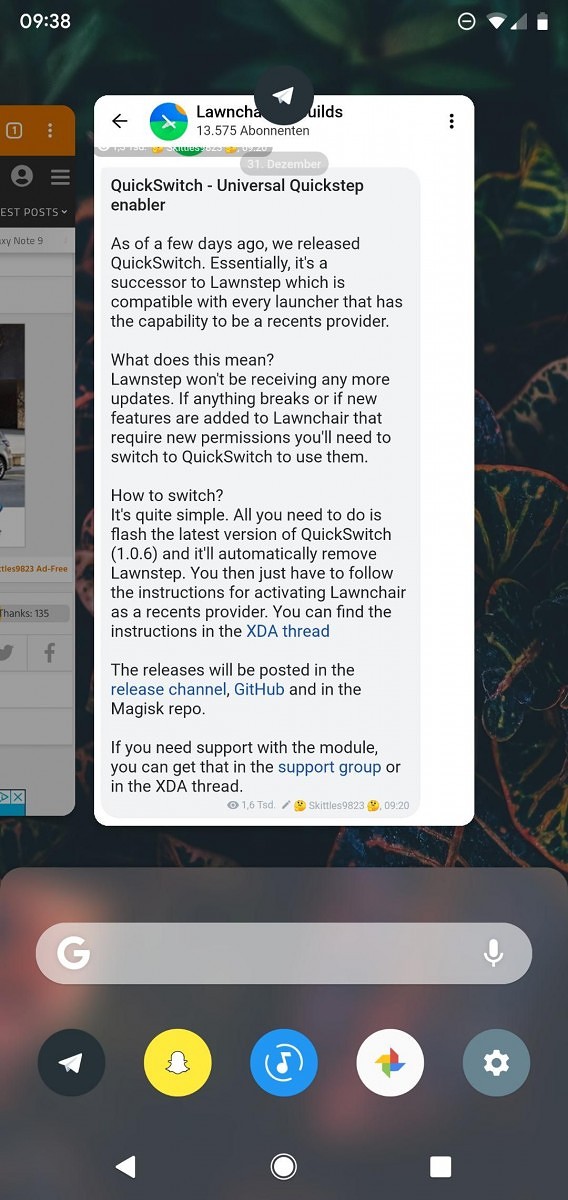 Download QuickSwitch [Magisk Module]
Here is the download link for QuickSwitch.
Download Quick Switch Magisk Module
You May Also Like,
How To Install QuickSwitch on Any Android Device
Before beginning with the installation, you have to follow the guidelines we have mentioned below.
Pre-Requisites
You must unlock the bootloader of your device.
The phone must run on Android 9.0 Pie.
Any 3rd party launcher that supports features of Android Pie.
GetDroidTips will not be responsible for any brick or crash which your device may face after installing this modification. Do it at your own discretion.
Install QuickSwitch
Step-1 Download the Magisk Module
Step-2 Go to magisk manager > Install the QuickSwitch module
Step-3 Now reboot your device.
Step-4 Open the QuickSwitch app.
Step-5 Select any launcher which qualifies as the recents provider.
Step-6 Again reboot your device.
So, that's it, guys. If you are keen on trying out latest Android OS based launchers, preferably Pie OS, then grab the Quick Switch Magisk module. Install it and enjoy any launcher of your choice with features of Android 9.0 Pie.