Samsung DeX is a native application which allows Samsung Galaxy device users to use smartphones on a desktop interface. Previously, it was developed for the Galaxy S8 series devices. Then available for Galaxy S9 and S10/Note 10 models as well. The device owner needs to connect their phone to a docking station and use Android as a personal computer. You can also connect it to a TV for the big screen experience and by using a USB cable, open a new world of desktop possibilities. Now, the stock wallpapers for Samsung DeX has also released for the public. You can download Samsung DeX Stock Wallpapers from here.
There are four stock wallpapers available right now which you can download from the bottom of this article in a zip file. All the images are in a high-quality resolution which is 1920×1920 pixels. The images look quite good and stunning in terms of minimal design.
Before going to the download section, let's head over to the DeX overview.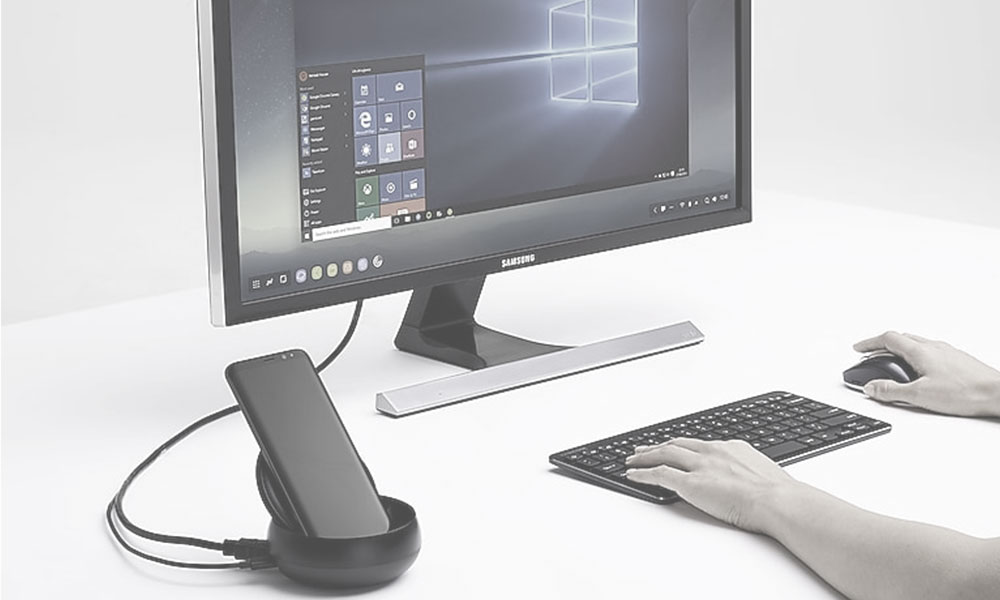 Samsung DeX: Overview
The DeX term is similar to the 'Desktop Experience'. You can do seamless multitasking between your Galaxy device and your computer or TV. By connecting your device with the PC via a USB cable, you can move slides from your phone easily, using two screens at the same time. You can also watch videos, view/move documents, checking messages, calls, and more.
Additionally, you can connect your Galaxy Tablet device with DeX and can work as a laptop with the mouse and keyboard wirelessly. The DeX mode will increase your productivity by enabling desktop working environment like multi-windows, drag & drop, right-click on a mouse for more functions. The MS Office, PDF reader, Skype, etc works fine on DeX mode.
It supports HDMI ports, USB Type-C port, two USB 2.0 ports, and one Ethernet port. Samsung DeX devices can be managed by Samsung Knox security (v3.3 or higher). It will allow or restrict external access using the Knox security platform for more privacy.
Download Samsung DEX Stock Wallpapers
All the 04 wallpapers are in 19:9 aspect ratio and come with 1920×1920 pixels resolution. These wallpapers will fit on any smartphones having an 18:9 or higher aspect ratio screen. The images are looking good and eye-catching too.
We have provided the wallpapers download link below in a zip file. You just need to download and extract the zip file on your handset. Then search for the images from the device Gallery or File Manager app directly and set your preferred image as a home screen or lock screen easily. You can also go to the Wallpapers section as well and set it.
Download-Samsung-DeX-Stock-Wallpapers.zip