Today almost a million users are using high-end technologies all around the world. If you randomly ask anyone what search engine they use, the answer will come, Google. Though a number of users make use of the mighty Google to get their search results, somewhere they are also compromising their privacy. This means Google tracks its users.
By tracking, we mean storing the IP addresses, user cookies, user search data, etc. There is no need to worry though. Google does it only to improve search results and provide specific ads. If a user searches for some topics, then Google's algorithm take note of what all related stuff the user is looking for. Then next time when the same user searches for the same or related topics Google will show up more refined results that would cater to the exact needs of the user.
You may ask, what if I don't want the search engine to track me.? Well, Google is not the only search engine in the world. However, if you don't wish anyone to track you, then you can use DuckDuckGo. The name may sound funny, but this search engine currently ranks at 167 on Alexa. It doesn't track its user, neither it stores any IP address or search details.
In this post, we will discuss what is DuckDuckGo.? Also, we will talk about whether it is an effective search engine that actually cares about user privacy.?
Related | How to Add DuckDuckGo Search Engine to the Chrome Browser on Android
What is DuckDuckGo.?
Now, let's see What is DuckDuckGo and how can it be a better alternative for Google.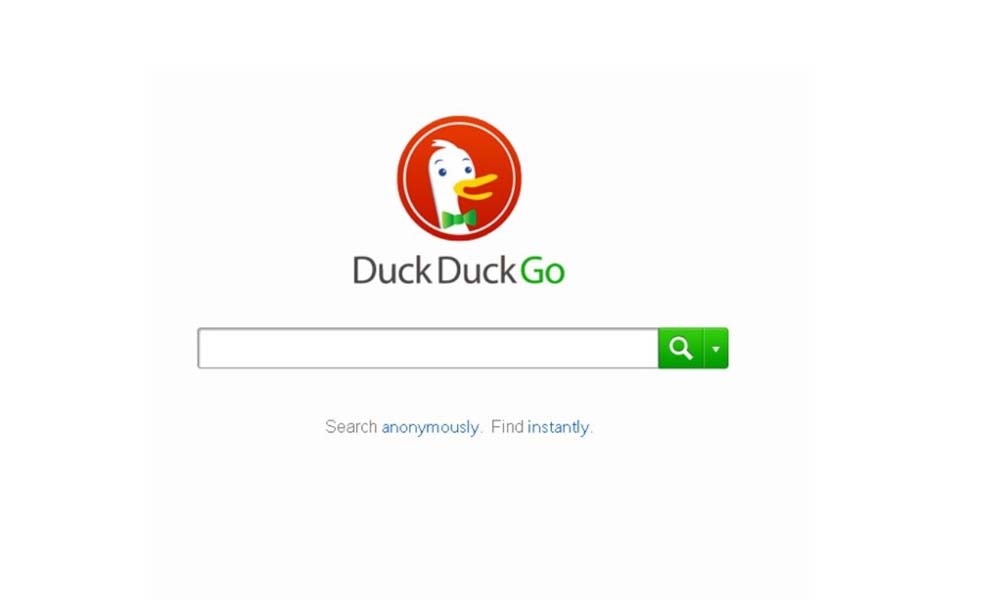 This search engine came into existence way back in 2008. It mostly focuses on providing the best possible search results. DuckDuckGo generates those websites in the results that provide genuine content. The search engine is popular for weeding out possibly low-quality content.
What Makes this Search Engine Effective.?
Now, let's take a glimpse at the various features of the search engine. One of the major features is the Instant Answers. These are mostly the top search results which source back to third party APIs.
Also, a user can enjoy the experience of end-to-end anonymous search. This means the whole process of searching, displaying search results and user access to the webpages follows end-to-end encryption. This is possible due to the use of the Tor network by the search engine.
DuckDuckGo also has this feature called Bang keywords. It enables the user to search on third party websites using their own search engine.
Most importantly, the DuckDuckGo search engine doesn't collect or share any kind of personal information. Of course, they keep a log of all the search-related info. However, that won't source back to any user. This means there is no info on who is the user who searched for a particular topic. So, no scope tracking the user.
Is DuckDuckGo Safe to Use.?
From a broader perspective, we can simply say that if you wish to have a private browsing session, then DuckDuckGo is a great option. However, if you want a more detailed search result, related functionalities and you trust popular names, then Google is the thing for you.
If you Google about a place, you can get a recommendation for travel, food, sightseeing places, and whatnot. You even have the Google Map ready to navigate you the details. But with DuckDuckGo, you won't get all these features. It is only available for PCs as a Chrome extension. Also, it is available for Android and iOS-based smartphones. Whereas, Google has a lot of products that can actually help to provide you help as we mentioned.
Then again Google makes your IP address available to 3rd party so you get those advertisements for the products you searched about on google. These are user-specific ads differing from person to person. Of course, in today's date of information leaking, a multitude of users would wish to not get tracked. Here is when DuckDuckGo comes into your rescue.
DuckDuckGo offers much more than that. It offers a 1-page result only unlike Google that provides multiple results based on search page ranking. Unlike Google, using DuckDuckGo won't provide you specific search results varying from user to user. Every user will get the same result.
At the end of the day, if you are a hardcore privacy oriented user, then DuckDuckGo dot com is the thing for you. Otherwise, if you want a more integrated and detailed approach towards getting more of your search results, Google is your thing.
So, let us know which search engine would you prefer and why.? Also, check out our other informative guides on Android and Windows.
You May Also Like,