The hotspot option is considered to be a great addition to many smartphone users. They don't need an extra dongle while traveling when they are traveling with a good data bundle and a hotspot option on their smartphone. But there are many users who aren't familiar with the availability of wireless hotspot option with their device. The one reason can be that they never really dig deep into their device settings. The other reason is that in countries like USA mobile carriers disable this feature in most of their devices. This is done to stop sharing the data and only make it available to a single user. But there are apps available today which will help to bypass this by making changes in the APN settings. This article will explain How to edit APN settings and enable Hotspot on Galaxy Note 8.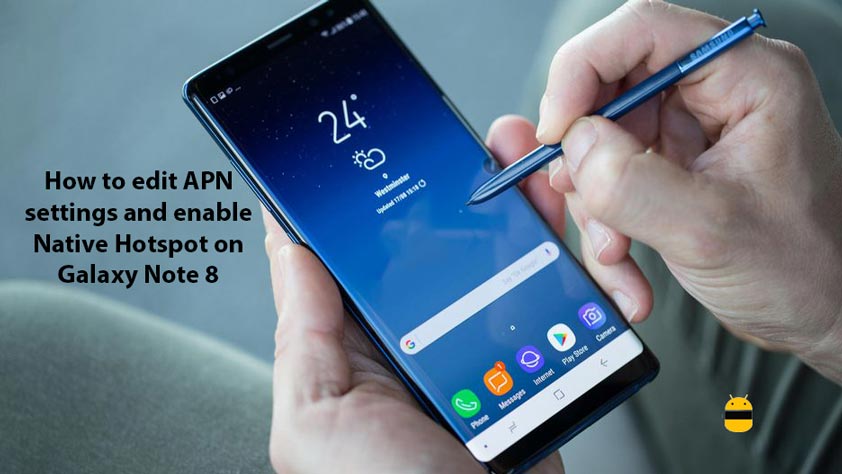 Ways to edit APN settings and enable Hotspot on Galaxy Note 8
The only thing you need to do this is an app named as 'Shortcut Master Lite'. This is an app which is actually developed to find out any secret codes or shortcuts that are hidden on your Android device. But the same app can be used to enable the native hotspot option on your Android device. You can easily download this app from this link.
How to edit APN settings using Shortcut Master Lite
The steps to edit APN settings of your Galaxy Note 8 using Shortcut Master Lite are:
Open the Shortcut Master Lite app
Tap on the menu icon, which will be three dots on the top right corner
Tap on app explorer
Search and tap on com.test.LTEfunctionality
Tap on LTEFunctionalityTest
Tap on launch
Tap on LTE APN Setting
Select the preferred APN settings based on the carrier or add your own by tapping on add option
Tap on save when done
How to enable native hotspot
The steps to enable native hotspot using Shortcut Master Lite app are:
Make sure your carrier APN settings is selected
Tap on APN type
Add DUN
Tap on save
I hope this guide was useful in understanding how to edit APN settings and enable Hotspot on Galaxy Note 8. If you have any queries or feedback, please leave a comment below.