Lately, there has been great hype for the dark mode or dark theme for various applications. Usually, the basic material design of Android is of white color. The white color is quite bright and affects the eye if you use it more in the night time. So, innovation leads to the introduction of the dark mode. Around mid-2018, there is a great demand going for the dark theme. Google has already made the dark mode available for few of its apps. Apart from Google App, popular names like Facebook has also been testing the dark theme. The Messenger App of Facebook has been testing this feature for quite a time now. There is no proper info on when this feature will be available for everyone. However, there is always an alternative. In this post, we will tell you how to Enable Dark Mode on Facebook Messenger.
To be very clear, there are two ways. Either you are registered user in the beta channel of the application. So, in that case, you will have the privilege to try out the new features first as and when the developer creates it and makes a limited release. The issue with the beta release is, at most of the times, it is limited only to a few selected users. Even though some of them are registered in the beta channel, they don't get access to the latest features rolled out in the beta. So, in this case, the best option is to root your phone. In this guide, you need to be registered on the beta version of facebook messenger.
How To Enable Dark Mode on Facebook Messenger
First, you have to download the Messenger App (beta version). Then you need to download any terminal App so that you can make some changes by adding some piece of code. This should enable the dark theme on facebook messenger..! Below we have added the download links for both the beta Messenger App and the terminal App. You can use any terminal app of your choice.
Downloads
[googleplay url="https://play.google.com/store/apps/details?id=com.facebook.orca"]
[googleplay url="https://play.google.com/store/apps/details?id=jackpal.androidterm"]
You May Also Like,
Now before installing or performing any modification, you need to follow a few guidelines. We have put them up below.
Pre-Requisites
Any Android smartphone with root access.
Make sure to install the terminal App on your phone
Charge your phone up to 50% or more before performing any modification.
Take a complete backup of your device data before modifying your device.
You must use the beta version of Facebook Messenger
GetDroidTips will not be responsible for any bricking/crashing of your device while/after installing this modification.
Steps to Enable Dark Mode on Facebook Messenger
Step-1 Download both the facebook messenger with beta and the terminal App.
Step-2 Open the terminal and give the following command to attain root permission. After you give this command, if you have proper root access on your device, the command line cursor blinking as $ will turn into #.
Su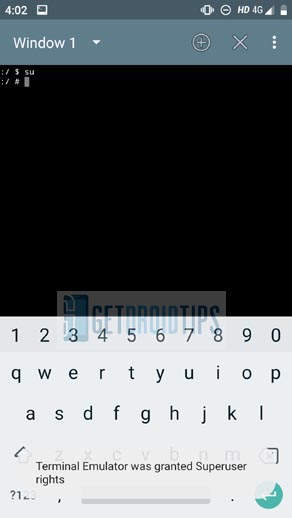 Step-3 Now give the following command.
am start -n "com.facebook.orca/com.facebook.abtest.gkprefs.GkSettingsListActivity"

This command will give rise to a dialog box which is called Search gatekeepers.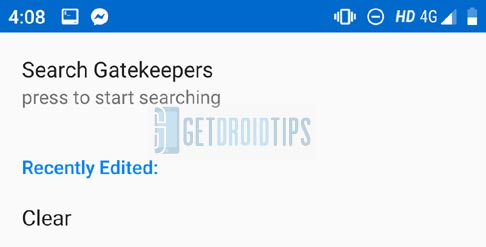 Step-4 Tap on Press to start searching > type dark > tap on OK.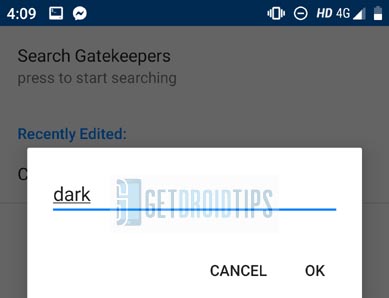 Step-5 In the next dialog box you will see a few options with value Yes or No written beside them.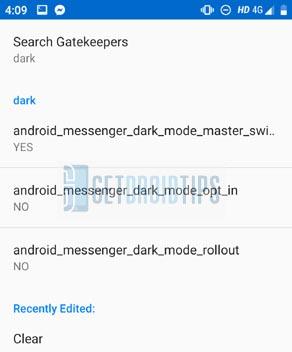 Step-6 Tap on each option. You will see the value of every option turns into Yes. Make sure all options must be set to Yes.
Step-7 Now close the App as well as the Terminal App you are using.
Step-8 Now reopen the Messenger > tap on your profile picture > Check in Preferences. You will now see an option called Dark Mode with the toggle button. The dark theme isn't enabled yet.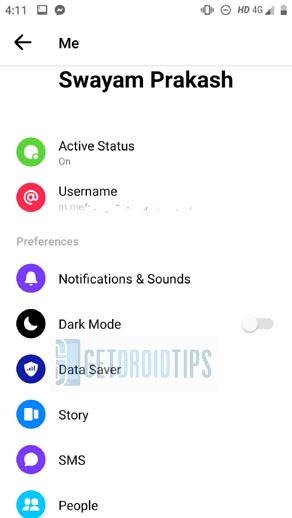 Step-9 Tap on the toggle button to activate the dark mode. You will see a message like this. The message says the work on Dark theme is in progress. Enabling it now may not provide the dark theme in all sections of Messenger.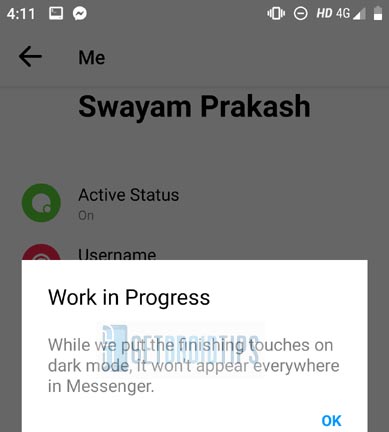 Step-10 Tap on OK. Now the dark mode will be activated. This is how it looks once the dark mode is enabled.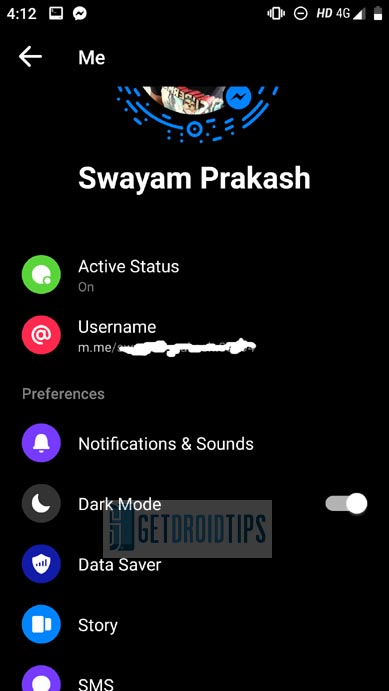 So, that's it. Now you have successfully activated dark mode on your facebook messenger. So, if you want to Enable Dark Mode on Facebook Messenger, then follow this guide. We hope this guide was helpful for you. If you have any queries do let us know in the comments.