In this post, we will show you the steps to enable Dashboard features in macOS Catalina. With the introduction of macOS X Tiger way back in 2005, we welcomed the Dashboard. Since then, it had become an integral part of the Apple ecosystem. While it wasn't getting any considerable updates or improvements over due course of time, yet many users still flocked to it. The ability to access the clock, calculator, weather, sticky notes, and 10 other widgets all at one place streamlined the workflow for everyday users.
However, with macOS Catalina, we finally bid adieu to this feature. As of now, there exists no hidden tweaks or workaround that would make it possible to recall it. However, if you are one of those people who are still looking to get back this functionality, there is still some good news. There exist some pretty handy alternatives that would let you give you most, if not all, the features of Dashboard in macOS Catalina. Follow along for the complete list.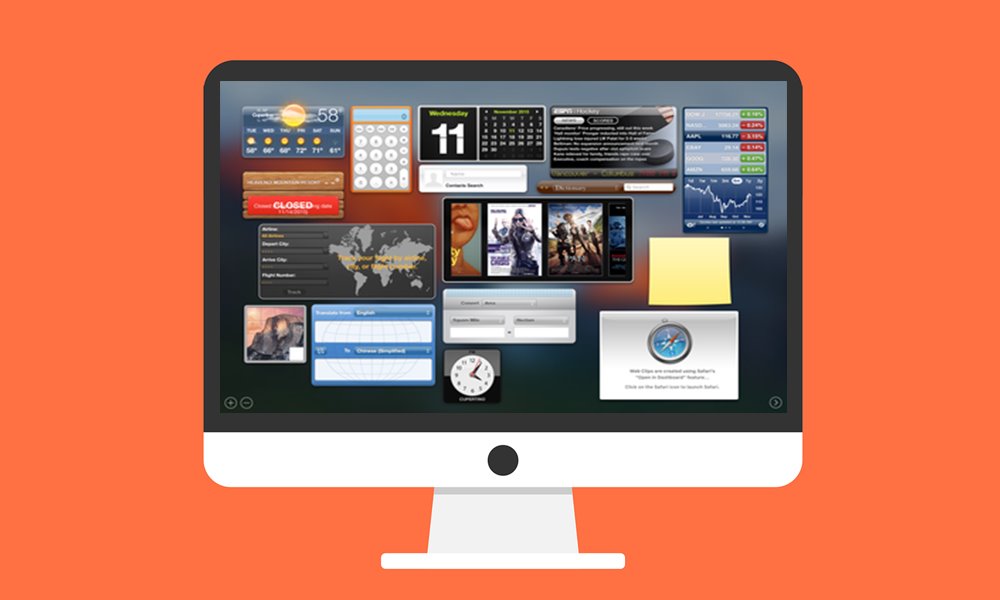 How to Enable Dashboard Features in macOS Catalina
Given here are four different third-party apps followed by Apple's own baked-in feature. Without further ado, let's check out these five options.
Infinity Dashboard
This is probably the most feature-rich dashboard alternative that you could get your hands on. Filled with around 35 built-in modules, it has covered near about every domain. These include current weather, travel times, website stats, stock prices, birthdays, currency rates, etc. You could even check the product prices on Amazon or check out your YouTube views and Facebook fans.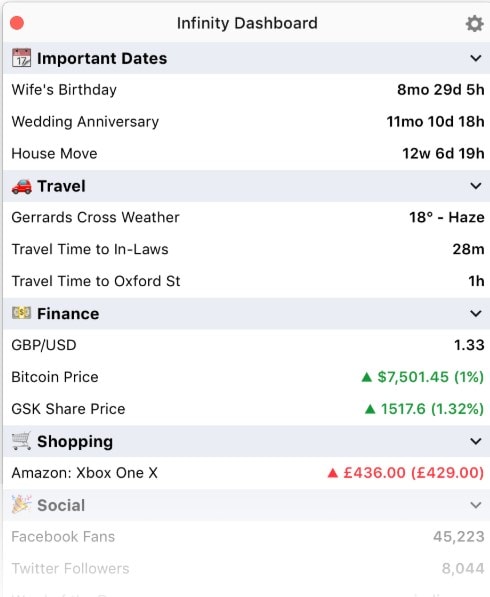 Likewise, it also holds information related to Fitbit stats, exchange rates, and your Mac system info. Then the geeks could take all this a step further and create their own modules using JavaScript. That's not all. You could even create a local server and upload your copy of the dashboard over there. This in turn will make the dashboard update in real-time, allow you to easily share your dashboard with others, or even use it on your Windows PC.
Widgets
The next alternative on this post on how to enable Dashboard features in macOS Catalina is Widgets. Well, the name says it all. This app beholds a widget for almost all the important tasks as well as at-a-glance information. For example, widgets for the audio player, unit-converter, calendar, calculator, clock, contacts, counter, dictionary, System Stats, Text-to-Speech, world clock are some of the noteworthy ones.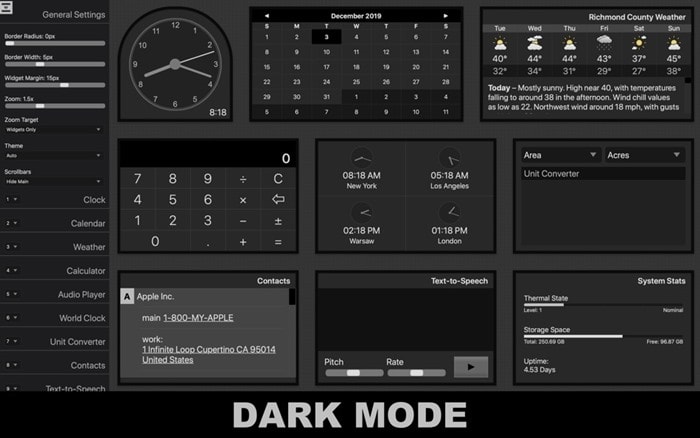 Then to kill your boredom, you could even try your hands on a Slide Puzzle game. Furthermore, out of its twelve modules, 11 of them work offline as well. So this doesn't only save your network bandwidth but also ends up scoring a few points on the security aspect. Moreover, all these widgets are responsive in nature and would automatically adjust to the available area on the screen.
iWall
If you are looking for a Dashboard alternative that checkmarks the aesthetically pleasing factor as well, then your search stops right here. The usual functions of setting up time and calendar widgets are still there. But taking all this a step further, you could even add a video as the background. There are some other reasons as well for its inclusion in this guide to enable Dashboard features in macOS Catalina.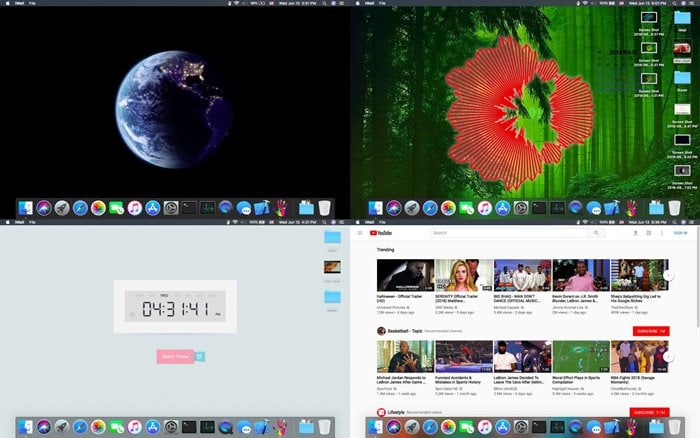 For example, you could also set a dynamic wallpaper that changes its color based on the time of the day. Likewise, you could even create your own dynamic desktop sources. These support 4K, 8K ultra high definition video as well. Although it falls somewhat short on the widgets list, it makes it up with some impressive GUI.
Dashful
As opposed to others in this list, Dashful doesn't have its own standalone app. Rather it only has a live web version. But even then, it isn't short on features. To begin with, you could add social media widgets that will help you in creating a check on your Twitch YouTube, and Twitter followers. Then you could also add a Time Management widget which in turn includes current date and time, countdown, year progress, and related modules. You can also add custom widgets, custom APIs, static KPI, image, and logos.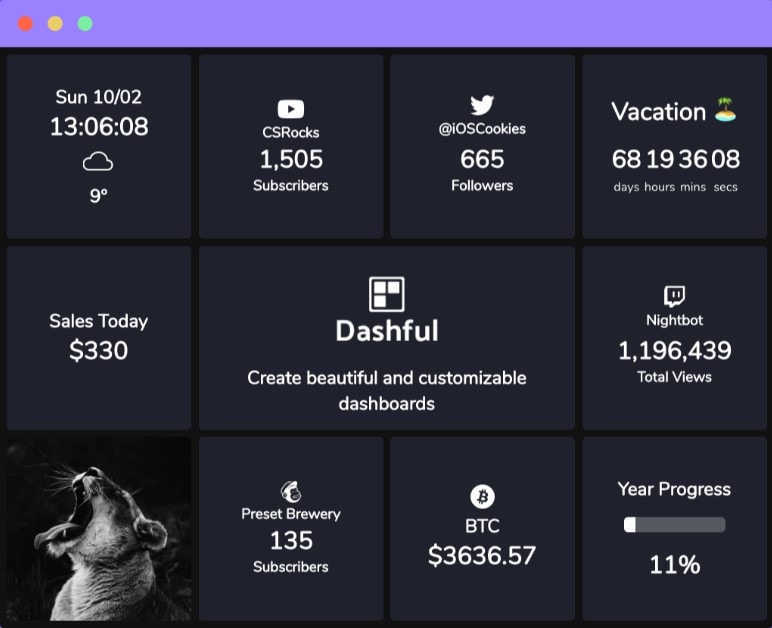 Then there is also an option to add <iframe> that will help you to embed various external resources. Furthermore, there are tons of themes and custom dashboard backgrounds that you could try out. Do keep in mind that all dashboards are public by default. However, you could also create a private dashboard with password protection. With so many features, its addition to this guide on how to enable Dashboard features in macOS Catalina was a relatively easy task for us.
Today View:
If you don't wish to take the route of third-party alternatives, then there's also Apple's own Today's View. When the technological giants decide to part its way from Dashboard in macOS Catalina, it introduced this functionality. So click the Notification Centre icon and head over to the Today tab.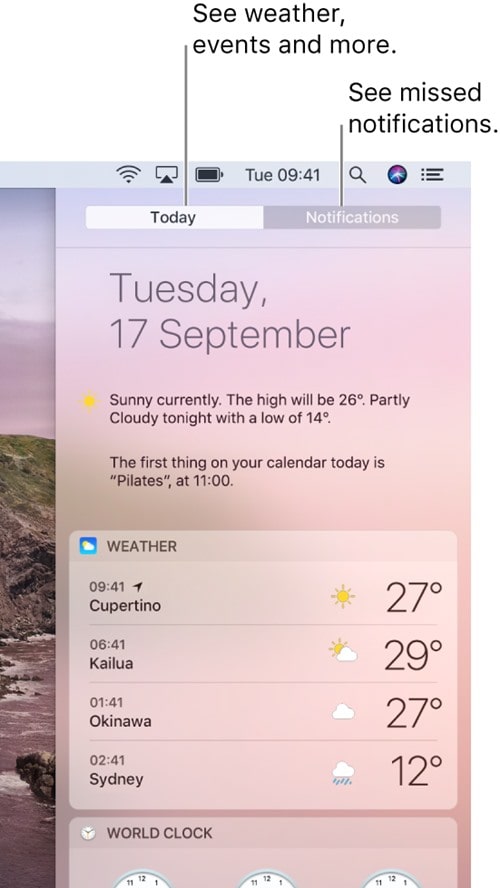 You could then make full use of some stock widgets like calendar, reminders, world clock, calculator, weather, among others. However, if you find something missing, you could also add third-party widgets. Likewise, you could also reorder these widgets, delete them, check out the battery health, add a countdown timer, etc.
So this was all from this guide how on to enable Dashboard features in macOS Catalina. Do let us know your preferred ones from the aforementioned list. Rounding off, here are some iPhone Tips and Tricks, PC tips and tricks, and Android Tips and Trick that you should check out as well.