21st Century has seen a lot of new technological inventions and a smartwatch is the perfect example of same. You might have no idea but a lot of people all over the world have shown great interest in it. Actually, technology is contributing a lot in making the life superior and everyone wants to do handle day-to-day tasks in the way they were never handled before. For this, people often try to make their gadgets suitable as per their need or in short we can say they often try to customize them to fit their needs. If you are an Android smartwatch user, doesn't matter of which brand, we guide you to Enable developer mode on any Android Wear Smartwatch.
Just like a smartphone, this task can simply be accomplished. By enabling developer mode, it is possible to make the gadget more useful. Markets in the present scenario are flooded with a lot of smart watches. They all have their own features and a lot of us pay a lot of attention while buying them. It is also true that smartwatches are helping a lot of people in keeping a close eye on their health. In fact, this is the reason for most of the people to invest in this gadget. The good thing is it's not very difficult to buy it due to its reasonable price.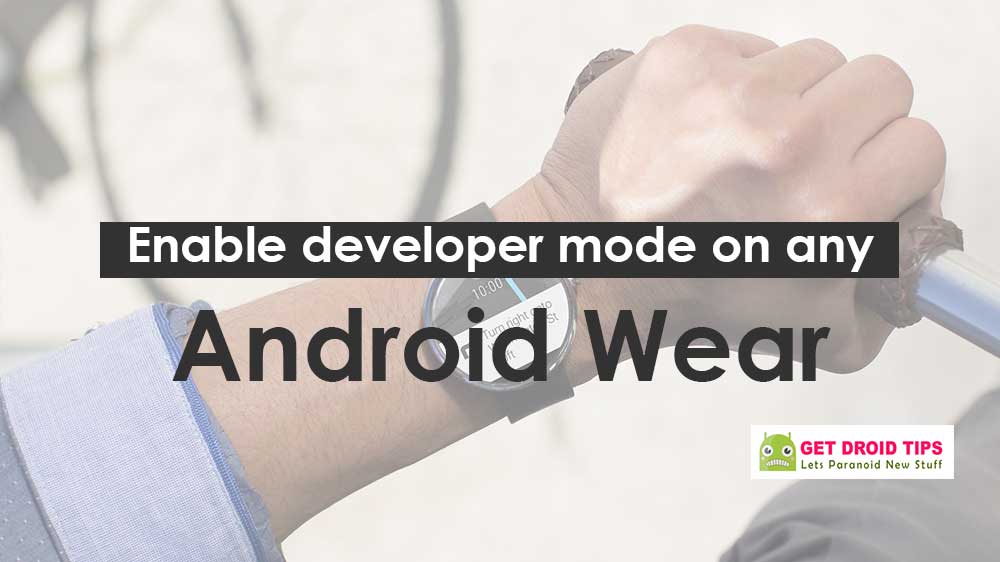 How to Enable developer mode on any Android Wear Smartwatch
In this post, we have mentioned two methods for enabling the developer mode on any android based smartwatch. The first method deals with Android Wear 1.0/1.5 while the other let you enable developer mode on Android Wear 2.0. Check out the below guide to Enable developer mode on any Android Wear.
Instructions for Android Wear 1.0/1.5
Very first, just swipe on the left of your gadget and Click on "Settings"
Go down and click on the "About" option
You will find an option "Build Number". Click on it 7 times continuously.
After this, a message will appear saying "You are now a Developer"
Go back to the "Settings" option.
Finally, click the "About" option and tap "Developer Options"
You are done.
Instructions for Android wear 2.0
Simply go down from the screen and click "Settings" icon
At the bottom, you will find "System Options". Click on it.
Go down and find "About" option
After this, you need to tap 7 times the build number option.
A message will appear on screen saying "You are now a developer"
Simply swipe to the right now
You can see the developer option at the bottom
You are done.
In case you have already performed this task on a smartphone, there is nothing new for you as the process is quite similar. The guide is simple and lets you enable the developer mode simply on your smartwatch. Good Luck!