Samsung's latest flagships, the Galaxy S8 and S8+ have a lot up their sleeves and people are burning a hole into their wallets to have them in their possession. But a question still remains. Why is there still just a single speaker on both of them? Most of you might not care but then you wouldn't mind dual speakers either would you? Trust me, having dual speakers can be or one of the coolest things to have in your life. Now you can enable Dual Speaker on Samsung Galaxy S8. Follow the full guide to Enable Dual Speaker on Samsung Galaxy S8
Luckily though, Samsung has a great developer support available for its devices. One such developer and XDA senior member, Otonieru, has created a mod that can bring pseudo dual stereo speakers to the Galaxy S8 and the Galaxy S8+. His solution simply enables the earpiece to act as a speaker, just like Motorola's implementation. Another version of the solution boosts the sound output coming out of both the speakers. You can have anyone of these versions.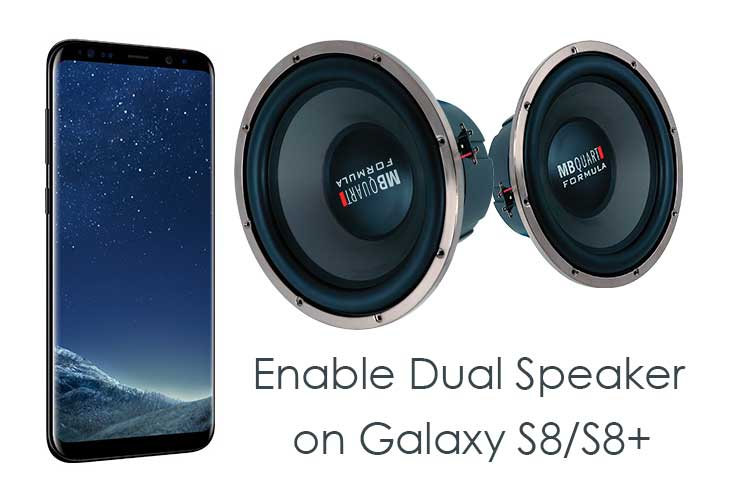 The mods are in flashable zip formats which means you will need a custom recovery such as TWRP to flash these. You will also need to root your device. The mods only work for the Exynos variants of the Galaxy S8 and S8+. In case, you have one of these devices running on the Exynos chip but do not yet have them rooted, then you will need to follow the rooting guide for the Galaxy S8. The guide also enables installation of TWRP recovery on your device.
How to Enable Dual Speaker on Samsung Galaxy S8 and S8+
First of all, You need TWRP Recovery on Galaxy S8 and S8 Plus. To install , Follow this Guide.
Download one of the two dual speaker mod zips. One enables dual speakers without meddling with the sound output while the other boosts sound output.
Transfer the zip to your Galaxy S8/S8+.
Turn off your Samsung device.
Press and hold the Volume Up key and the Bixby key, and press and hold the Power key.
When the Android logo displays, release all keys and wait for recovery mode.
In the TWRP menu, install the zip file you just downloaded.
Select the flashable zip and initiate the installation.
When installation is over, tap on the Reboot system and let the device reboot.
When the device turns on, play some music and you should be able to hear the sound coming out of the earpiece as well. If you flashed the zip with the volume boost, you will also notice a significant volume boost. Enjoy your dual speakers!
Now if you want to revert back to original settings, Download and move the original_mixer_paths.xml to your phone. Follow this step to revert back to Original Speaker sound on Galaxy S8 and S8+.
How to Revert Back to the Original Settings
Sometime we may not like this advanced sound mode, or in case if you want to revert back, you can just follow this simple method on your phone. This will revert back to original Sound settings.
First of all Rename original_mixer_paths.xml to mixer_paths.xml.
You should Move the file to /system/etc/ and replace the modded xml file. You can use Solid/Root Explorer to move and replace
Make sure you grant permissions to the file you moved.
Sets the file permission to 644 (RW-R-R).
Reboot your device.
That's it!!….