New updates are added on March 06, 2020: The Essential PH-1 was spotted running Android 11 on a Geekbench listing. Moreover, this also hints that the Android 11 DP 1 GSI is up and running for the Essential Phone. Users should note that Geekbench listings are often faked and anyone with some knowledge of rooting and developing can forge the numbers. But, since the Android 11 DP 1 GSI image was already available for the device, it seems legit, however, we cannot confirm it so, take it with a pinch of salt.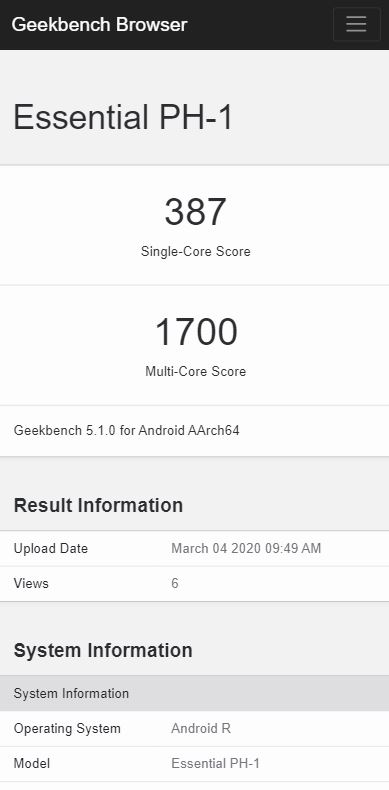 ---
New updates are added on February 28, 2020: The updated vendor image for the Essential Phone PH-1 is now available. Moreover, if you wish to install the Android 11 DP GSI then, firstly, it is recommended that you install the vendor image beforehand.
---
Essential Phone, which is the brainchild of Android's co-founder, Andy Ruben came to the spotlight with its first smartphone the Essential PH-1. It was probably one of the first devices to sport the notch display in order to house the front camera. Moreover, the device was also regular in terms of receiving the latest security and firmware updates. In fact, it was among the very first devices that got Android 10 updates right at the day of the OS was launched. But, fast forward to 2020, Essential Phone company is now shutting down, moreover, the Essential Phone PH-2 which was teased for a while has also been shelved.
It was officially confirmed that the phone will not get further support from the company and the February 2020 security patchset is the last update for the phone. But, if you still own an Essential Phone and were disappointed by the news of the company shutting down and ending its support, then there is big news for you. According to a report, the device will get a chance at installing the Android 11 GSI (Generic System Image) on it.
This will allow the users to get their hands on the latest Android 11 Developers Preview on their Essential Phone PH-1. You can check out the tweet where it was confirmed that Android 11 DP1 will indeed come in for the device. This was confirmed by the System Software Lead of Essential Phone, Jean-Baptiste Theou. As per him, the 'vendor.img' need a final review and validation for Android 11 for the community to use it. Here is the complete conversation and the response from Essential:
Moreover, the users might need to flash the custom ROM on their devices if they want to experience the Android 11 update on their devices. In fact, users are not hopeful that the Android 11 stable update will be pushed for the device so, this piece of news might come as a sigh of relief for those who are going to hang on with the Essential Phone for a bit more time.