After the launch of OnePlus 5T, many are still waiting for the day to get their hands on with the device. Well, if you already bought this device and want to wipe or perform factory data reset. In this tutorial, we will help you to perform Factory Data reset on OnePlus 5T.
Talking about the specification, The OnePlus 5T still sports a Snapdragon 835 chip paired with a 6/8GB LPDDR4X memory and 64/128GB UFS2.1 storage, 3300mAh battery supporting Dash Charge, and it runs on Oxygen OS 4.7 based on Android 7.1.1. This handset is also known for its great camera performance provided due to the 16MP Sony IMX398 and 20MP Sony IMX376K sensors. They come with an aperture of f/1.7, dual-color warm flashlight, DCAF dual-core support, and 4K video recording support at 30fps. At last, the OnePlus 5T also features a 16MP front shooter using a Sony IMX371 sensor with an aperture of f/2.0 and pixel size of 1.0 microns.
Nowadays Smartphones have become our family members in the present scenario. We often care them, maintain them and in fact, we have made them a part of a very large number of tasks we perform in day to day life. It is true that things can go out of control anytime with a device. Many times a user fails to know what exactly the issue with their smartphone is even after everything seems to work fine. If you own a OnePlus 5T are experiencing some minor issues with the same, we guide you on how to perform a Factory Data Reset on OnePlus 5T.
The fact is many times smartphones experiences problems when we need them in an emergency. Imagine a situation you are in a middle of something and have an emergency. In case your device faces issues in such a situation, a factory data reset can surely bring it into a good working condition at least for the time being. A factory resets to let you have a novel start by deleting everything on your smartphone. Of course, you can save data before you proceed, but because factory reset erases everything, all the viruses and unauthorized files present in the device will also be gone. We mentioned a few steps in this post that are useful for performing simply both a hard and soft factory reset on OnePlus 5T.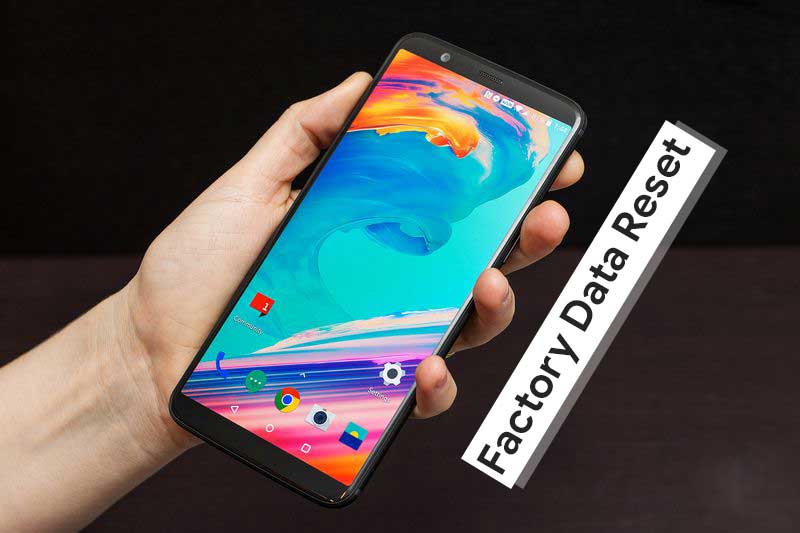 How to perform Factory Data Reset on OnePlus 5T
Everyone can have his/her own reasons for performing a factory reset on OnePlus 5T. Having a fresh start with Android, selling the phone, or boosting the performance are some of the common reasons why most of the users go for it. There are two options available actually to keep up the pace. One is a hard factory reset while other is soft factory reset. Both these methods are good and will bring similar outcomes when you choose to perform OnePlus 5T factory reset. Basically, a soft reset is considered as best when you are able to boot into Android. This is due to the fact that it's easy and quick. On the other side, if you are not able to boot into Android, you can go with Hard Factory Data Reset on OnePlus 5T.
Instructions for Soft Factory Reset
Firstly open the setting applications on OnePlus 5T.
After this, go to the system section which is at the bottom.
Click on "Backup & Reset" option and tap on "Factory Data Reset"
You have the option to choose whether you need to erase data from the internal storage of your OnePlus 5T.
You will see a button named "Reset Phone". Tap on it and then tap again on the button "Erase Everything".
Just wait for some time. Your OnePlus 5T will reboot. The time it takes to start again depends on the amount of data you have on your phone.
Instructions for Hard Factory Reset
For the hard factory reset, the first thing you need to do is booting your device into the recovery mode.
After this, tap on the "English" option and then tap on Wipe Data and Cache option.
You will see an option "Erase everything", simply tap on it.
A window will appear saying "this cannot be undone". Click on it.
Now just wait till your device perform the factory reset.
Finally, tap on the Reboot option. This will bring your phone back into Android.
That's it! You have done the Factory Data reset on OnePlus 5T
It's worth mentioning here that you must keep the backup of apps, data or anything important you kept in the device before you actually perform the factory reset. It really doesn't matter which method you choose, results will be similar. It is recommended to you to go with hard reboot only in case you are not able to boot into Android.
I hope this guide was helpful to perform Factory Data reset on OnePlus 5T.