Cipher Decoders is a new form of current, which, with the arrival of Festival of the Lost, was added to Destiny 2. Players can use Cipher Decoders to unlock bonus chests after making Haunted Forest runs, which helps you collect more gold rolls and BrayTech Werewolf assault rifles in the game. What makes this new currency worth the talk all over the internet is because it stays a mystery as to how players can actually farm them.
Farming Cipher Decorders is pretty simple but if you need them in large quantities, then you're gonna have to put in some good level of patience. The new currency has a drop rate that's far from guaranteed so you're not gonna get loads of them with minimal effort. With that out of the way, we'll get right into how to farm Cipher Decoders in Destiny 2.
How to Farm Cipher Decoders in Destiny 2
In order to farm Cipher Decoders in Destiny 2, all you have to do is complete any of the game's activities while wearing a mask. However, completing Destiny 2's Haunted Forest won't drop anything for you, so it all the other activities in the game that drops the Cipher Decoders. For the highest drop rate of Cipher Decoders, we suggest that you complete certain Patrols on the Moon. More specifically, these are the ones that instruct players to kill enemies and to find Toland.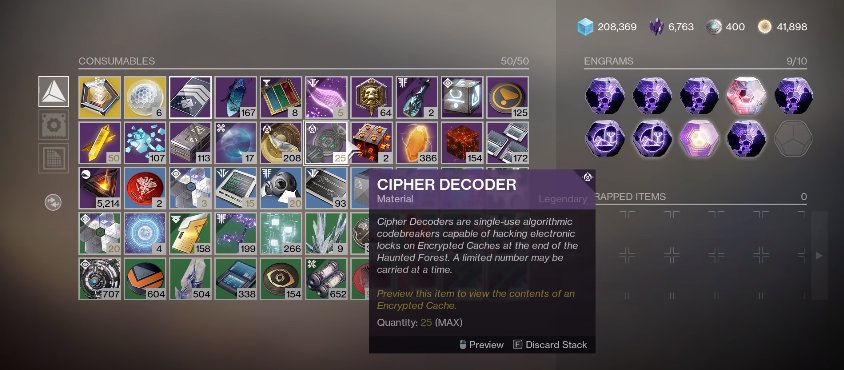 If you wish to farm the most amount of Cipher Decoders in Destiny 2, then you'll have to complete as many cycles of these activities as you can. In case you're feeling tedious circling in this loop to farm Cipher Decoders, you may also choose to involve in some Heroic Missions, which you can take part in between your trips to the moon.
Before we wind up, one thing to keep in mind is that there the developer has indicated every possibility that the drop rate of this currency will increase. That being the case, waiting for them to increase the drop rate is an option but if you want so much of this currency, I suggest that you start farming now. That said, we hope reading the guide above has brought some valuable information and help to you. Please let us know by commenting down below if you have any further queries regarding the same.
Also, check out our iPhone Tips and Tricks, PC tips and tricks, and Android Tips and Tricks if you've got queries for it or want help. Thank you!