macOS Big Sur is one of the most anticipated features this year. As with most of the features, this Big Sur features fast account switching. That means you got a clear idea of what we are talking about. Yes, you're right. We will help you out with how you can Enable Fast User Account Switching in macOS Big Sur out at your doorstep quickly with fun.
With the announcement of macOS Big Sur, Apple drops the world of MacOS X and enters into a new age. MacOS 11 Big Sur begins new abilities to the Mac, including a brand new user interface, a notable update to Safari, and tweaks pledged to enhance the performance and energy efficiency, which includes the latest fast user account switching and energy saving.
Suppose you're an administrator of your Mac. In that case, you can let other people use it temporarily as a guest user without adding them as individual users. However, if you still use the long method to switch between macOS user accounts, it's time to enable Fast user account Switching on our Mac to rebound from one account to another with ease.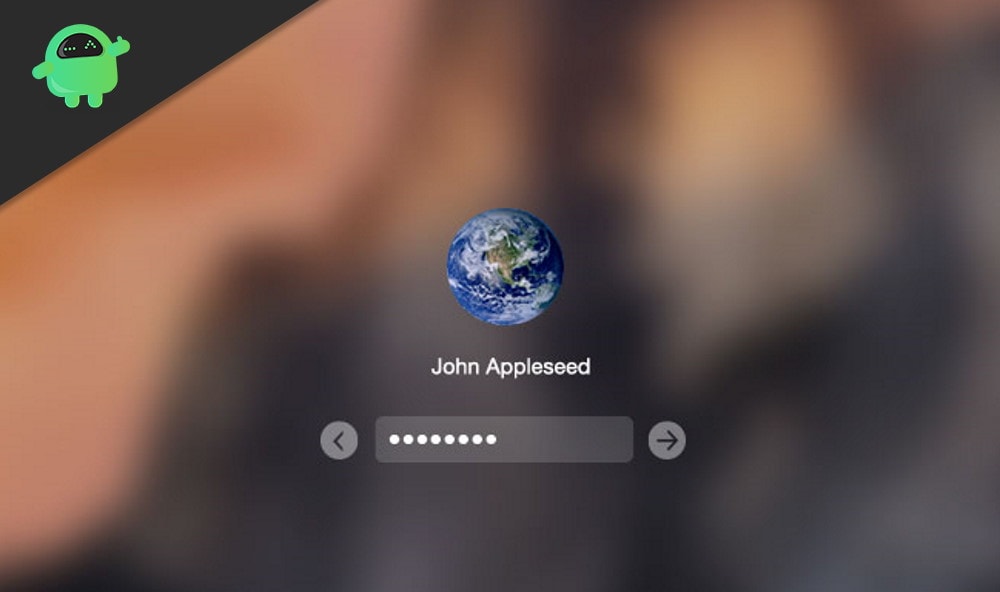 How To Enable Fast User Account Switching in macOS Big Sur
This amazing feature is disabled by default in your macOS Big Sur. Fortunately, you can be able to enable it without having any trouble. After the update, now you'll be able to add a user account switching icon to the menu bar and control center for your convenient use. To enable Fast User Account Switching in macOS Big Sur, follow the procedure mentioned below:
Go to the system preference by clicking on its Dock icon. You can also tap on the Apple menu found at the top left corner of the window and select system preference.
After that, tap on Dock & Menu Bar.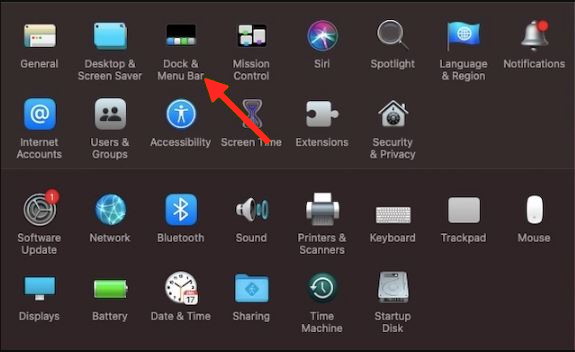 Navigate through it, and you will find an option for Fast user Switching. Click on it.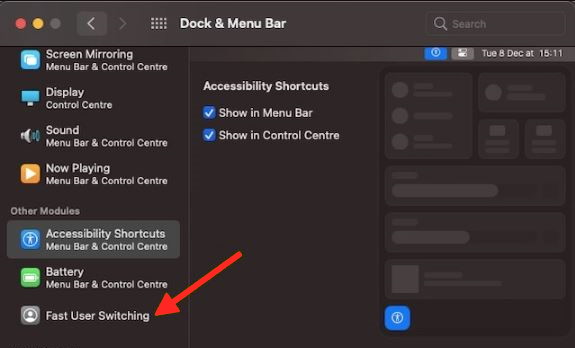 Now, you've got the option to add the fast user switching shortcut to the Control center or menu bar.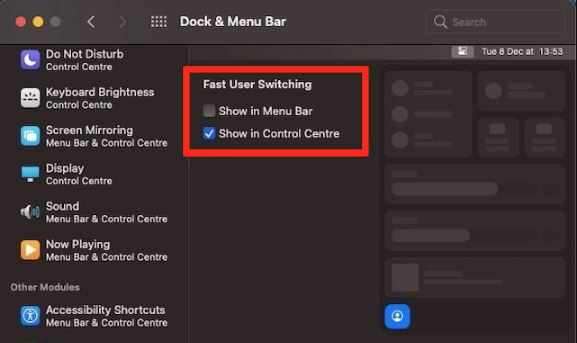 Apart from that, you can also select to add it on both the menu bar and control center as per your requirement. But I'm choosing the user switching icon to appear in the control center.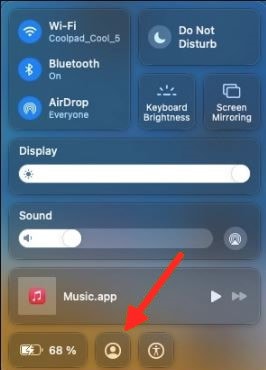 That's it! Now the Fast User Account Switching in macOS Big Sur is enabled, and you can easily switch among macOS user account from the menu bar or control center on your Mac devices.
Conclusion
Presently, the fast switching may not get much attention. But in my opinion, it's a notable feature added by Apple Inc. Especially for the user who has to share the Macs with others. Are you one of them? Then, definitively you would be happy to have it at your control.