The latest Summer Heat promotion in FIFA 20 keeps on bringing more and more opportunities for the players. This, they're here with 4 new objective that has the potential of getting you the 95 rated card that features Ibrahimovic. With the introduction of this cool new card in the game, along with it comes certain objectives/challenges that are open for players to complete.
In this guide today, we'll take you through everything regarding the Summer Heat Ibrahimovic card in FIFA 20. We'll go further into this card, its objectives, and a quick guide on completing them. So buckle up for something exciting. Without any further ado, let's look at how to complete 95 Summer Heat Ibrahimovic in FIFA 20 online objectives.
FIFA 20 Online Objectives: How to Complete 95 Summer Heat Ibrahimovic
The objectives
Skilled service: Assist in two separate Rivals matches using players with a minimum five-stars skill moves.
Weak foot finisher: Score in three separate Rivals matches using players with a minimum four-stars weak foot.
Serie A scorer: Score 15 goals in Rivals using Serie A players.
Forward's finish: Score in eight separate Rivals wins using Serie A forwards.
Approaching the objectives
Listed above are the objectives that are required to get the Summer Heat Ibrahimovic card in FIFA 20. By reading through these objectives, only one of them requires you to actually win the match. And this makes up the objective pretty much easy to complete. The description of each objective is simple and very well understandable. Taking them into consideration, Ronaldo is an apt player that will help you with all these objectives. Since he is a Serie A player and covers all other requirements of the objectives, we believe he is a well-suited choice for you to go with. If you don't have him yet, going for the base gold Ronaldo will even help you get the job done. Alternatively, Ribery is also a great choice for the same.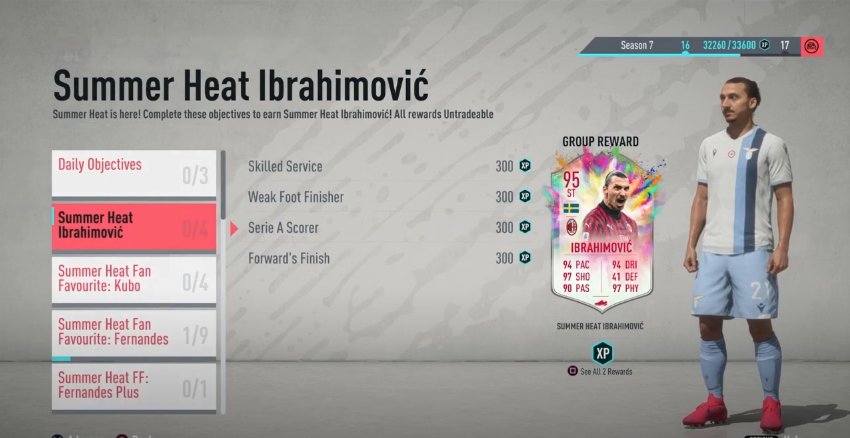 As a new 95 rated card featuring Ibrahimovic comes in with new Summer Heat objectives, players are rushing in to do whatever it takes to get this card. Although there are not many tips that we can use, going onto the field with Ronaldo or Ribery for completing the objectives will really help. With that, we hope reading the guide above has brought some valuable information and help to you. Please let us know by commenting down below if you have any further queries regarding the same.
Also, check out our iPhone Tips and Tricks, PC tips and tricks, and Android Tips and Tricks if you've got queries for it or want help. Thank you!