Every game that you get your hand on to play endlessly will have some boring parts or elements in it. Some may really get on your nerves while some will get completed without even you knowing it. In Final Fantasy 7 Remake, you will get to Johnny, to whom you are required to retrieve his stolen wallet. This quest can be a bit boring but if you do need progress through, you're gonna have to find Kyrie and then deal with some enemies to make it to the end.
The first thing you have to do here is to find Kyrie. Finding her is not so hard but you might be one among those players who don't want to waste time exploring for the sake of a boring mission. So in this guide today, we'll take you through the location of Kyrie to find her. Without any further ado, let's see where to find Kyrie in Final Fantasy 7 Remake.
Final Fantasy 7 Remake: Kyrie location – Where to find Kyrie
The first time you see Kyrie is at the beginning of chapter 14, where you will find her spreading fake news in town. After that when your quest requires you to search and find her, simply head over to Aerith's church. Then as you enter inside the church, walk to the other end of the building where you'll be able to see her interacting with a patch of flowers. Finally, when you find her, she'll tell you something about how Shinra are after her and will ask you to fight in her place over at the Colosseum.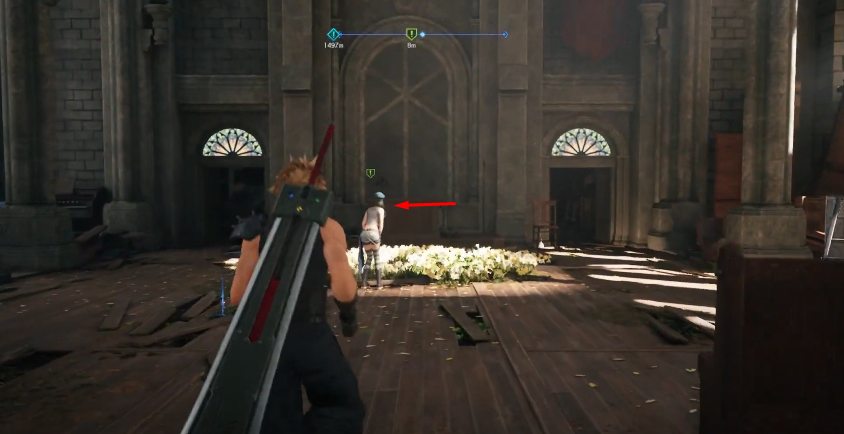 Conclusion
Summing up our guide, finding Kyrie is actually a pretty simple task as you can find her right inside Aerith's church. However, you might be on the verge of giving up as this boring mission starts to get on your nerves so you may not want to put in the effort to find her. In contrast, we hope this guide has been of valuable assistance to you. Please let us know by commenting down below if you have any further queries regarding the same.
Also, check out our iPhone Tips and Tricks, PC tips and tricks, and Android Tips and Tricks if you've got queries for it or want help. Thank you!