In this tutorial, we will show you the steps to complete the Final Fantasy 7 Remake Secret Medicine mission. This still stands as among the best action-role playing game till date. The game is set in Midgar and you will have to control Cloud Strife. He along with his groups Avalanche have to fight and stop Shira, a powerful mega-corporation, from exploiting the planet's limited resources. Completing this journey requires to you successfully compete in a secret medicine mission.
This mission has three sub-parts within it, and this is what is making it difficult for some of the users. Furthermore, within one of these subparts, you will also have to complete a side quest as well. This really makes the game all the more challenging yet interesting. Therefore, in this guide, we will outline all the instruction set that will help you in completing the Final Fantasy 7 Remake Secret Medicine mission. Without further ado, let's begin with the guide.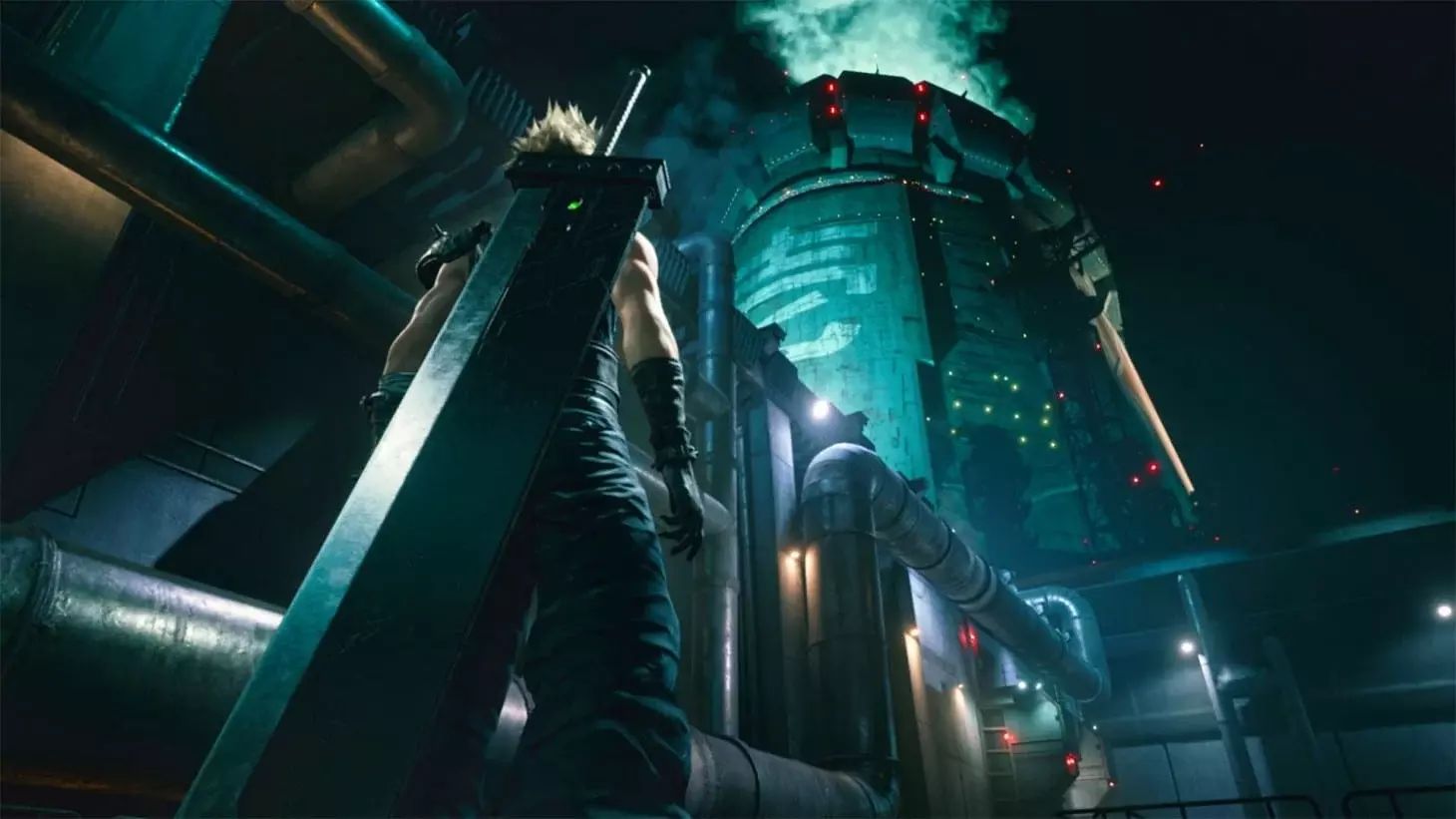 Final Fantasy 7 Remake Secret Medicine Guide: Side-Quest Locations
First of all, you will have to find and meet the doctor. he would be standing next to the sector 5 school, across the bar. Once you have a chat with him, he will ask you to bring 3 ingredients for the Secret medicine quests. The three ingredients will be Medicinal flowers from Aerith, a Behemoth horn from the Underground Lab, and a Moogle's Mortar. This is where your journey begins.
Step 1: Buy Moogle's Mortar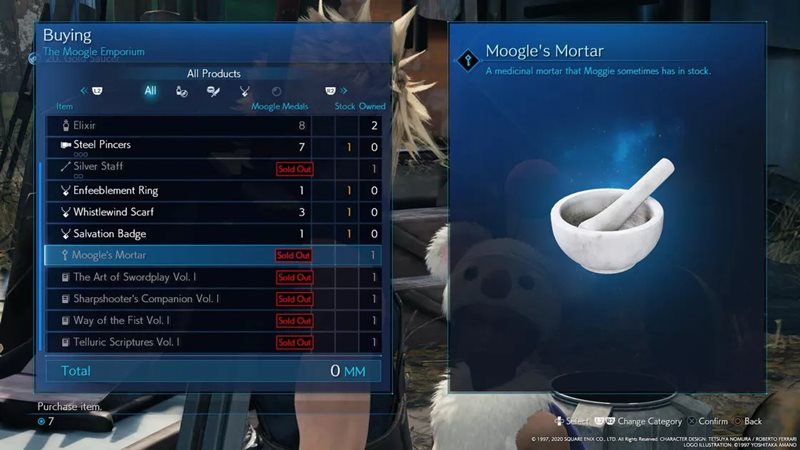 To find the Moogle's Mortar head over to the kid's hideout place. There you will meet Moggie. Have a chat with him and purchase the Moogle's Mortar. Everything comes at a price, and so does this item. To purchase it, you will have to shell out one Moogle Medal. By now, we hope you already would be having these medals in plenty. However, if that is not the case, complete a few side missions, earn the medals, and come back here. Once the purchase has been made, head over to the next ingredient.
Step 2: Get Medicinal Flowers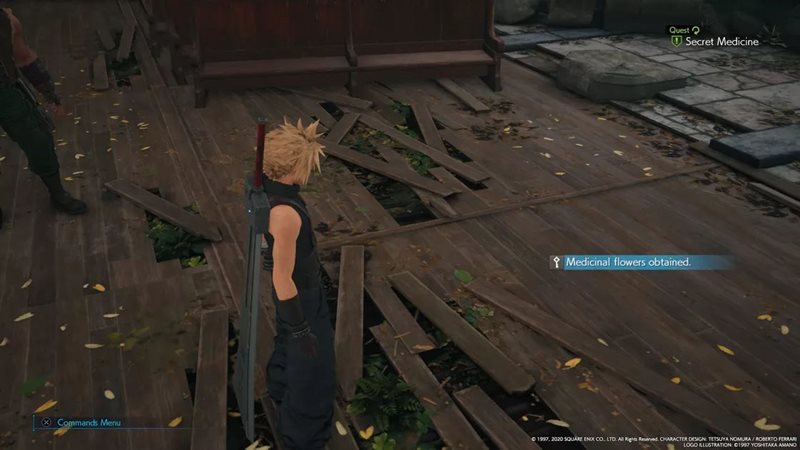 You will now have to pick up the Medicinal flowers from Aerith. For that, head over to the slums of Sector 5 towards the railway station. Make your way to the church where Kyrie will be waiting. You don't have to interact with her at this moment, but right next to her, will be a broken church floorboard. Within that, you will find the medicinal flowers. pick them up and head over to the next ingredients.
Step 3: Get the Behemoth Horn
So you have the Medicinal flowers as well as the Moogle's Mortar. It is now time to get your hands on the Behemoth Horn from the Underground Lab. This is the most difficult of the three. To get the horn, you will have to defeat the Type-0 Behemoth. Follow the below instructions to do so.
You will have to visit the Underground Lab. For that, go to the whited dome and head downwards. There you will find a dome. Enter it and follow the straight path until you reach a door with yellow tapes all over it. The gate will be slightly opened, enter it and go to the Underground Lab B5 location. There you will meet your biggest enemy to date, the Type-0 Behemoth.
There are some tips and tricks to keep in mind. First off, don't use your magic spells initially. This is because Behemoth horns will negate any spells that you cast on him. So during the initial phases, focus on attacking him on the upper and lower body portions together. Doing this combo attack will stagger him and make him fall to the ground.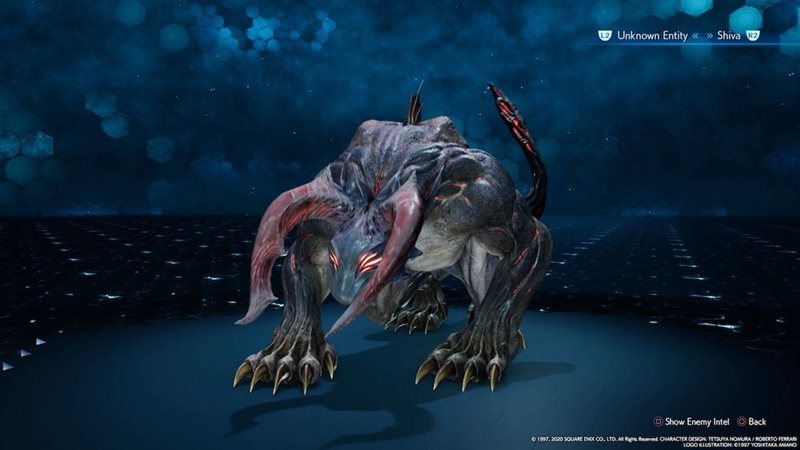 As soon as he falls, your main focus of attention should be destroying his horns through whatever weapons you have at your disposal. Keep on attacking his horn until they have been damaged. once that has been done, you could then use your magic spells.
If you have the Could's Mythril Saber, that could be purchased from the Wall Market Weapons Shop, then try using it right away. This will inflict greater damage on Behemoth. To effectively use this spell, you should also be having considerable high magic attack stats as well. Keep on the attack until he eventually falls.
Even then, he won't stop his attacks, He will then use the Comet attacks and rain down heavy stones from the sky. Keep dodging these comets and after a stage, you will be standing as the ultimate winner. At this instance, you shall also get the Behemoth Horn. This is the third ingredient that was needed.
With all three ingredients at your disposal, head out of the underground lab, and talk with Wymer. He will then reward you in the form of a new weapon, Barret- Wrecking Ball. Once you have obtained it, it will finish the Subterranean Menace side mission. Finally, head back to the doctor and hand him all the three ingredients. That is all needed to complete the Secret Medicine challenge.
Conclusion
So with this, you have completed the Secret Medicine mission. As you might have noticed, three different quests needed to completed beforehand. Keeping that in mind, we have mentioned detailed instructions on these three quests well. And while completing the third quest, you will have completed a side quest as well. All in all, it makes up for one of the most challenging missions in this game. On that note, if you get stuck at any of the above steps, do drop in your queries in the comments section below. Likewise, also check out our iPhone Tips and Tricks, PC tips and tricks, and Android Tips and Trick section too.