Flowers are one of the important resources in Ghost of Tsushima. The players in the game will get to purchase items and cosmetics with the flowers that they manage to collect throughout their journeys. This means that if you wish to change the color of your armor, then you first need to collect these flowers scattered around the world of Ghost of Tsushima and then go to the merchants.
However, if you're someone who's got no idea about finding the flowers in Ghost of Tsushima, then we believe that this guide will come in handy for you. The process of finding these flowers in the game is pretty simple if you know how to look for it, rather than a where. Well, without any further ado, let's look at where to find flowers in Ghost of Tsushima.
Where to Find Flowers in Ghost of Tsushima
In Ghost of Tsushima, you'll find flowers literally everywhere across the world. The flowers in this game do not really have a certain place that they grow. This means that you find them just about on every turn that you can possibly make! When there's a flower nearby, they'll glow and you'll manage to spot them even from a fair distance. The only thing you need to do is keep scavenging the map.
Traveler's Attire
However, there's still a way for you to find flowers easily in Ghost of Tsushima. This is by using a particular Armor called the Traveler's Attire. You can buy this armor from any dye merchant you can find on the map. They are dirty looking; the type of armor that no players will even bother to look at. Although the stats of this armor is not at all impressive, it is its ability that will come in handy.
This particular armor in Ghost of Tsushima will help you locate Records, Singing Crickets, and flowers that are scattered throughout the world. By pressing right on the d-pad and choosing the Undiscovered Flowers option, the armor will start giving you hints for the flowers that are close to you. Combing this armor's ability with Guiding Wind, you'll get the right and exact direction to the flowers that are nearby.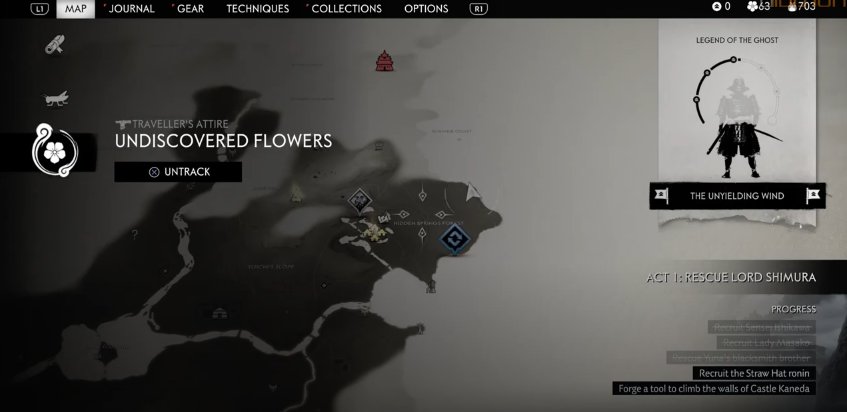 If you choose to go by this method, then finding flowers in Ghost of Tsushima will become a lot easier. By changing the Guiding Wind's preference, you can also choose to track down Records or Singing Cricket. You can get your hands on the Traveler's Attire early in the game and we suggest that you do so if you've got some flower hunting to do. That said, we hope reading the article above has equipped you with some bit of information. Please let us know by commenting down below if you have any further queries regarding the same.
Also, check out our iPhone Tips and Tricks, PC tips and tricks, and Android Tips and Tricks if you've got queries for it or want help. Thank you!