There has been a battery issue affecting some users of Samsung's latest flagship smartphone, the Samsung Galaxy Note 8, and it's now even affecting users of the Samsung Galaxy S8 and S8+. It's an issue known as "deep discharge", which prevents the devices from coming on after shutting down due to a complete battery discharge, i.e. if the Samsung Galaxy Note 8 device should shut down on its own after hitting 0%, it won't come on again. XDA Developers Forum member dr.ketan has developed a tool called Deep Discharge Protection to tackle the problem.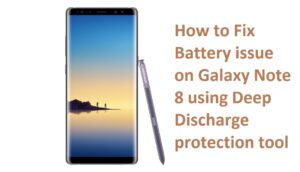 Right now, the only thing that users affected with the deep discharge problem can do is to contact Samsung support, even as Samsung has said that it needs more detailed information about the affected devices before it can do anything further about the issue. That means you won't be able to use your Samsung Galaxy Note 8 if it should shut down on its own at 0% until Samsung comes up with a fix. In the meantime, you can prevent the issue from coming up on your Samsung Galaxy Note 8 with the Deep Discharge Protection Tool.
The deep discharge issue is not new. It is known to affect devices that are powered by lithium-ion batteries, but this time it's different in the case of the Galaxy Note 8. Normally when you charge a device that has been affected by the deep discharge issue for some time, it would eventually come on, but the Galaxy Note 8 devices are failing to come on at all even after doing that. Let's see how you can use the Deep Discharge Tool to fix the battery issue on your Samsung Galaxy Note 8.
Deep Discharge Tool for Samsung Galaxy Note 8 Battery Issue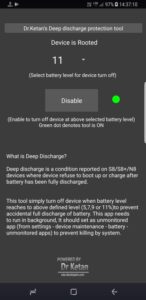 Features
Turns off the device when the battery level reaches 12% to prevent it from turning off automatically at 0%, resulting in the deep discharge issue.
Alerts the user severally before turning off the device.
Allows the user to set custom battery levels at which the tool would be activated to turn off the device.
Displays a green dot on the device when the tool is active.
NOTE: It's only on rooted devices that the tool would turn off the phone automatically. For non-rooted devices, the tool will only beep twice shortly at first, and then repeat the alert louder with longer durations every thirty minutes for the next three hours.
Download
This is a temporary fix for the deep discharge issue on Samsung Galaxy Note 8 devices until Samsung rolls out an official fix. You can also use the tool if you experience the issue on your Galaxy S8 and S8+ devices.