With some good launches offering great value for money, Huawei has become a favorite band for a lot of users. The growth of Huawei was fast in the global market. Huawei with other Chinese manufacturers changed the trend of Chinese devices staying behind the lineup. Chinese brands like Huawei were able to build a trust which was lacking for most Chinese brands. Huawei with the motivation of success so far is aiming for improving every month with new cool launches. One new launch from Huawei is the Mate 10. In this guide, you will learn different ways to fix battery not charging or charging slow on Huawei Mate 10.
The specifications of the new launch from Huawei, the Mate 10 includes a 5.90-inch display. The 1.8GHz octa-core Huawei HiSilicon Kirin 970 processor powers the device which is paired with a RAM of 4 GB. The device has an internal storage of 64 GB and this can be expanded up to 256 GB using microSD. At the rear, a 20 MP camera sensor and a front facing sensor of 8 MP is provided for selfies. The device promises better standby time with a huge 4000 mAh battery. Android 8.0 Oreo comes pre-installed with the device out of the box.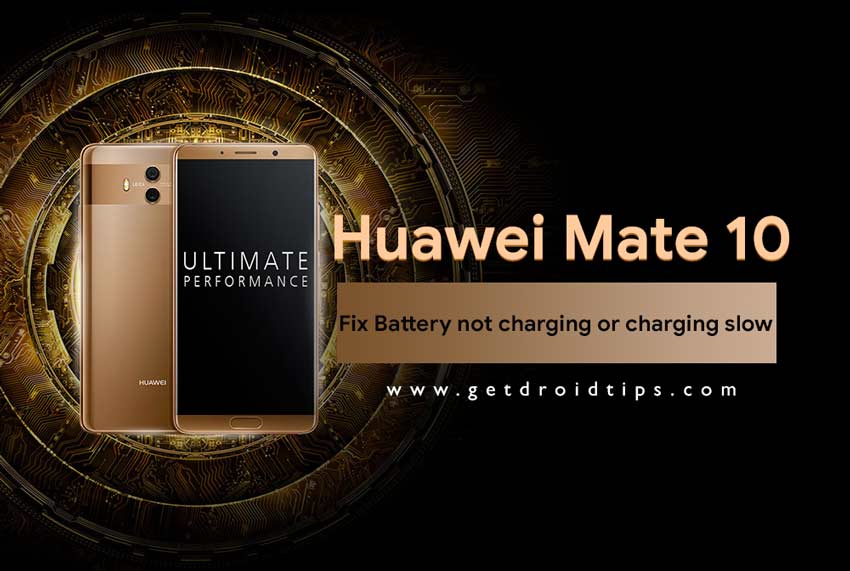 Ways to fix Battery not charging or charging slow on Huawei Mate 10
Charging and battery issue is common for most devices on the market today. It doesn't matter which manufacturer, charging issues do come up at times. In some cases, the issue can be a physical damage to the battery or charging port. If this is the case replacing or repairing the battery or charging port is the only solution. You will need professional technical assistance for these steps. But if this is not the case you can try some fixes your self. Some of these steps are given below.
Clean your USB port
Dust and dirt can be a big villain when it comes to proper charging. With time the chances of the charging port getting filled up with dust or dirt are high. If this happens you will face both slow charging and sometimes not charging issue. It is always recommended that you gently clean your device charging ports occasionally.
Change the charger
Broken charges are faced by a majority of smartphone users with continued usage. When a issue with charging occurs first you should make sure the issue is not with the charger. You can do this by trying the charger with another device. If the charger is broken, replace it with a new compatible charger.
Hard reset
Power off your device
Press and hold power button and volume button until recovery mode appears
Use volume buttons to highlight 'wipe data/factory reset' and use power key to select it
Reboot the system once the process is completed
I hope this guide was useful in understanding how to fix Battery not charging or charging slow on Huawei Mate 10. If any queries or feedback, please leave a comment below.