The smartphone market have been witnessing a heavy competition in the recent times. We have seen a lot of new companies making success in the market. At the same time, the so-called giants of the market are trying hard to survive. Sony is one such manufacturer who have been having some hard time in the market. Although the Xperia devices gave them a good reputation in the market, they have decreased the production of smartphone recently. Sony is back with all-new Xperia XA2. In this guide, we will provide the steps to fix battery not charging or charging slow on Xperia XA2.
Talking about the specifications of the device, Sony has added a full HD 5.2-inch display. coming into the camera department an impressive 23 MP sensor at the rear and an 8 MP sensor for perfect selfies. Both the camera sensors are from Exmor and have a lot of built-in features. Out of the box, the Xperia XA2 users can experience the latest Android Oreo operating system. The device is powered by Qualcomm® Snapdragon™ 630 processor coupled with a 3GB RAM and 32 GB ROM with an expandable memory support up to 256 GB. A huge 3300 mAh is added for better standby time along with quick charging capability.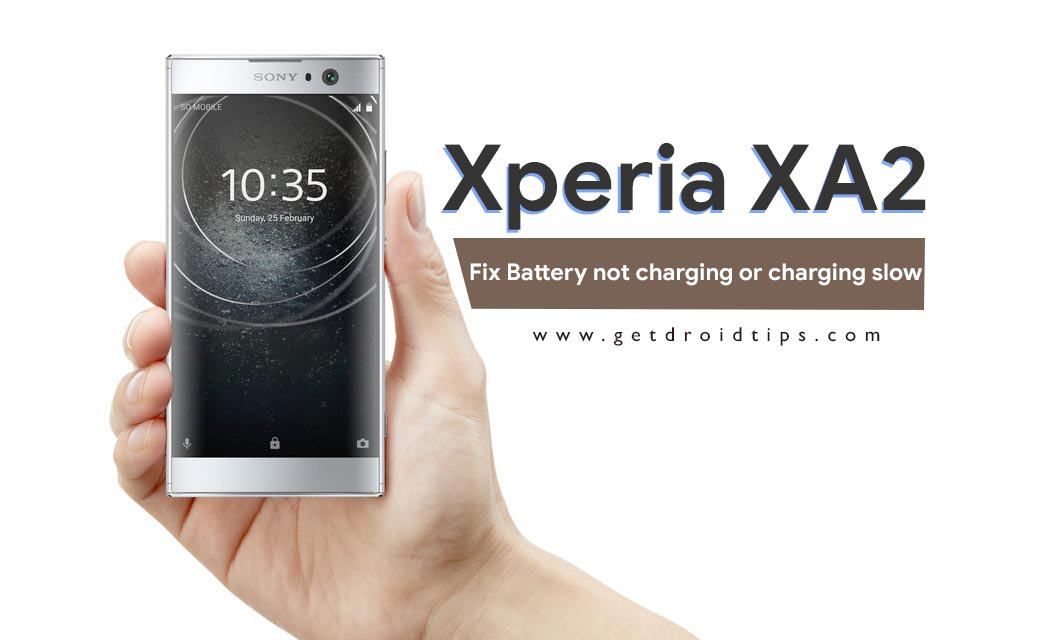 Steps to fix battery not charging or charging slow on Xperia XA2
With the heavy configuration, the battery life of Xperia XA2 even with a 3300 mAh battery won't cross a day. So regular charging is very important for the device. The device not charging or even charging slowly can be a really annoying issue. This can end up your device being dead and useless at times. There can be a variety of reasons for the issue from occurring. The solutions you can try for it is listed below.
Clean your charging port
Sometimes too much of dirt accumulated on your charging port can make charging slowly. So it is recommended that you clean the port regularly. But you should take extra care not to damage the port while cleaning it.
Replace the charger
A broken charger is a common thing any smartphone user will face at some time during their usage. This can affect the charging and can make it slow or even impossible to charge the device. The only solution for this is replacing the charger. It is recommended that you use only the original compatible charger manufacturer by Sony itself.
Factory reset
Sometimes firmware issue can also lead to problems with charging. A factory reset is the best possible step to solve firmware issues on your device. It is recommended that you backup all data before performing a factory reset as this will wipe all the data. The steps to perform a reset on Xperia XA2 are:
Open settings
Scroll down and tap on back & reset
Tap on factory data reset
Now tap on Reset phone
Tap on erase everything
I hope this guide was useful in understanding how to fix Battery not charging or charging slow on Xperia XA2. If any queries or feedback, please leave a comment below.