Sony is a reputed company with a lot of electronic goods on market with their name. Being a constant competitor in the mainstream market, Sony is a well-known name for the majority of world population. They have been successful in a variety of fields which range from appliances to gadget. Smartphone market also has Sony as an important company. The Xperia devices from Sony is one of the most successful smartphone devices came out on the market. At earlier stages, Xperia devices gained a lot of attention with their cool design. The new launch in Xperia series is the Sony Xperia XZ1. In this guide, you will learn to fix Battery not charging or charging slow on Xperia XZ1.
Sony's new launch in the market, the Xperia XZ1 is a device with 5.2-inch IPS LCD display. The device is powered by the Qualcomm® Snapdragon™ 835 processor and supporting this a 4 GB RAM and a 64 GB ROM is provided. The external memory can be extended up to 256 GB using micro SD. Out of the box, the device will get Android Oreo. The camera setup of the device includes a 19 MP sensor at the rear and a 13 MP is added to the front. Battery with a capacity of 2700 mAh is also added.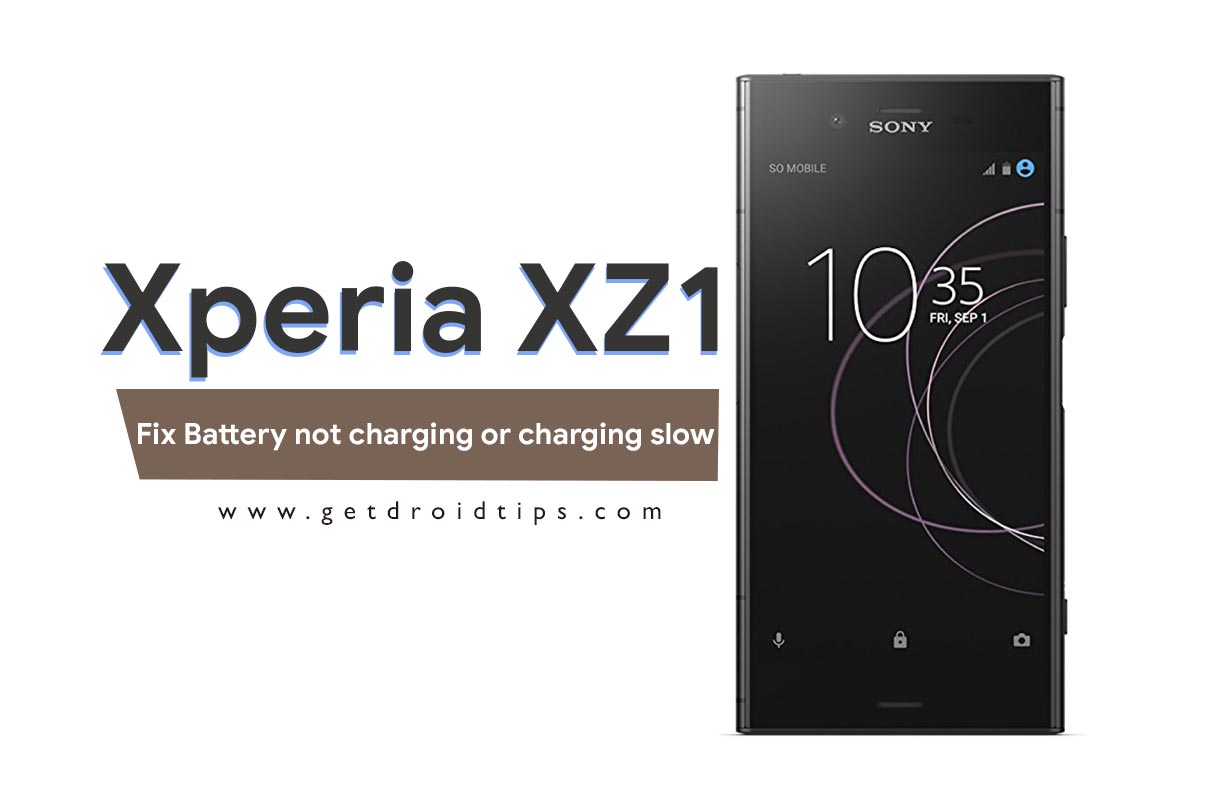 Ways to fix Battery not charging or charging slow on Xperia XZ1
Battery issues have been the most common thing faced by almost all users around the globe. From a fastly draining battery to a device which never charges, issues related to the battery are many. The battery draining issue and fixes are discussed in a previous article already. But a slow charging device or a device which never charges can be solved by other ways. Please read through to find out what you can do about these issues on Xperia XZ1.
Clean the charging port
Dust and dirt is a great villain for all smartphones. Sometimes this can cause an issue with charging too. When the charging port get filled with dust or dirt this will stop the USB from working good. The simple solution is cleaning the port to remove dust and dirt. But make sure you do this step gently without damaging the port.
Change your charger
Broken chargers are a common thing in any smartphone users life. Sometimes you might not notice a damage to the charger and will end up repairing the device. But the most basic thing to do in case of a slow charging or not charging issue is to check the charger. You can use a different charger with the device and try. If the charger is damaged, the only solution is to replace it with a new compatible charger.
Hard reset
Open settings
Scroll down and tap on back & reset
Tap on factory data reset
Now tap on Reset phone
Tap on erase everything
I hope this guide was useful in understanding how to fix Battery not charging or charging slow on Xperia XZ1. If any queries or feedback, please leave a comment below.