Since last few years, the ways emotions and messages are expressed in a chat has been changed up to a great extent. Thanks to emojis which has widely contributed towards this. There is nothing inaccurate in saying that emojis plays a great role in the success of many online chat applications such as messenger and Whatsapp. Almost every latest Android-based smartphone is equipped with this feature. However, it has been seen that sometimes users fail to keep up the pace when it comes to using them. In this post, I will show you how to fix emojis not working on LG V30.
This is actually a software glitch and thus you need not to worry about anything. There are certain things that you can do to fix the problem. The guide I am going to introduce you with is very simple and you can probably have the favorable outcome. It must be kept in mind that having trouble while accessing the emojis not always means your device is suffering a hardware problem. Although there are certain factors that are responsible for this problem, the most common one is a software issue as already mentioned. So here is what you need to do to fix the problem.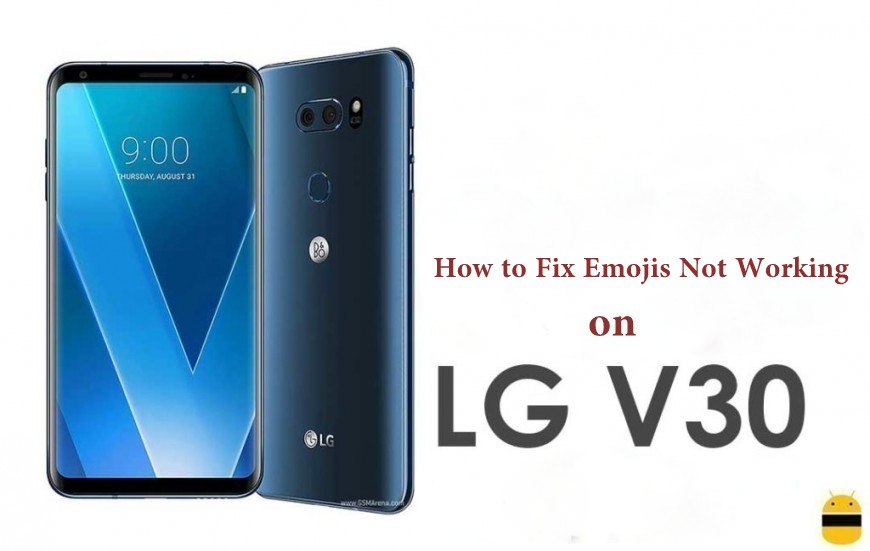 How to fix Emojis not working on LG V30
First of all, you need to check the OS system of your LG V30. Open device Settings and scroll down to see when the last update was installed. In case it shows a pending update to be installed, proceed with it immediately. Make sure your device battery is around 30% charged while you install the same. In no update is available, you need to check the pending updates for the apps installed on your device. If you find any pendency, update the same. There are certain chances that the problem will be gone simply and you will be able to access the emojis as per your convenience.
Installing a third-party app for chatting or texting can also be the reason for this issue. It is not always necessary that all the apps available on the Play Store are compatible with the Android version installed on your device. Thus you need to pay special attention to the compatibility factor as well. Remove the third-party apps simply. You can take your device into recovery mode to see if the problem is due to this reason.
Sometimes only a few emojis don't work while others can be used simply. If this is a problem with you as well, this is a clear indication that the application you are using is not compatible with your device. So this is how you can fix Emojis not working on LG V30 without doing much. It must be kept in mind that sometimes installing Custom ROM on the device can also be the reason for this problem. Thus, if you have customized your device OS, there are chances that you are facing the problem because of no other reason than this.