There is a new ongoing trend of smartphones with wireless charging making their way into the android market. Usually, we see flagship entries bring this feature. However, as we keep saying always with rising technology, the technical glitches are also a big issue for the users. The wireless charging is not an exception to this. Today we will talk about how to Fix Galaxy Note 9 Wireless Charging Not Working problem. Samsung's latest Note series flagship supports the wireless charging. Maybe ten in a thousand instance may arise some issue that renders the wireless charging unusable. We will see how we can tackle it.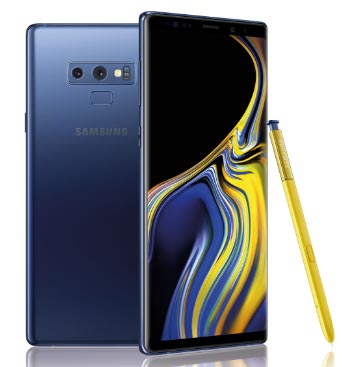 Galaxy Note 9 is a dual SIM and high-end smartphone that is available since August 2018. This device flaunts a 6.40-inch touchscreen display with a resolution of 1440 X 2960 pixels. It runs Android 8.1 Oreo out-of-the-box. This handset from Samsung runs on an octa-core 1.7 GHz Qualcomm Snapdragon 845 processor for the USA, Latin America, and China whereas in European region the device will pack Exynos 9810 chipset. Also, this has a 6/8 GB of RAM in the set-up. This phone has 128/512 GB of internal storage. In the camera section, the Note 9 brings a dual camera of 12 MP each. An 8 MP selfie shooter teams-up on the front side.
Simple Tips To Fix Galaxy Note 9 Wireless Charging Not Working
Here are some very easy ways to Fix Galaxy Note 9 wireless charging not working.
Reboot The Device
One of the most tried and tested methods. Simply Press power button > tap on restart. Wait as the device reboots and then you can try charging using your wireless charger.
Go for Qi-certified Wireless Charger
There are so many wireless chargers are now available through various offline and online stores. However, try to go for a Qi-certified wireless charger only. We always suggest to our users that they use certified and authentic products.
The Concerned Device Should Fit Charging Pad
Check if your Note 9 is fitting well in the charging Pad. As you place your phone on the pad, the light should turn on to start charging.
Try To Remove the Protective Case on the Note 9
This is one simplest solution you should try and check if it fixes the note 9 Wireless charging problem. Usually, the cases are not official so, they may be too clumsy and obstructing the device from charging wirelessly. After charging is done, you can put back the cover again.
If any of the above doesn't work, then we suggest getting your wireless charger replaced within the warranty period. Also, you try charging with the basic power adapter that comes in the retail box of your unit.
You May Also Like To Know,
So, these were some basic tips that may be all users are not aware of while dealing with a non-working Note 9 wireless charger. We hope you liked our guide and it is helpful to you.