Huawei released the latest Honor series called Honor 9i in October 2017. The smartphone comes with a nearly bezel-less design with a screen to body ratio of 83 percent. This is the company's first device with an 18:9 display. Even if you buy a brand new phone or second-hand phone, it doesn't matter. We will always face one of the biggest problems in Smartphone era known as Performance issues. Yes, if you have bought the Huawei Honor 9i, then you can resolve from such circumstances by following this guide. In this guide, we will help you to fix the Huawei Honor 9i performance issues.
Talking about the specs, Huawei Honor 9i features a 5.9-inches display with a screen resolution of 1080 x 2160 pixels. The smartphone is powered by Octa-core (4×2.36 GHz Cortex-A53 & 4×1.7 GHz Cortex-A53) and HiSilicon Kirin 659 coupled with 4GB of RAM. The phone packs 64GB internal memory and expanded up to 256GB via microSD card. The camera sports a Dual 16MP + 2MP rear Camera and 13MP + 2MP front shooting camera. Huawei Honor 9i runs on Android 7.1 Nougat out of the box with a Non-removable Li-Ion 3340 mAh battery. It also has a Fingerprint sensor in the back. The handset supports single sim with 4G. It comes with connectivity options such as Bluetooth, Wifi, USB OTG, 3G, and 4G.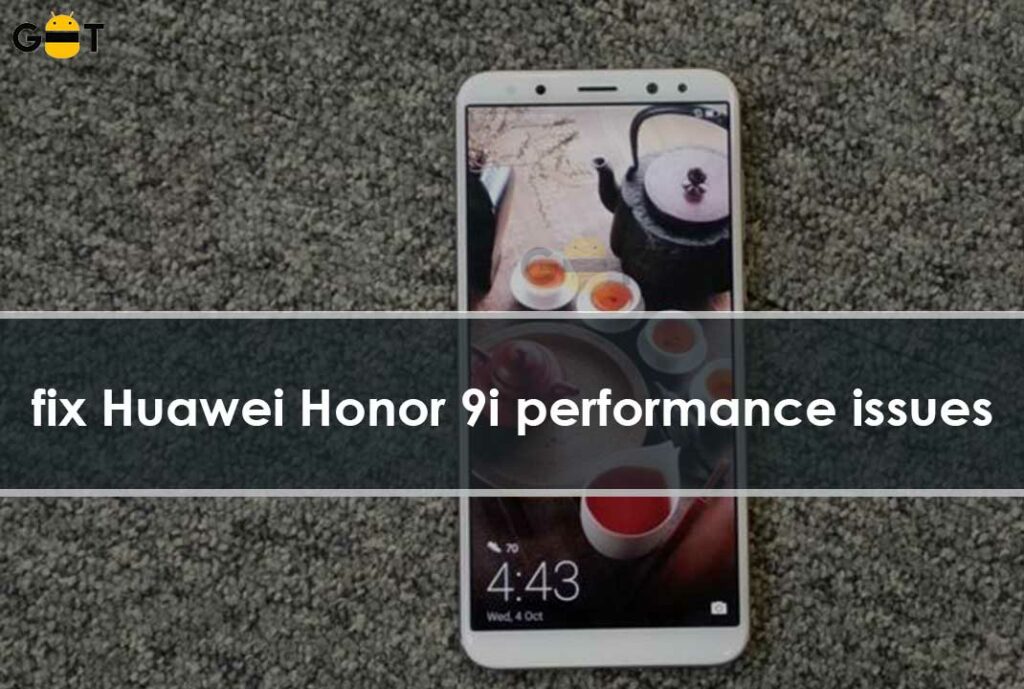 But, along with the attracting features, it is common for a smartphone to face some software or hardware issues at some point in its life. Same is the case for Huawei Honor 9i, due to is performance issues or lag.
As we deal with problems, though Huawei Honor 9i series has also encountered with some drastic issues, including the performance and the hardware. The issues do have a solution or easy fixes. Some cases are there where only one option is left out that is of updating the smartphone. Some of the issues took place are as follows.
Possible fixes for Huawei Honor 9i performance issues
Issues with the third party launchers
The users having third-party launchers installed on their Honor 9i smartphones might encounter issues with the same. One prominent issue, particularly in the Nova Launcher is that the device tends to revert back to the stock user interface once an app is closed. This forces the users to go back to settings and again select Nova as the default launcher. So, this goes on and on, and the default launcher keeps reverting back to the stock launcher EMUI automatically. The reason behind this may be the aggressive RAM management, or the default battery saving features, which tend to kill the apps running in the background, including a third party launcher like Nova.
If one wishes to resolve this issue, it can be done in a very simple and easy way. To fix this, one can lock Nova launcher in the recent apps menu, which can be accessed by selecting from the Recent Apps Menu in the launcher settings. From there, the launcher icon can be locked by clicking on the small lock icon over the app.
Also, the Aggressive Desktop feature on the Nova launcher, if enabled, fixes the third party launcher issues.
Boot the device in safe mode
On your smartphone, you can boot your device into safe mode without any third-party software. You can do the same on Android with Android's safe mode. In safe mode, Android won't load any third-party applications.
This enables you to investigate your gadget – in case you're encountering crashes, stops, or battery life issues, you can boot into safe mode and check whether the issues still occur there. From safe mode, you can uninstall getting third-party applications.
By booting the gadget into Safe Mode, the users can resolve this issue on their Huawei Honor 9i smartphone arrangement and watch if the issue still holds on. In case that this isn't the situation, at that point some application may be the reason for the issue. Subsequently, you can continue to erase some applications or even play out the factory reset and begin the smartphone gadget again to determine the issues.
Download Greenify
Another application known as "Greenify" which the users can download from the Google Play Store is the conceivable answer for the Huawei Honor 9i performance issues.
Android gadgets are exceptionally customizable and have an immense assortment of applications that can be introduced and keep running in the background. Shockingly, after a considerable amount of applications are installed, your gadget can be hindered. With Greenify, you can get your tablet or smartphone up and run great as new one again.
This application will recognize battery siphoning, memory hoarding and stealthily running applications and place them into hibernation when you are not using them.
The users can see a list of applications that are functional upon the waking up of the phone and afterward they can change the settings of the applications or applications which should help in the decrease of lag on Huawei Honor 9i smartphone, in this Greenify application.
Greenify works superior to different applications in suspending undesirable applications since it doesn't absolutely disable them or require loads of manual changes – it works consequently, and influenced applications are still usable. I hope this may resolve the Huawei Honor 9i performance issues that you could be facing.
Issues For Which There Is An Option Of Update Only
There are a few sorts of issues in the performance of the Huawei Honor 9i smartphone series which won't have instant arrangements or simple fixes to them.
This is the case where the user is left out with the option of refreshing its smartphone.
A portion of the basic sorts of these issues include:
The touchscreen failure or fault lies under two major classes. First One is equipment (hardware) related and the other one is programming (software) related. Equipment related issue may not be fixed that effortlessly and require a repair of broken parts or might be the complete replacement of touchscreen. Taking it to the administration focus(Service center) or a workforce who can mechanically fix the touchscreens will correct the hardware related touchscreen issue. Then again, the issue could be programming (software) related. Presently, such issue can be settled with changes, applying patches or taking some essential measures to restore the lost touch response.
Many Huawei Honor 9i users complaint about the touch Sensitivity of the smartphone, they are not happy with it as they found it less attractive, as it is not so much impressive as they were assuming. The toughest one they have to deal with is when the screen of the phone drag along with the right and left direction. But no need to worry because Huawei Honor 9i series will soon be launching an update for this issue, to improve the touch-sensitivity of the smartphone.
The absence of Audio Control on the lock screen
A major drawback of Huawei Honor 9i, the performance issues faced by the users that when they choose to change up the music track or try to control any function related to audio system on the smartphone. This is one of the major problem and users are expecting the updated version.
Therefore, Huawei Honor 9i is one of the best smartphones, it cannot help out in sorting out some of the hardware and software issues but it can happen with any of the electronic devices. This kind of issues can be resolved easily by going online.
Notification bug is another arrangement of issue related to the forceful management of the RAM or battery optimizations which could prompt issues with the outsider (third party) launchers.
This issue might occur might be because of the power saving features on Huawei Honor 9i. And you probably wouldn't be getting all the notifications you're used to on other Android devices.
These notifications include data-based messaging apps like Whatsapp, Facebook Messenger, Instagram, Telegram, Viber, Skype, Twitter, Google Hangouts and even anything from Gmail and Outlook to text messages more.
This is another arrangement of issue related to the forceful management of the RAM or battery optimizations which could prompt issues with the outsider (third party) launchers. This may bring about the issue of the notification not coming through because of which the users may lose some essential data or update.
Also, to settle this Huawei Honor 9i execution issue, Huawei Honor 9i smartphone series will dispatch the software update soon.
Conclusion:
Although Huawei Honor 9i is a great smartphone with the qualities like:
Revolutionary Speed (This ground-breaking interplay between hardware and software means your HUAWEI Honor 9i is born fast and stays fast.)
Global connectivity (HUAWEI Honor 9i offers outstanding performance worldwide. )
Enhanced Power (With its large 4000mAh battery and smart power-saving technology, you can enjoy two days usage.)
Breath-taking photography (The HUAWEI Honor 9i offers exceptional sharpness to have the excellent pictures.)
Fingerprint Unlock Speed (It comes with a four-level fingerprint including 3D fingerprint recognition.)
Bold, meticulous and refined (Inherited from Honor Sub brand Series by Huawei and inspired by natural elements, Honor 9i has the visual and sensual feel that's uniquely glamorous.)
It can't help the inflow of a few sorts of equipment or programming (hardware or software) issues as with some other electronic gadget. Thus, this smartphone series may likewise be confronting a few issues, for example, Huawei Honor 9i performance issues.
In any case, these performance issues can be effectively fixed with the assistance of some basic catch or applications accessible online to back out the users of the smartphone.
I hope this guide was helpful to fix the Huawei Honor 9i performance issues. In case if you find any other, please leave a comment below.