iPhone 8 plus is in the market now and is powerful than all the old models released so far. today all the research and development of smartphone manufacturers concentrate on a more powerful device. The one thing which gets seriously affect by this increases working power of smartphones is its battery life. Although many manufacturers managed to release models with high battery backup, the battery life issues still persists. Even the iPhone 8 plus is prone to battery life issues. This article will help you to fix issues with charging on the new iPhone 8 plus.
There are various complaints about charging being raised by users against the new iPhone 8 plus. When it comes to charging the two kinds of issues are either the device charges dead slow or it never really charges. This article will help you in dealing with both kinds of issues. The charging issue can be related to hardware issue which requires technical assistance of a certified professional. But you can't be very sure that some minor is not causing the issue. So try out these steps given here and if this doesn't help technical assistance is recommended.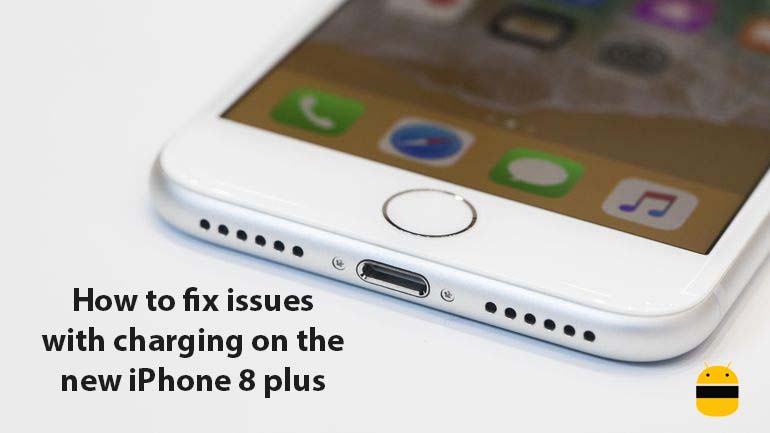 Steps to fix issues with charging on the new iPhone 8 plus
For a slow charging or not charging issue there are two possible ways you can fix it. Please read through to find out what are those.
Clean the charging port
The first thing you should give a try is cleaning your charging port. The biggest villain for any electronic device is nothing but dust and dirt. When a lot of dirt gets accumulated inside the charging port this will stop the device from properly charging. So try cleaning the port as the first step. It is recommended to do a cleaning occasionally. Make sure not to damage the port while cleaning.
Change the charger
iPhone chargers are well known to get damaged easily. So in a lot of reported charging issue the main problem was with the charger. Only replace the charger with an original one from
Apple for ensuring longer battery life.
I hope this guide was useful in understanding how to fix issues with charging on the new iPhone 8 plus. If you have any queries or feedback, please leave a comment below.