LG has become a popular and in fact, a well-known smartphone provider in the present scenario. With a very large number of highly satisfied customers all over the world, they are gaining popularity their presence at a very quick rate in the international smartphone market. You might have no idea but some of their recent inventions such as V30 have become the number one choice of many people. However, the fact that they too have some minor OS issues cannot be neglected. So here in this post, I am going to put some spotlight on how to fix LG V30 fast battery drain problem.
The battery is actually considered as the respiratory system of a smartphone without which it cannot survive. Fast drainage of same often imposes a limit on the functionality and the performance of a device. Therefore it is necessary to deal with this problem. There are certain factors that can he held responsible for this. Due to no other reason than this, multiple solutions have been provided in this post to enable you to keep up the pace simply with the battery drainage problem. So here is what exactly you need to do.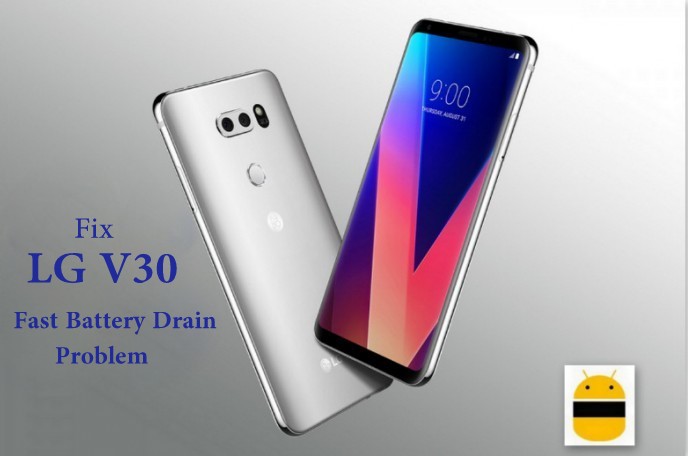 How to Fix LG V30 Fast Battery Drain Problem
The most common reason for this issue is nothing but bad apps or bugs in them. The following methods help you to deal with this issue in the best possible manner.
Disable Bluetooth, Location, LTE
We all have habits of keeping the Bluetooth, location, LTE ON when there is actually no need of same. This is one of the leading reasons why the device is consuming extra battery. It is always a good idea to turn them ON only when there is a need of them. The battery performance of the LG V30 gets affected by upto 30% if you turn them ON unnecessarily.
Use Power Saving Mode
Well, the fact is quite true that the battery backup of any smartphone depends on how a user uses it. If you think you have more applications installed on your device and you use them frequently, it is always a good idea to keep the power saving mode ON. Although its limit some other features, the battery backup can be enhanced significantly.
See if apps are running in background
Apps running in the background are the major trouble creators in this manner. You might have no idea but this can significantly drain the battery of any device. Therefore it is always recommended to you to close them. Also, remove the apps that you install only for one time use.
Factory reset your device
To fix LG V30 fast battery drain problem, another method that is useful for you is to perform a factory reset. This will delete the device data and therefore it's good to take the backup first. The instructions to perform factory reset are as following.
Open device Settings and tap on General.
Tap Backup & reset.
Select or clear the following check boxes:

Back up my data
Automatic restore

Next is to Tap Factory data reset.
Tap Reset phone > Next.
Tap Delete all and click OK
Impose a limit on tethering
Tethering is a major trouble creator when it comes to quick battery drainage. Therefore it's always good to use this feature only when you need it. Else, keep it OFF.
With these methods, you can simply fix LG V30 fast battery drain problem. However, if you find the problem is still there even after you adopt all that is listed above, there might be chances that your V30 have a battery problem. Visit a nearby authorized service center to confirm the same.