Although the Moto Z2 Force and other phones in the series are capable of processing with lightning-fast speed, phones, in general, are subject to issues after using for several weeks or months. Screen freezing is one of the issues that users have reported. Similarly, screen flickering problem has become prevalent where the device becomes unresponsive or starting flashing. This is why we decided to put up an explicit guide to fix Moto Z2 Force screen flickering problem. Read along to know how to fix this issue.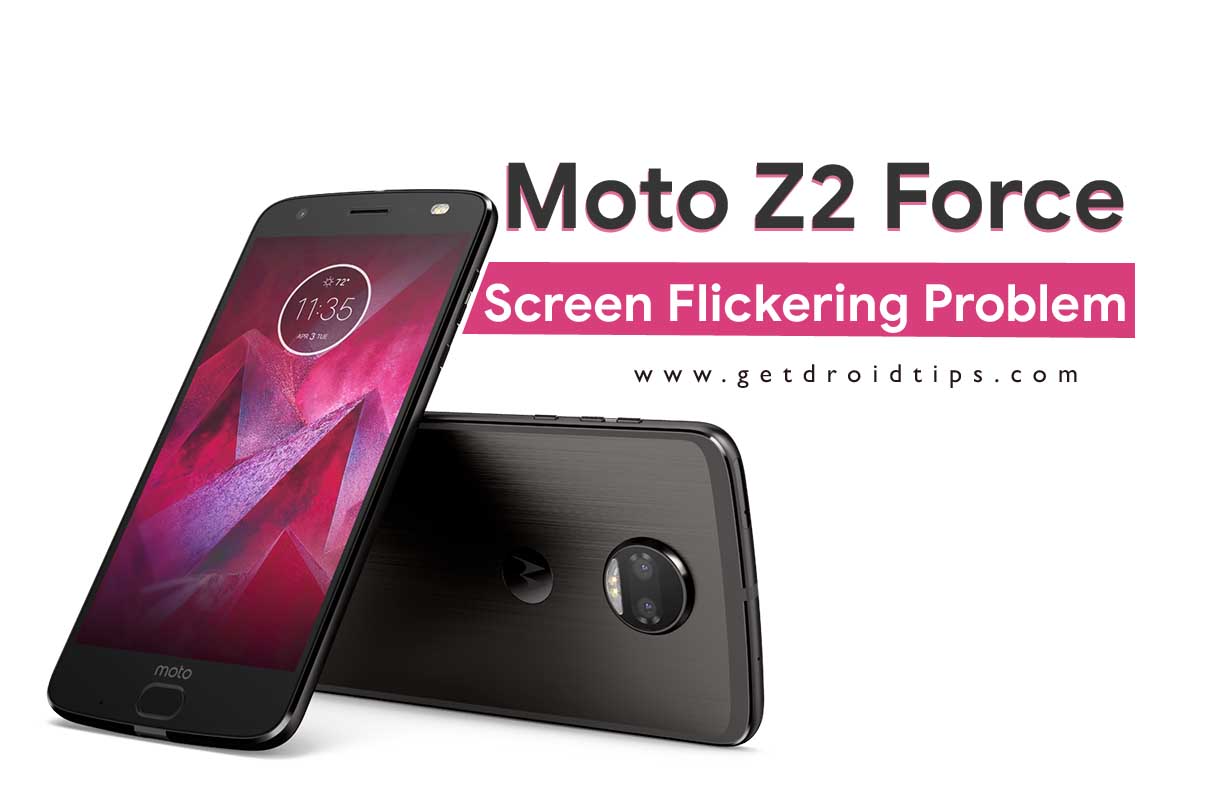 What Is Screen Flickering & Lagging?
Lagging is essentially the state when the phone becomes sluggish and delays reaction for any action performed on the touchscreen. This is one of the most common problems which develops after using the phone heavily for months or so. Another major problem is screen flickering where the screen flashes and flickers every 5 to 10 seconds. There could be various reasons behind the issue but at the end of the day, it must be fixed. I have prescribed few methods that can help fix the issue right away.
How To Fix Moto Z2 Force Screen Flickering Problem?
Is your Moto smartphone behaving abnormally? It is getting lagged or unresponsive or its screen is flickering, you can opt for these methods to resolve the issue.
Method 01: Reboot The Device
Well, this is a very standard protocol when the phone doesn't respond or practically any other problem since this cuts off the resources used, it is beneficial for the phone to reboot. You can perform a soft reboot either by removing the battery or by pressing the power key for few seconds. This is will automatically restart the phone. Know that this is a popular but temporary solution. Therefore, if the screen flickers often, other methods can be brought to use.
Method 02: Check Animation Scales
The Developer Options has many features that one can use to optimize the phone and its performance. One of the feature "Animation Scales" determine the animation related properly the phone. Although it is usually at 1x, an error can cause it to shoot up and that's why you'll have to check it if the screen flashes. Go to Settings > Developer Options > Animation Scales and set the default at 1x speed.
Method 03: Update The System & Apps
There are endless possibilities that your smartphone could do and likewise, there are endless possibilities of the phone to get crashed or not respond. We have several apps both pre-installed and those which we have downloaded. The apps need constant updates to get rid of their bugs. Updating the apps allows the users to enjoy new features without lagging the device. Keeping the apps up-to-date also has a positive impact on the RAM and other resources used and on the contrary, keeping it outdated can pose problems. You can easily update the apps by going to Play Store > My Apps and games.
Another part of the software that needs updates is firmware. This is essential as it has many security patches and performance boosting elements that can make your phone both secure and efficient. Failing to update can result in laggy performance, delay in action, and more. It can also cause screen flickering and freeze and that is why it is highly recommended to update it as and when available. To get rid of Moto Z2 Force Screen Freezing Problem, go to Settings > About Device > Software Updates.
Method 04: Screen Flex Cable
This needs some expertise and doing it for the first time could end up in trouble. A screen flex cable connects the screen to other peripherals under the phone's hood. The connection is strong but sometimes, it could get disconnected or loosen from its points which can cause problems with the display screen. If you are observing screen flickering issues far too much often, chances are that the screen flex cable is the culprit. You can open the phone and try to adjust the cable at par with the instructions provided in the manuals. This is comparatively cheaper than visiting a service center to get it fixed.
Method 05: Wipe Cache & Cache Partition
Backgrounds apps and processes can take up a major chunk of the available resources diminishing the processing power of the device considerably. This problem can lead to issues such as screen freezing or flickering, lagging in processing, etc. Therefore, you can wipe the cache memory of the device in two methods. First is through Settings > Storage > Cache and confirm erasing the cache memory. Another method is through the Recovery mode which you can enter by switching off the phone and then, pressing the Power Key and Volume Down button to enter. Once done, reboot the device to check if the problem is sorted or not.
Method 06: FDR
If nothing method above works in your favor, perform a Factory Data Reset (FDR) on your phone. It will erase all the data including contacts, photos, videos, audio files, etc along with all third-party and downloaded apps. FDR will reboot the phone with factory settings when the process is over. You can take a backup of the data stored using USB Cable or by sending it to the Drive, etc. Now, go to Settings and then "Backup & Reset" feature available. Click on "Reset" phone to reset it. You can also go through the Recovery Mode by pressing a particular combination of keys and perform a complete factory reset in just a few seconds.
Method 07: Moto Service Center
Issues which aren't resolved even after taking various measures and fixes must be reported to the Moto Service Center. The technician will fix the issue charging fees if something is burnt, damaged, or broken and needs replacements and if not covered under warranty. Although it will incur some cost, the technicians will get the smartphone fixed with its Moto Z2 Force Screen Flickering Problem giving a new life to the device.
These were seven methods that you can execute to resolve the issue at earlier. Although this guide is especially for Moto Z2 Force, it is applicable to all Android phones since GetDroidTips gives you insights and guidance to fix any and every issue with Android and Apple as well. You can find details on How to fix Issues on practically any smartphone here. Are WiFi Issues hindering you? Is your Bluetooth not working properly? Does your GPS show incorrect locations? Stay tuned at GetDroidTips to get answers to every question.