Audio problems in smartphones are quite common. Notably, where devices go through their life cycle and wear and tear, certain devices' features cause problems. Well, audio problems generally happen due to defective audio hardware or buggy software. Both the reasons can be the reason behind the poor sound quality, static noises, muffled sounds, or no sound from your phone. iPhone X users have also reported that they can sometimes not hear anything or the device produces no sound during playback.
And if you are also facing a similar issue on your iPhone X and are looking for ways on how you can fix no sound and audio issues on your phone, then you are at the right place. As in this post, we will give you a complete guide on the solution you can make use of to fix the issue on the iPhone X. This guide includes certain generic solutions and some advanced fixes that you can apply to fix this issue. So, with that being said, let us take a look at the article itself;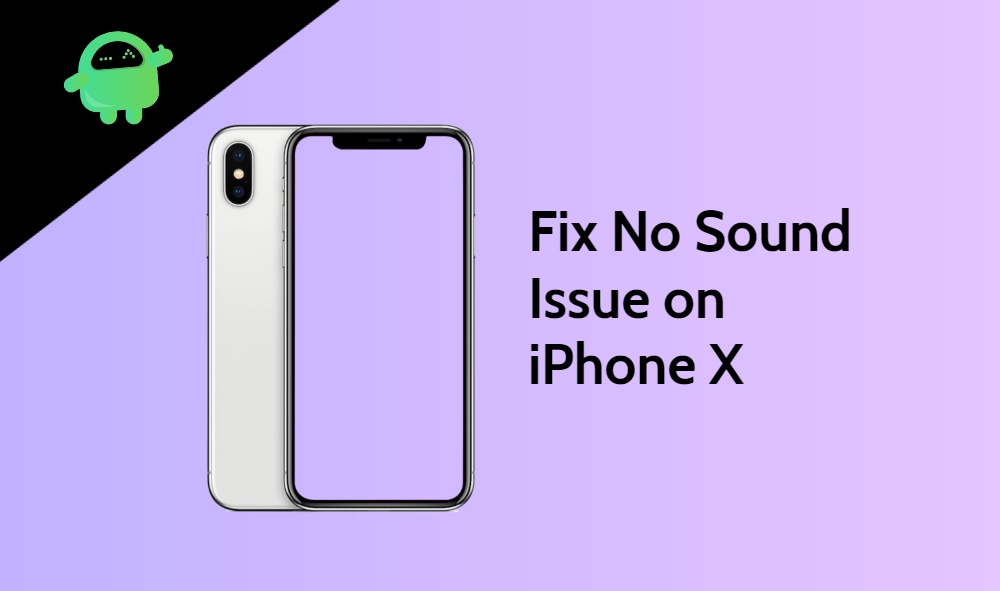 How to Fix iPhone X No Sound And Audio Issue?
As we have mentioned above, we will give you some general fixes which you might have already tried on your phone along with advanced fixes. Note that it is always better to double-check using the general fixes and then turn over to advanced fixes. Below are the fixes which you can make use to fix the iPhone X with no sound and audio issue:
Perform a soft reset on iPhone X
A soft reset resets the values of your iPhone to their default values. This could be very well the solution, causing complications on your iPhone X and ultimately resulting in no sound or audio problems like poor sound quality, static noises, or muffled sounds. Random minor software glitches could be the reason behind this sound issue. And to perform a soft reset on your iPhone X, follow the steps below:
It would help if you pressed the Power button or the Side button along with either the Volume Up or Down button for a few seconds.
The Slide to Power Off option will appear on your iPhone X's screen.
Swipe right to turn off your phone.
Wait for 30 seconds before powering ON your phone.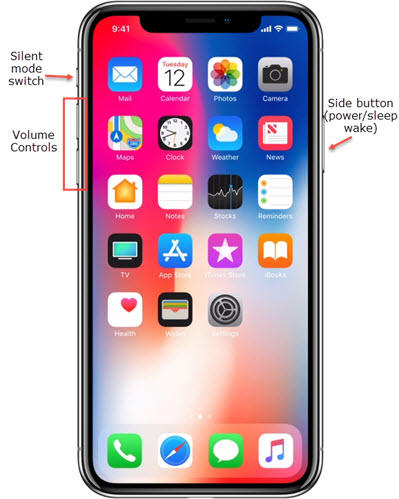 With iOS 11, there is a new way to soft reset your iPhone. This can be easily done from the Settings menu. And to do that:
Open the Settings app.
Tap General.
Then tap on Shut Down.
After 30 seconds, power ON your iPhone X.
Notably, the soft reset process does not cause any data loss, and all the data stored in your iPhone is safe.
Turn Bluetooth On and Off
There are certain situations for which an easy fix is right in front of our eyes, but we have our eyes on complicated solutions that we ignore the simple ones. One such solution for no sound issue can be that your iPhone X might be paired with a Bluetooth speaker, headphone, or any other audio accessory. Hence, the audio is not coming out via the speakers of your iPhone. To rule out this possibility, follow the steps below:
Open the Settings menu.
Head over to Bluetooth.
Tap on Bluetooth to turn On or Off the feature.
If it is turned ON, then toggle it to OFF.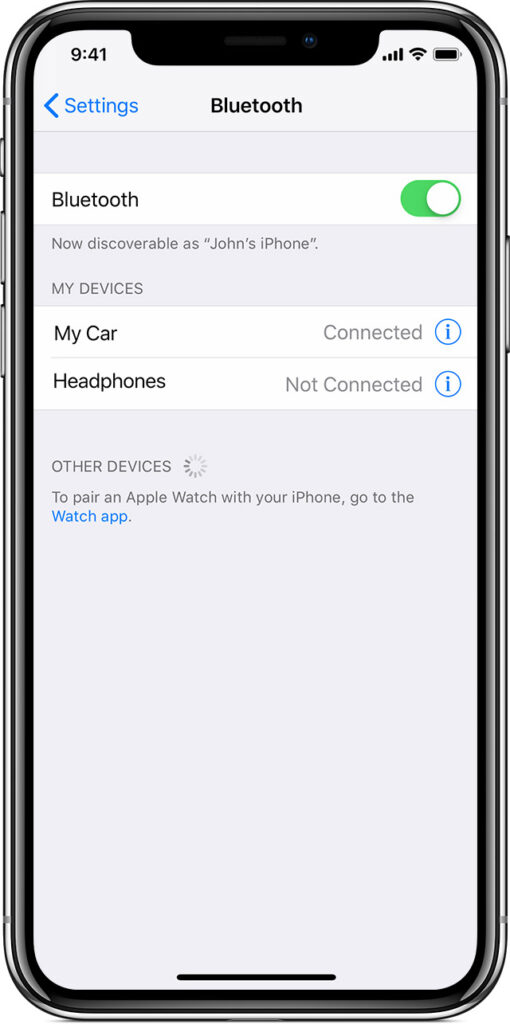 If toggling Bluetooth on or off does not help resolve this issue, you can follow the next solution.
Close all background apps
Certain apps can cause conflict with each other resulting in such issues. Corrupted apps can cause issues with the system apps and thereby resulting in no sound issues on iPhone X. Though this is a minor glitch, you should follow the below steps to keep this possibility out of the cards:
Tap and hold any app on the Home Screen.
Once it starts jiggling, tap X on the Home Screen.
Tap on Delete to confirm the action.
Another way is to see if there is any pending app update available. With the latest iOS software, third-party app developers also send out new updates to run in compatibility with iOS.
Reset all settings on iPhone X
Resetting all the settings on your iPhone X is another option that can restore the phone to its original values without affecting user data. This could help you fix various glitches and bugs present on the phone. Moreover, you can also make use of this solution to fix the no audio problem on iPhone X. To do so:
Open Settings.
Head over to General.
Tap Reset.
Now select the option Reset All Settings.
You will be asked to enter your device's passcode.
Once done, tap on Reset All Settings to confirm.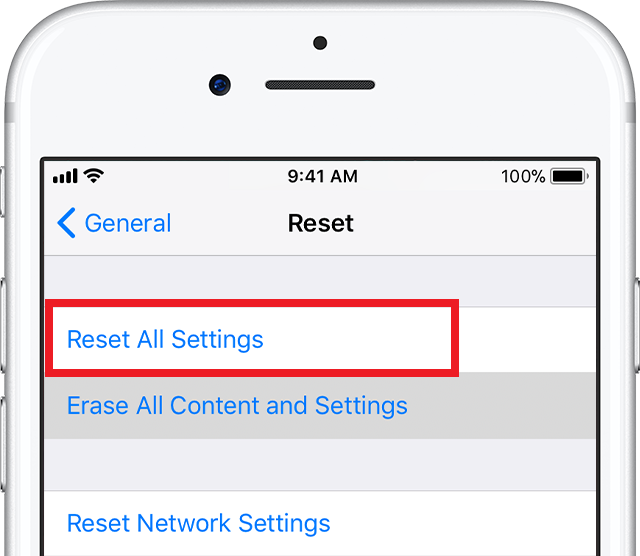 This method will restore all the user values on WiFi, Bluetooth, and other settings back to its original settings. However, this does not remove any user data stored on the iPhone.
Update iPhone X to latest iOS
As we have mentioned the importance of pending app updates, keeping your iPhone up to date with the latest iOS is also crucial. The older version of the iOS can be buggy and not compatible with the latest versions of the app, which might cause no audio issues on your iPhone. As Apple releases regular iOS updates, you should always check the latest iOS update available for your phone. To do that:
Tap on Settings.
Head over to General.
Then tap Software Update.
If a new update is available, you can tap on it to install the latest update on your iPhone and see if this procedure helps you resolve the no audio issue on your iPhone X.
Perform factory reset iPhone X
As a last resort, you can head over and go ahead with the factory resetting your phone. However, note that this will reset your iPhone back to its original values meaning that all the data stores in your phone will be deleted. If you are okay with this, then you can go ahead and follow the steps below to perform a factory reset on your iPhone X:
Connect the lighting cable to connect your iPhone X to the computer.
Open iTunes on your PC.
Please tap on the icon of your device model to select it.
Head over to the Summary panel.
Then tap on Restore [iPhone] button.
Again press the Restore button.
So, there you have it from my side in this post. I hope you could solve the no audio issue on your iPhone X. If you were able to fix this no audio or sound problem on your iPhone X via some other methods, then also do comment in the below section to let us and others know about it too. Let us know in the comments below which of the above-mentioned method worked for you. Make sure to subscribe to our YouTube Channel for awesome videos related to Android and Gaming. Until the next post…Cheers!