One of the stunning devices introduced by LG in the International smartphone market is V30. Although its quite popular and is one of the best selling devices, many users have already reported about sound problems in it. However, it is not necessary that it's due to a hardware problem in all the cases. Actually, most of the issues reported are due to software problems that can easily be fixed. Nothing much is required for the same. If you are too experiencing this problem with your device, here is the guide on how to fix sound problems on LG V30.
There are a few things you need to keep in your mind before you proceed further. The very first thing is you need to consider all the instructions mentioned gently. First of all, simply restart your device and check if the problem is gone. In case it's not, proceed with all the pending updates. OS bugs are the major contributors to the problems like this. Thus, there are very good chances that it would be gone. Else, to fix sound problem on LG V30, pay attention to the following.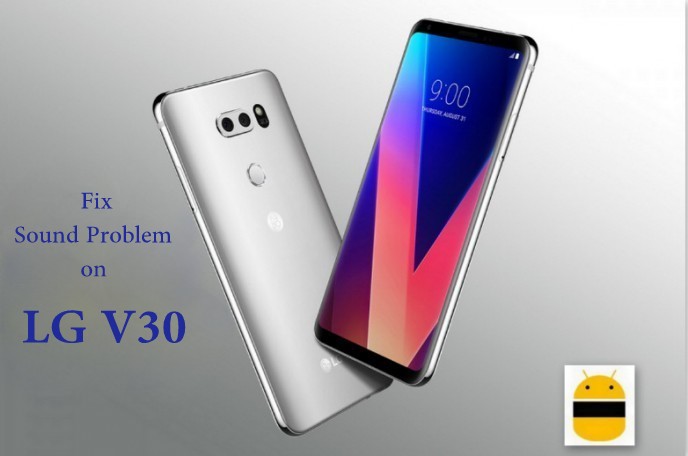 How to Fix Sound problems on LG V30
Clean the speakers gently
Most of the times, the problem is due to dust and dirt that deposit itself in the microphone. Clean it properly. If you think, you cannot do it, take help of an expert. The simplest method to keep up the pace is to use a pressure of air.
See if the phone is not connected to a nearby Bluetooth device
Turn OFF the Bluetooth of your LG V30. You might have synchronized it with another Bluetooth device around you recently. In that case, it might be connected to same and that can be the reason why you face the sound problem.
Clean the cache
Cleaning the cache will probably eliminate this problem and to do so, following are the instructions to help you.
First of all unlock the device screen.
After this, proceed to the home screen and click on the app icon.
Open Settings and locate Application Manager
Display All Tabs by swiping either to the right or left of the screen.
Click Bluetooth option and choose to stop it forcefully
You can clear the cache now
Press the Clear the Bluetooth data and press OK
Reboot your device now
These are the methods you can follow to fix sound problems on LG V30 and can bring it back in proper working condition once again. If the problem still exists, the device might have some hardware problem related with the speaker or the microphone. You need to visit an authorized LG smartphone repair center in such a case.