Steam has become one of the most widely used online gaming distribution services and software clients in the PC gaming industry. If you're a PC gamer, Steam is a must-stop destination on Windows OS. From choosing thousands of PC games to sharing games with your friends to playing PC games on the Steam client, everything is at your fingertips now. But if you're facing a Steam Service Error, you can follow this guide.
Whenever Steam client users try to run the launcher on the Windows computer, several of them are receiving an error message "The Steam service component is not working properly on this computer. Reinstalling the Steam service requires administrator privileges." When it comes to the Steam Service error, it plays a major role to run Steam properly. Well, there are a couple of possible reasons behind such an issue.
How To Fix a Steam Service Error
Talking about this particular error, the Steam Service doesn't run properly on your computer. Sometimes a simple restart of the computer or even the Steam client may resolve such issues completely. However, some affected Steam client users may not find this common method useful enough.
Also Read: How to Fix Missing/Unavailable Content Manifest Error | Steam 2021
Whereas the Steam Service may get broken or corrupted due to some unfortunate reasons. In that scenario, you should repair it. The chances are also high that either you don't have admin access to run Steam or the service isn't running in the background. Now, without wasting any more time, let's get into the troubleshooting steps below.
1. Restart the Steam client
First of all, you should try restarting the Steam client on your Windows computer in order to resolve the service error properly. It's one of the most common fixes that plenty of affected users found useful but not everyone may find it effective in some scenarios.
2. Reboot Your PC
Well, if restarting the Steam launcher doesn't help you out, try restarting your Windows computer to apply changes. Make sure to close all the running applications first and then restart the PC.
3. Give Admin Access to Steam
Running the program as an administrator on your Windows computer definitely allows you to conduct a smooth operation whatsoever. Otherwise, you may not be able to launch the program if you don't have admin access. To do that:
Locate the Steam exe file or the shortcut and right-click on it.
Now, go to Properties > Click on the Compatibility tab.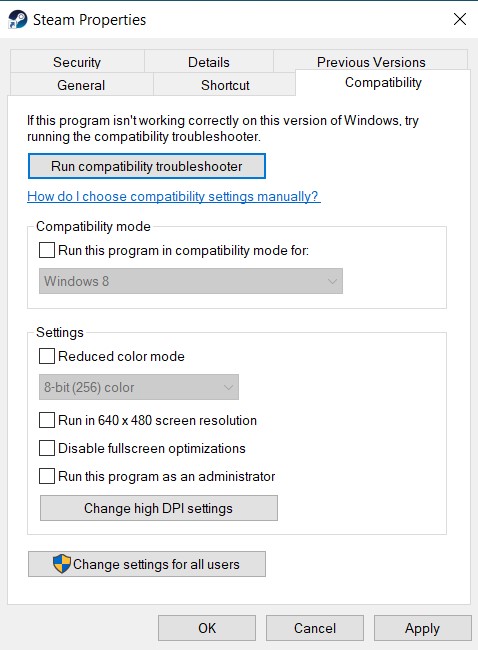 Click on the Run this program as an administrator checkbox to enable it.
Next, click on Apply and then OK to save changes.
Once done, make sure to run the Steam launcher to check for the issue.
4. Enable Steam Service
If you're encountering that the Steam Service isn't running properly or the Steam client has some issues with the startup that means the Steam Service is either stopped or disabled. It can be enabled again by following the steps below:
Press Windows + R keys to open up the Run dialog box.
Type services.msc and hit Enter to open Services.
Now, scroll down the list and search for Steam Client Service.
Double-click on the Steam Client Service from the list to open Properties.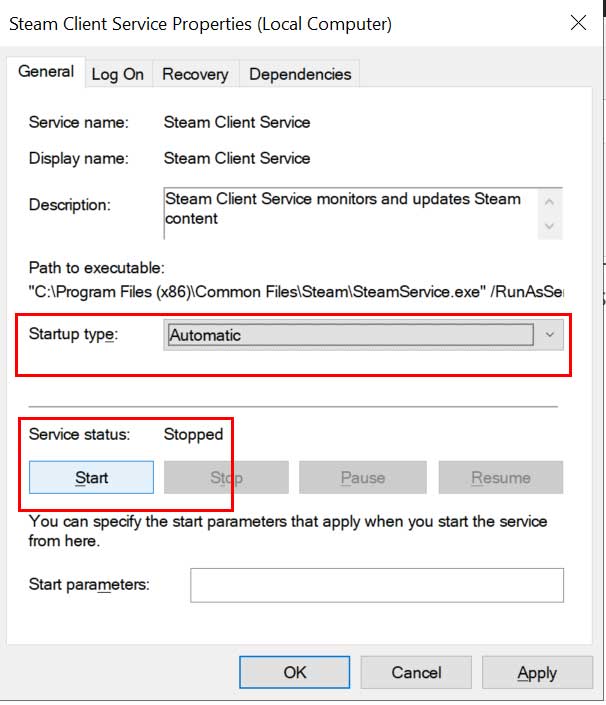 Next, click on Automatic and select it from the Startup type option.
Click on Apply and then OK to save changes.

If in case, the startup type is already selected to Automatic but the service is stopped, just click on the Start button to resume it.

Once done, close the window, and reboot your PC to apply changes.
5. Repair the Steam Client Service
The Steam client service can be fixed by repairing it on your Windows computer. You can do this by using a simple command in the command prompt window. It'll basically reset the Steam client service and you'll be able to use it once again without any error.
Press Windows + R keys to open up the Run dialog box.
Type cmd and press Ctrl + Shift + Enter keys to run it with admin access.
Now, go to the installed Steam folder (location) and copy the path.
Paste it into the command prompt that'll look something like [Here the location may vary on your computer depending on where you've installed it]
C:\Program Files (x86)\Steam\bin\SteamService.exe /repair
Press Enter to execute it.
Once done, close the command prompt window, and re-open the Steam client on your PC.
You're done.
6. Reinstall Steam
However, if none of the methods worked for you, try simply uninstalling and reinstalling the Steam client on your Windows computer as a final resort. To do this:
Press Windows + I keys to open Windows Settings.
Click on Apps > Scroll down the list of installed apps and locate Steam. [You can also directly type steam and search for it]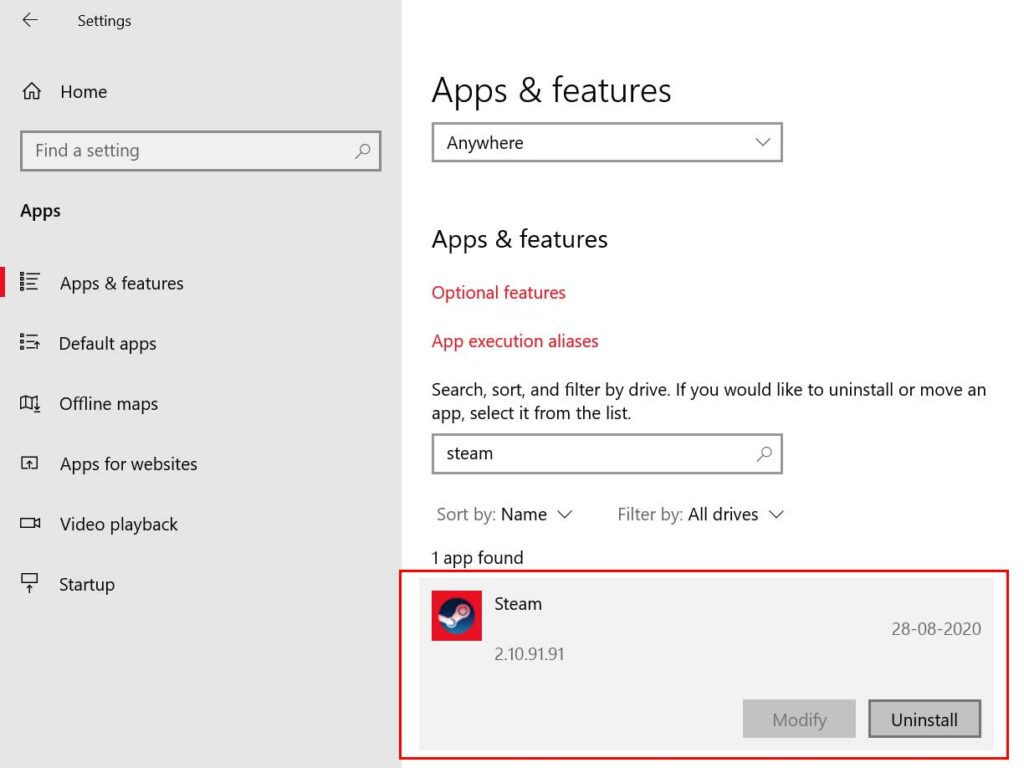 Click on Steam and select Uninstall.
Follow the on-screen prompts to complete the uninstallation process.
Once done, make sure to restart your PC to change effects.
Next, head over to the Steam Installation webpage and grab for your Windows.
Finally, open Steam > Sign in to your Steam account and you're good to go.
That's it, guys. We hope this guide was helpful to you. For further queries, feel free to ask in the comment below.