If you want to flash BIOS on Chuwi Hi13 tablet then follow this guide. We have put up the BIOS download link and provided the complete illustrative guide to install the same. First, let's understand what exactly is A BIOS and what it does in a device.
What is A BIOS..?
BIOS stands for Basic Input Output System. It is the program used by the device's processor to get the system started after the user turns it on. It also manages data flow between the operating system and attached devices such as the hard disk, and USB drives. When BIOS starts up your device, it first determines whether all of the attachments are properly connected and working. Then it loads the operating system into the systems random access memory (RAM).
How To Flash BIOS on Chuwi Hi13 Tablet
Before performing the BIOS installation, we need to download the BIOS. Follow the links given below to get it.
BIOS Download
  Download BIOS for Chuwi Hi13 Tablet
Mirror Links
You May Also Like,
Steps to Flash BIOS on Chuwi Hi13 Tablet
First, you have to follow some guidelines and get some tools with you which will be positively required in this firmware installation. We have listed them below.
Pre-Requisites
A USB Drive
USB-OTG cable
USB Keyboard
You must charge the battery of the tablet for more than 50%.
Note: GetDroidTips will not be responsible for any incidental bricking of your device after you install the update. So, make sure to follow the steps carefully.
Installation Guide
Step-1 Format the USB drive into the FAT 32 format and rename it as "WINPE".
Step-2 Copy all the files in the RAR file to the USB drive.
Step-3 Connect the USB drive and the USB keyboard to the tablet via OTG.
Step-4 Press the power button for around 3 sec, Then tap on "F12" key continuously in the keyboard. You will see the following screen.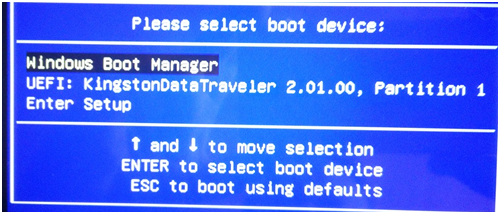 Step-5 Using the arrow pointer to choose your USB drive for boot, then press Enter.

Step-6 The tablet will enter Shell mode and start the flashing script. Wait until it finishes.
Step-7 After the installation finishes, switch off the tablet and remove the USB Stick.
Step-8 Again turn the tablet on > tap F12 key and select Enter Setup.
So, congrats as you have now successfully flashed BIOS on the Chuwi HI13 tablet PC. We hope this guide was helpful to you.