Good news for Meizu M6 (2G/3G/4G) users. Now you can have Flyme OS 6 for Meizu M6. Flyme 6 OS was released for Meizu devices recently which is based on Android 6.0 Marshmallow. The Flyme 6 OS comes with many features such as themes, New User Interface, Meizu launcher, Flyme Weather app, and many more other features along with performance improvements and optimization. Now Flyme 6 OS is available for many Android devices too apart from official Meizu devices. The latest version of Flyme 6 OS is now available for Meizu M6. You can now download and install Flyme OS 6 for Meizu M6 from given link below. If you are here for the first time, then read the difference between Custom ROM and Stock ROM.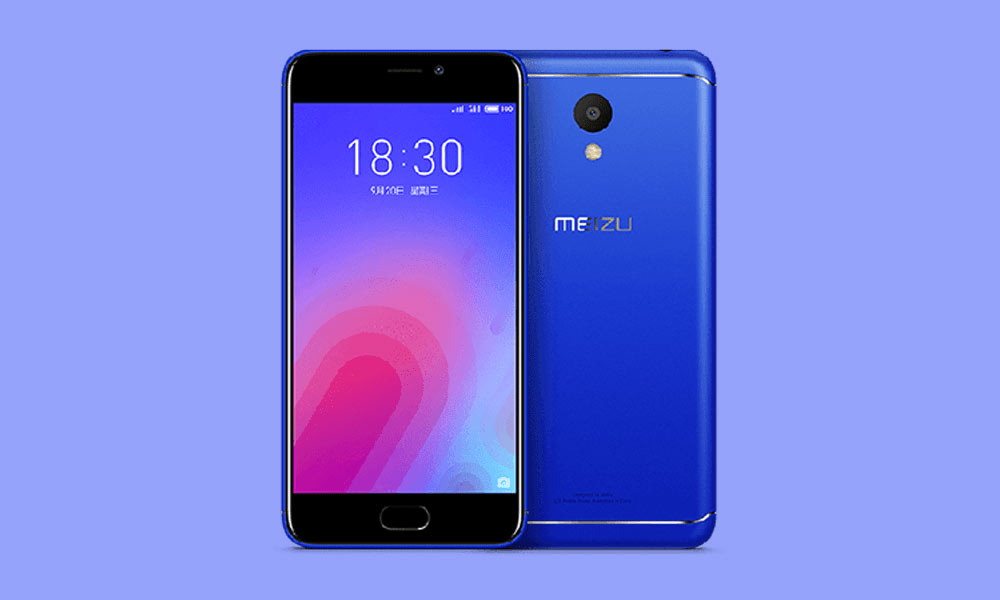 Download and Install Flyme OS 6 for Meizu M6
Today you will learn how to install Custom ROM Flyme OS 6 for Meizu M6 from the below given direct link to download and guide. To install Flyme OS 6 for Meizu M6, you need TWRP Recovery or any Custom Recovery on your phone. So if you don't have a custom recovery, check this guide on How to install TWRP on Meizu M6. If you do have TWRP, then you are good to read the steps for How to Install Flyme OS 6 for Meizu M6.
[su_spoiler title="Read the Full Changelog of Flyme OS 6.7.3.3G " style="fancy" icon="arrow"]
System
Updated to Flyme 6.
Updated Hot Apps and renamed it to App Store
Refined system translations.
Updated Weather
Updated Launcher
Improved battery management.
Improved Bluetooth connectivity.
Updated video version.
Improved system stability.
Enhanced system agility.
Improved compatibility for some third-party apps.
Visual design
Brand new color schemes for user interface.
Adjusted font style and spacing to improve reading experience.
Notification shade
Added support for dynamic notifications that can be viewed and played in the notification shade.
Added notification management shortcut so users can access management options by long pressing a notification card.
Home screen
New toggle: Screen Rec.
Added support for bidirectional long screenshot along with brush, text, mosaic, and other screenshot editing options.
Added ability to open relevant settings screen by long pressing a toggle.
Display incoming call notifications in small bubbles so users can decline or answer calls without leaving current screen when playing games.
Task Manager
Added support for 3 new gestures: swipe left from right edge to open Task Manager; swipe up to remove task card; swipe down to lock or blur task card, or add apps to multiwindow.
Display apps' memory usage beneath task cards for easier viewing and control.
Moved "clear all" button from top to bottom of screen for one-hand reachability
One Mind engine
Added Game Mode, which identifies running apps to enhance gaming performance, and disables gestures with Do Not Disturb feature.
Added Smart Sleep mode. Based on users' work and rest patterns, it adjusts network connection to save memory and battery power, and repairs the system automatically at night by defragmenting memory and managing system caches and background processes.
Ability to sort notifications by priority, displaying most important message on top.
Added Smart Background, which freezes or closes background apps according to their characteristics and running status, so as to reduce memory and battery usage. Apps manually disallowed from background will be kept running when in working state.
Added Lightning Startup for apps. After learning your usage habits, the system will pre-load frequently used apps to quicken their startup.
Phone
Added cartoon avatars, supporting automatic avatar matching according to keywords while allowing avatar customization.
Added support for group messaging and ringtone setting to contact groups.
Ability to share contact via QR code.
Added setup shortcut, so users can long pressing an information item on the contact details screen to access editing options.
Added ability to merge duplicate contacts.
Messages
Display messages in cards. Users can still open URL and select text in a message after switching to original text message.
Strengthened security strategies to protect SMS verification codes, prevent app access and cloud sync by third-party apps, and enhance account security.
Improved message saving, so users can save both message and recipients in drafts.
Parallel Space
Added Kid Space with special Home screen layout, low battery lock, anti-addiction, and other customized features for children.
Added Privacy Mode, allowing users to enter multiple spaces using different passwords.
Camera
Added makeup feature.
Added a variety of filters.
Smart Beautification with 5 beautification levels, turning the phone into a selfie pro.
Added time-lapse mode.
Added support for wind noise reduction to video recorder and improved video recording scenes to remove noise when recording and improve video quality.
Ability to adjust exposure compensation using gestures; separated focusing from metering to meet variable requirements in different camera scenes.
Added ability to launch camera by double-clicking Home button when screen is off.
Gallery
Added support for video editing, allowing users to edit videos and add filters.
Added a panorama album to organize and store panorama photos taken with the camera.
Pull down on photo list screen to view total quantities of photos and videos stored in Gallery.
Hold slider to view browsing progress.
Swipe down on an opened photo to return to photo list.
Tap "Resize" on image details screen to adjust photo resolution.
Added new photo sharing interface, allowing users to continue selecting photos on the sharing screen.
Security
Added Cleaner; re-categorized and sorted files generated during phone use.
Added background network manager to monitor third-party apps' network access and prevent unauthorized data usage.
Added low power mode. Remind users to enable low battery mode when phone battery is running low; control Bluetooth, GPS, sounds, and other features to extend battery life.
Streamlined super saving mode's mechanism, keeping only Phone, Messages and two other apps at most, so that basic needs can be met even with critically low battery level.
Improved power consumption curve on consumption details screen, adding foreground, background and other usage information.
Improved UI design, added background management in place of auto-start management, and combined security and privacy management with permission management.
System update
Improved user interface and animation.
Files
Added "Recents" tab for recently added files.
Added ability to hide the Vault icon.
Clock
Added world map, so users can find a city's location more easily.
Added ability to adjust time by dragging the terminator line on the world map.
Recorder
Added support for audio editing.
Toolbox
Added Random tool, where users can flip a coin to help make a decision.
Added Decibel Meter.
Calculator
Added numeral system converter.
Pros
Added support for Pro alert to allow to-do notifications.
Email
Slide left on a message to set it as to-do.
Add events to agenda automatically and give reminders when invitations are accepted.
Do Not Disturb mode.
[/su_spoiler]
READ THIS CAUTION :
So before jump into the manual upgradation setup, please make sure you have a good amount juice with at least 80% Charge. If not please charge the phone. Backup your phone in case if you need it later. If you brick the device we are not responsible. Do it at your own risk. Remember this guide is to update to Flyme OS 6 for Meizu M6.
CHECK POPULAR POST
PRE-REQUISITE
This will work on Meizu M6 (Don't Try this in Any other device):
Charge your phone up to 80% or 70%.
Download the latest Meizu USB Drivers
You will loose the original ROM or any CUSTOM ROM if you already installed on your phone. So make sure to Backup your phone before doing this step using TWRP or CWM or any Custom Recovery.
You can also backup all your apps using Titanium Backup or you can Backup without any Root
Watch Full Video on How to Install TWRP on any Android Phone.
Download all the Zip files from below and Place it in your phone's root of internal memory.
RELATED POST
Here is the full Guide on How to Install

Flyme OS 6 For Meizu M6:
Download Files
Flyme OS 6 (2G/3G/4G)
Guide to Flash Custom ROM using TWRP Recovery
If any Queries or Feedback related to Flyme OS 6 for Meizu M6, Please feel free to comment down below.