The new season of Fortnite is out with exciting new features and adventures. It features new weapons, maps, gadgets, skins, and much more. With it, obviously, the new umbrella of Season 5 is out. Thanks to Sizzy Fortnite Leaks, we can have a look at the new Victory Umbrella.
It is a beautiful combination of gold and purple this time and seems quite attractive. Its name is not known yet, since it has only been leaked through data miners. Like always, the umbrella cannot be bought but is to be earned. Here is a guide on what the umbrella looks like and how you can unlock it.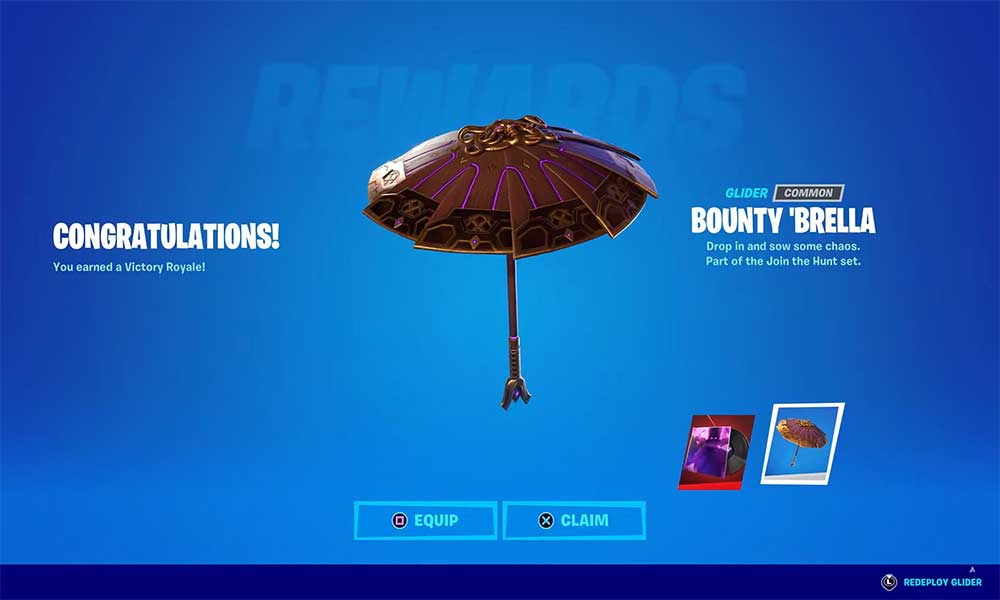 How to Unlock Victory Umbrella on Fortnite Chapter 2 Season 5
Whatever knowledge we have of the new Fortnite Chapter 2 Season 5 Victory Umbrella till now is only through leaks. The data miners are still trying to get more pictures of this new umbrella of the 2.96 updates.
So far, what we know is that the umbrella has a gold and purple color combination. It seems to be made of wood, with boundaries and emblem in the precious metal, gold. This message was released in a Tweet from Sizzy Fortnite Leaks. Below we have attached the Tweet for reference purposes and also to get an idea of what the umbrella looks like.
SEASON 15 WIN UMBRELLA! pic.twitter.com/zJfCbIez7G

— Sizzy – Fortnite Leaks (@SizzyLeaks) December 2, 2020
The purple color of the umbrella goes really well with the gold. It is based on a Greek theme and has a shape similar to that of a defense shield. One can see on top of the umbrella a Medusa emblem. It has a golden hilt-like handle for grip.
Every season of Fortnite features a unique umbrella that you can earn by winning a meaningful match. The umbrella is themed as per the theme of a particular season.
Additional Info
To win the Season 5 Victory Umbrella, you will have to win a match in any of the standard Battle Royal modes. You can fight in Solos, Duos, or Squads to earn the umbrella. Make sure that you prepare well and play your best bet for a guaranteed victory.
You can start by landing in a quiet and safe area outside the location that has been named. You must gain a strong and powerful gear for the fight. Fight the intended match skillfully and win it to get the "Victory Royale." This will add the Chapter 2 Season 5 Victory Umbrella to your glider inventory. It is yours to keep now.
Well, that's all we have for you with the unlocking of Victory Umbrella in Fortnite Chapter 2 Season 5. For more gaming and other updates, subscribe to our YouTube Channel. Also, check out our Gaming Guides, Windows Guides, Social Media Guides, iPhone, and Android Guides to know more.