Fortnite Chapter 2 Season 3 'Splash Down' is finally out and it brings along some massive changes to the game. The map in the game is now barely the same as before. And there are new weapons and challenges along with a few other additions to the game. Before the new season was introduced, an in-game event brought a wall of water surrounding the map in the game. This has now lead to the main changes in the map which we'll talk more about below. Moreover, in this post, we will take a look at everything new in Fortnite Chapter 2 Season 3.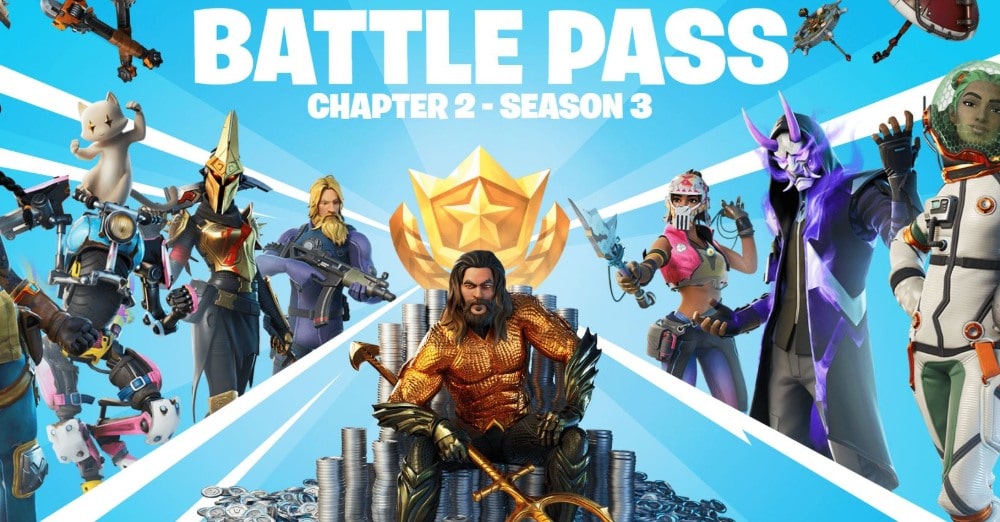 New Map – There's water everywhere!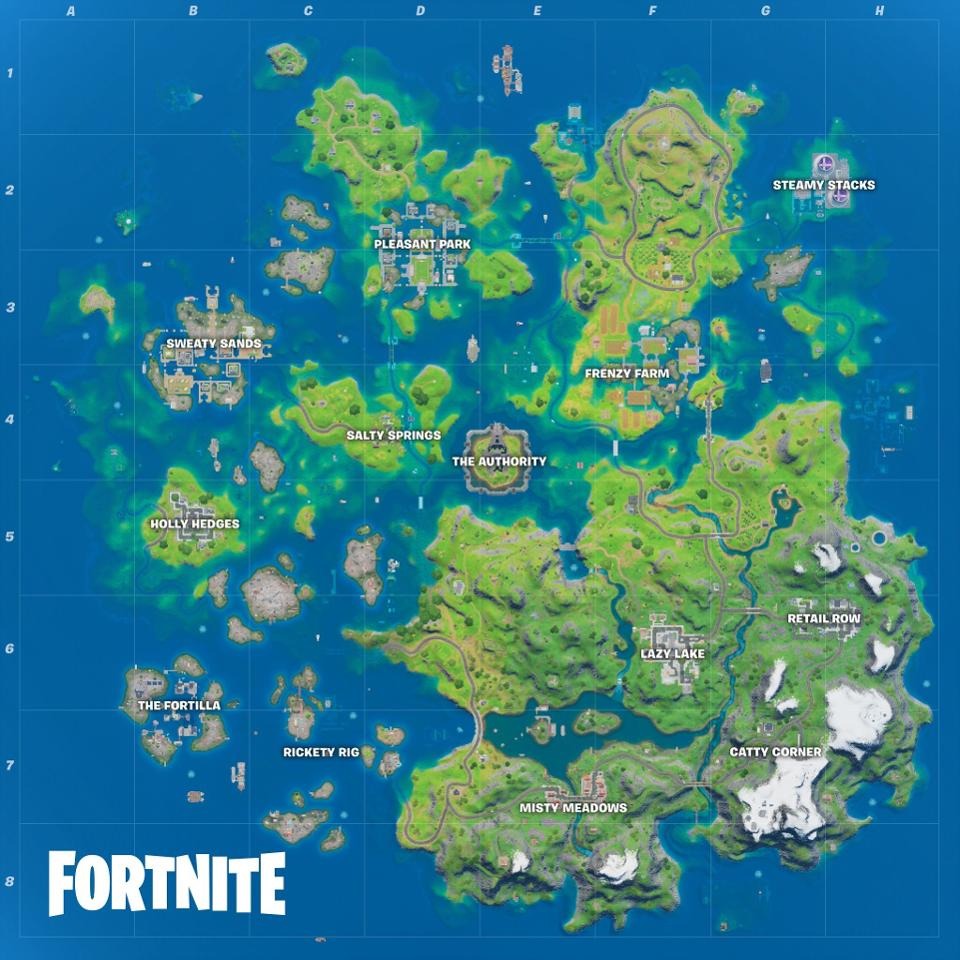 The new map is one of the biggest changes that has come with Season 3 of Chapter 2. Players will now see most of the map submerged underwater. In some places, you will now see houses on inflatables surrounded by water. Fittingly, there's also a new waterpark-themed city that has been added. Of course, there are a few new locations to discover as well.
Take Shark rides and Whirlpools to travel
With the new map being flooded, players now have a couple of new ways to travel around. The cooler of the two new ways to travel around is by getting pulled by a giant shark on while wearing water skis. Since the map has been flooded, sharks have taken over the waterways on the map.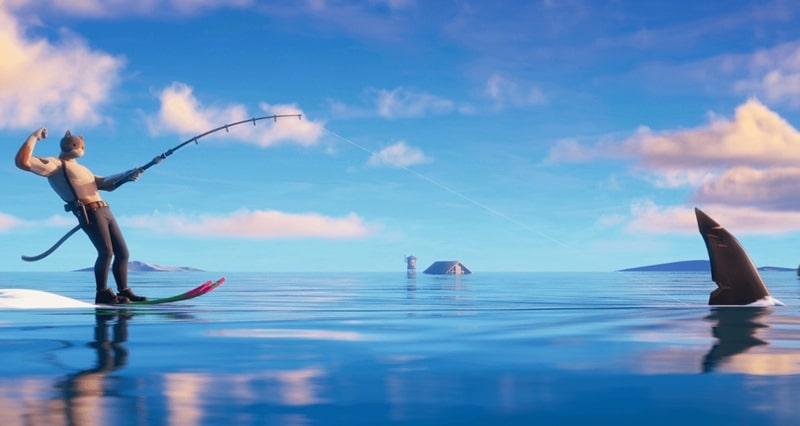 Therefore, you need to watch out for the giant sharks since they can even jump out of the water to bite you. Nonetheless, players simply need a fishing rod to latch on to a shark and ride it. That's not all. Players can even kill the sharks to get a weapon. Although, it's worth noting that sharks have a lot of HP, and killing one isn't easy.
The next new way to travel across the map is via the Whirlpools. These newly added whirlpools will give you a boost in the air and you can deploy your glider to move to a different spot on the map. There are plenty of whirlpools around the map and you simply need to swim into one to be launched into the air.
Aquatic-themed Battlepass
Since the map now reloves mostly around water, it only makes sense to have a new battlepass with rewards that are water-themed. And well, the battlepass rewards do not disappoint. Aquaman is now officially part of the game. As expected, players need to complete challenges to get different styles. Additionally, there are items and even emoticons that players can unlock by completing tasks and challenges in the game. A new customizable Umbrella is also available in Season 3. More on this later.
The Marauders are here – New NPC characters
In season 2, Henchmen were spread across the map and protected their secret bases. Some of them are still present in Season 3 and patrol the bases in areas that haven't been submerged underwater. However, a new set of NPCs have arrived and are called Marauders. They arrive by falling meteors from the sky and can be spotted easily if you're looking for them.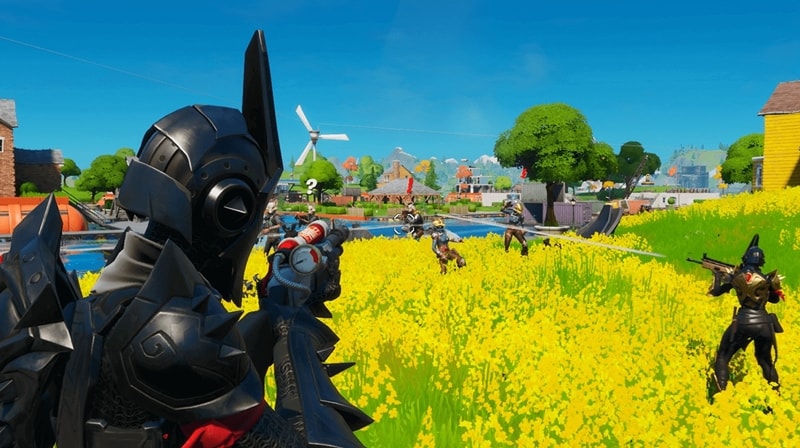 Unlike the Henchmen who only guarded their bases, Marauders can pop-up anywhere on the map. When eliminated, the Marauders drop gear and weapons that you can use. Although, keep in mind that the Marauders do deal a lot of damage as well. So you might want to go along with members of your squad to eliminate the Marauders if you're new to the game.
New weapons have been added
There's a new weapon in the game called the Charge Shotgun. It replaces the previous Vaulted Pump and packs a punch for those close encounters. There's also a new Flare Gun and a Firefly Jar throwable.
Additionally, the P90 is back once again as it has been unvalued. The gun was considered to be too overpowered since players could mow down enemies in close range with relative ease. Later, it was nerfed, and then it was vaulted. The hunting and bolt action rifles are also back to give players the chance to take out enemies for long distances.
Apart from these standard weapons, Season 3 brings a few new mythic weapons to the game. These are the Ocean's Burst Assault Rifle, Kit Shockwave grenade launcher, Jule's Glider Gun, and Kit's Charge Shotgun, and Ocean's Bottomless Chug Jug.
Customize your glider with Build-a-brella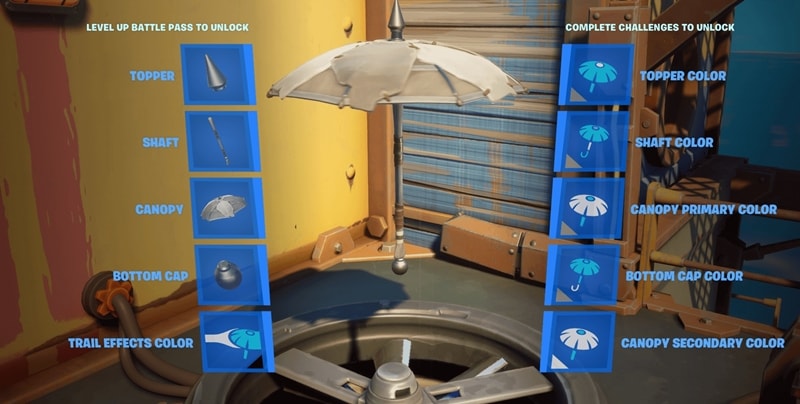 Players who love tweaking their character appearance or weapon skins will also be glad to know that they can customize their gliders with the Build-a-brella feature. As you rank up your battlepass in Fortnite Chapter 2 Season 3, you will unlock a host of new customization options to personalize your glider. And to unlock all the physical elements of the Umbrella, you'd need to pass Level 95.