Fortnite is one of the most popular survival sandbox games to be released since 2017. The game is available to play in 3 unique modes with each of them running using the same gameplay mechanics and game engine:
Cooperative Shooter Survival Mode- Fortnite Save the World
Battle Royale Mode – Fortnite Battle Royale
Creative Mode – Fortnite Creative
Speaking of weapons, players have also noticed one in particular that can be argued as the best kind of weapon there in Fortnite. It is capable of dealing with a considerable amount of damage against opponents and structures. And in this guide, we will discuss more about this weapon and how it can be found. Curious to know what it is?
The mysterious new weapon is none other than the Mythic Goldfish Trophy. Players who do have this object in their possession are capable of dealing some serious damage. Now, the next question is where to find this powerful Mythic Goldfish in Fortnite.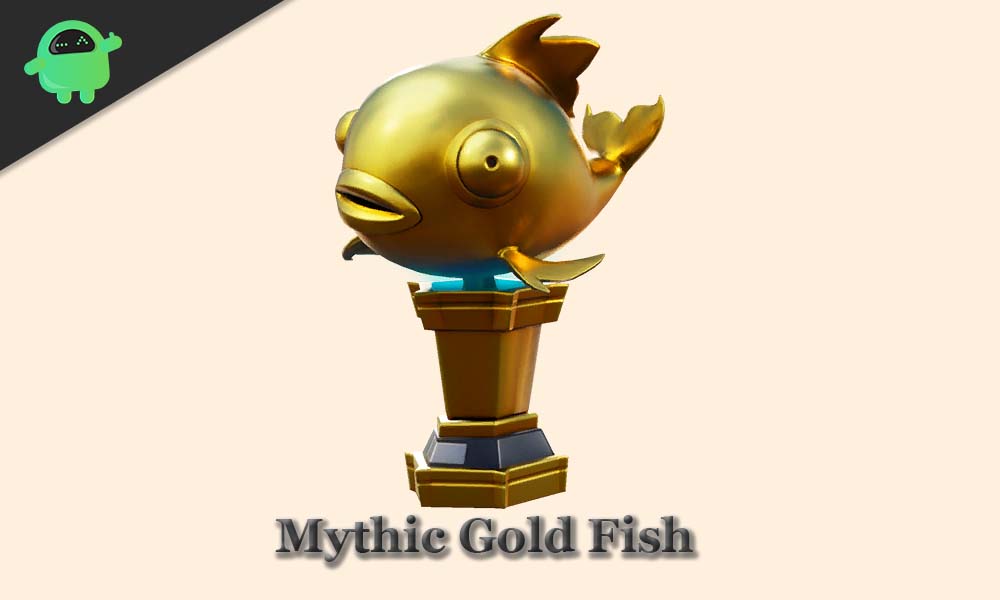 How to Find the Mythic Fish in Fortnite
Well, the Mythic Goldfish is an object that is found by chance, so there is no straightforward path that will guarantee its discovery. The Mythic Goldfish is not something that can be found easily. Players need to spend quite a bit of time using the game's fishing mechanics to catch one from around the map. However, with ample patience and will power, players will be able to get their hands on one. Let's not forget, that the Mythic Goldfish is very powerful with its 200 HP damage stats.
Catching the Mythic Goldfish is also crucial for completing certain game achievements like the:
No One Will Believe You Caught This
Sleep with the Fishes
Trophy Hunter
Additional Information
The first challenge comes as soon as players actually reel a Mythic Goldfish in. The second one can be attained once a player has been struck and killed by a Mythic Goldfish. The last challenge involves killing another opponent using the Mythic Goldfish.
The Mythic Goldfish's existence came to be verified after some time from the Chapter 2 release. Until then, the object was considered to be fake. The rarity of this object and its damage stats are what make it so valuable. Catching the Mythic Goldfish is challenging and would require a lot of time. Successively completing the 3 in-game challenges that depend on it will also take time.
As for finding the Mythic Goldfish, it is still a mystery. Various players have reportedly caught it at different locations on the map. For instance, the Mythic Goldfish can be caught from the river or can even be on the ground somewhere in Misty Meadows. Where and when the Mythic Fish will spawn is still unclear.
So, prepare to spend a lot of time with Fornite's fishing mechanics. We hope this guide helps you in getting the mythic Goldish Trophy. Check out our Windows Guides, Gaming, Social Media, iPhone Tips, and Android Tips for more stuff. Subscribe our YouTube Channel for participating in our $150 giveaway contest. By the way, if you have any queries, doubts, or feedback, do comment down below with your name along with e-mail ID, and we will respond shortly. Good Luck!