Users have now discovered a way to – wait for it – make boats fly all over the newly updated map in Fortnite! We have come up with our new guide to show you exactly how this can be done.
Epic Games' popular title, Fortnite, keeps offering new surprises just when you feel you have explored everything in the game. After the completion of the Doomsday event, the entire map of Fortnite went underwater! As a result, gamers can look forward to working with boats and underwater high-jinks with much higher frequency now.
How to make a Boat fly in Fortnite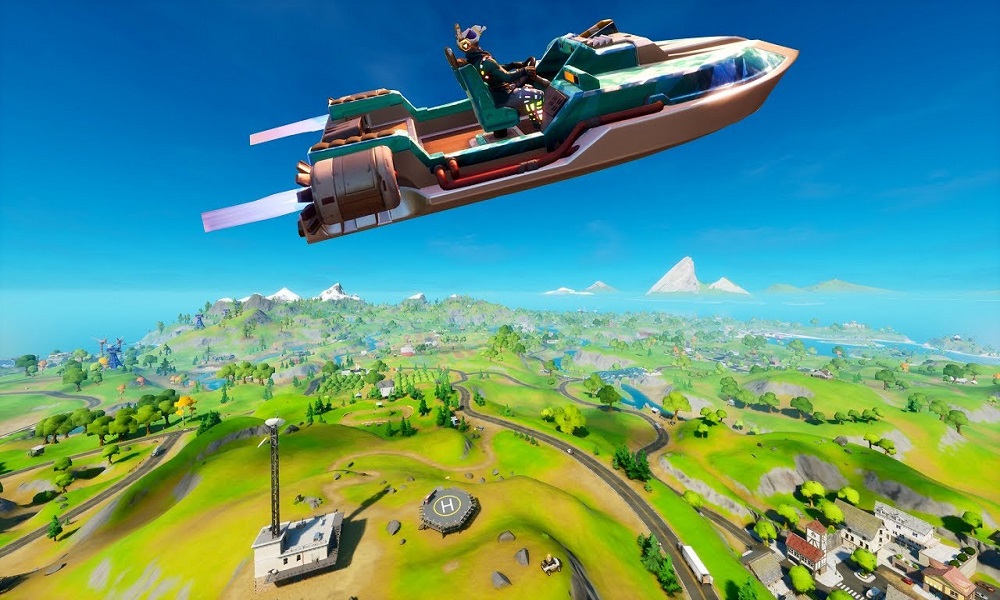 In the wake of the Doomsday event, gamers will be able to enjoy splashing around in the water for a while now. And now, it looks like a glitch has made it possible for some inquisitive and talented players to discover how to make boats fly! This will obviously be fixed by the developers in the next patch, so you need to hurry if you want to experience it before that happens.
Items needed to Make Boat fly in Fortnite
To witness this bizarre spectacle, first of all, you will require some essential items. You need to work together with friends for this, so get together with your buddies and divide yourselves into teams. Get to the places where you can find a Choppa, and snag one fast. Proceed to obtain a Grappler and, most importantly, a boat after that. Now ask one of your pals to take control of the Boat while another one can take up the Choppa. Your third friend should be present in the Boat with the Grappler equipped.
Now wait until the Choppa rises from the ground, and then the Grappa-wielding friend must hook onto it and wait patiently. Keep repeating this process as many times as possible while the Choppa keeps rising upwards.  As a result, your Boat will be pulled into the air too. Now sit back and enjoy the thrilling panoramic view of the frightening shark-infested waters in the Storm!
Undoubtedly this fun trick will require some amount of practice. But if you are persistent, you will find yourself enjoying your airborne boat ride sooner than expected. Check out our Windows Guides, Gaming Guides, Social Media, iPhone Guides, and Android Guides for more great content. Subscribing to our YouTube Channel can help you win our $150 giveaway contest. If you have any queries or feedback, comment down below with your name along with e-mail ID, and we will reply shortly. Have fun with it, fellas!