Fortnite does not need any introduction and it has been one of the most popular, free-to-play multiplayer battleground games. Recently, Season 3 Week 3 challenges went online and it has gotten the users hooked. It provides the users with a chance to gain some extra XP, and make some progress in battle pass. And one of the challenges is to land a Choppa at the bottom od Steamy Stacks.
If you also play Fortnite and are looking for ways to land a Choppa at the Steamy Stacks, then you are at the right place. As in this post, we will give you a comprehensive guide on how you would be able to accomplish this challenge. Make sure to check out the entire guide to know how you can successfully land a Choppa at the bottom of the Steamy Stacks. With that being said, let us take a quick look at the article itself:
Fortnite: How to Land a Choppa at the Bottom of Steamy Stacks?
The first step in landing a Choppa in Fortnite is to get your self a helicopter. If you want to complete this task quickly and ease out the process, then you should hop on to the helicopter located at the Yacht, which is found floating in the water, right at the north end of the Fortnite map. Better is that it is close to Steamy Sticks making it one of the most sought after locations to get a helicopter. Well, keep in mind that there will be several other players looking out for a helicopter at the Yacht. So, in this case, you can go for alternative locations i.e. east of Frenzy Farms and at The Authority.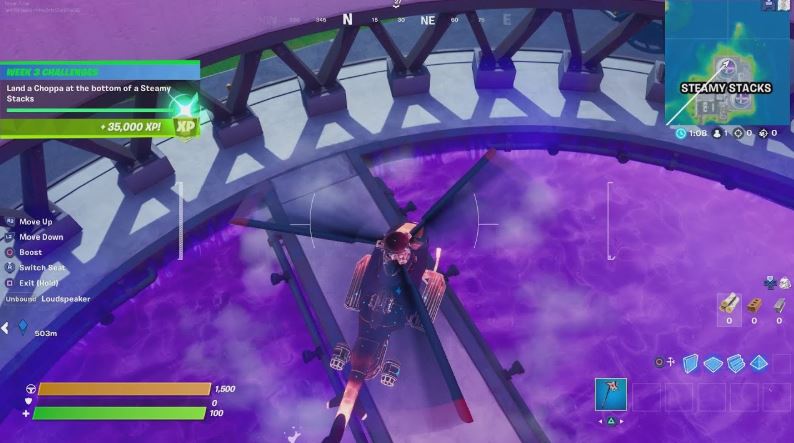 Once, you have a helicopter under your control in Fortnite, you have to pilot it to the bottom of the Steamy Stacks located at the north-east corner of the map. You have to fly the Choppa till there and then enter one of the stacks. Then land this helicopter right at the bottom of the Steamy Stack, right at the purple liquid. If you have done all the steps as said, you will find that and a Choppa at the bottom of the Steamy Stacks challenge should register as complete.
Note that there are several Fornite players across consoles, i.e. Android, iOS, PC, PS4, Switch, and Xbox One, not able to complete this challenge even after landing the Choppa at the bottom of Steamy Stacks. Unfortunately, there is no official or consistent solution to this issue. Rest assured, we will keep you posted if there is a possible solution available for such users. In the meantime, you can let us know in the comments below if you were able to complete this challenge in Fortnite or not. Until the next post…Cheers!