Vivo is one of the Chinese OEM that is not only a bit behind when it comes to updating its devices with the Android 10 update but, also behind in terms of updating its devices with the latest security patches. However, the Chinese OEMs should not be blamed as the coronavirus outbreak is something serious and has taken a toll on China, whose impact can also be seen over the Chinese smartphone manufacturers. But, OEMs like OnePlus, Xiaomi, Oppo, etc. are already back on track and most of them have ticked off quite a few devices of their list in delivering the Android 10 updates.
It seems like Vivo also wants to join the party no matter how late it is, as the company has been slated to push the Android 10 based Funtouch OS 10 beta update by March 14, 2020, for the Vivo Nex 3 and its 5G variant. This info was announced on Vivo's community platform and digging in deep reveals that the Funtouch OS 10 beta recruitment will end on March 12 after which those users who have successfully enrolled for the Funtouch OS 10 beta update will get the beta update.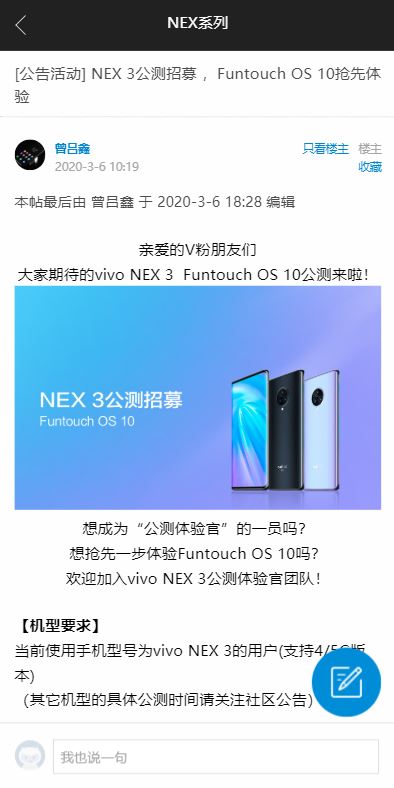 The Funtouch OS 10 (Android 10) beta recruitment is limited to 4000 users and users are requested to be running on version 1.12.9, 1.12.19, 1.13.7, 1.13.10 to be eligible for receiving the update. The update will bring in tons of new enhancements for the Vivo Nex 3 and Nex 3 5G. You can check out the complete changelog below:
Changelog
System version
1. The system version is upgraded to Funtouch OS 10 & Android 10, and the bottom layer is upgraded to further improve system performance and stability.
Jovi
1. The Jovi homepage has a new look. The new Jovi homepage presents all kinds of information more intuitively in front of your eyes, allowing you to live a good life every day.
2. Add a telephone secretary. When you encounter inconvenient answering, or when you encounter a call from a strange number or sales number, you can ask the telephone secretary to answer the call for you.
3. Updated driving scene functions. Jovi voice, rich shortcuts, smart unlock, call broadcast and other functions will bring you a more convenient experience in the driving environment.
4. Jovi IoT upgrade, combined with AI capabilities, can now automatically discover smart hardware in your home or office, helping you quickly connect devices, and intelligently control your smart hardware through voice and scene settings.
Smart Desktop
1. Wisdom Meng pet supports language chat, and talk to your beloved Meng pet through voice.
Children mode
1. The main interface is newly revised, and the visual design is more interesting, which is more preferred by children.
2. The content is more abundant, and suitable content can be recommended for children aged 0-12 according to age stage, including dozens of categories such as popular science puzzles, artistic influences, and more than 200 videos.
i housekeeper
1. Security inspection, comprehensive security inspection of mobile phones, to create a safe environment for your use.
2. Intelligent cleanup recommendation, according to the status of the phone, intelligently recommends easy-to-clean content for you, making data cleaning easier.
3. Screen usage time, counting your phone usage time, number of unlocks, and number of notifications received, so that you can intuitively perceive the daily usage of the machine.
Express Center
1. Added a shortcut for clearing desktop corners with one click, making the desktop instantly clean.
2. Press and hold the brightness bar and volume bar to zoom in and make fine adjustments. The enlarged brightness bar and volume bar provide dark mode and automatic brightness switch. Each detail is optimized for your convenience.
Recorder
1. Added double-speed playback function to increase playback speed and make recording listening more efficient.
Calculator
1. Added exchange rate conversion function, online real-time exchange rate data, making it easier to understand exchange rates abroad and across borders.
Set up
1. Added the option to customize the lock screen charging effect. Choose a charging effect that you like, and your phone will bloom after you lock the screen.
2. Optimized the processing logic of some menu levels and some menu functions.
** The updated content is for reference only, please refer to the update log actually displayed on the phone **
After the Vivo NEX 3, Android 10 Funtouch OS 10 beta update, next to receive the update will be the Vivo X27 and X27 Pro in late March followed by other phones of the NEX family in early April. The Vivo S5 is scheduled for mid-April 2020. Later on, in June, the Vivo Z5, Z5i, Z5x, S1, and S1 Pro will be included in the program. The Vivo Z3 family, the X21s and the Vivo X23, including the Symphony Edition, will be the last devices to get the taste of Funtouch OS 10 (Android 10).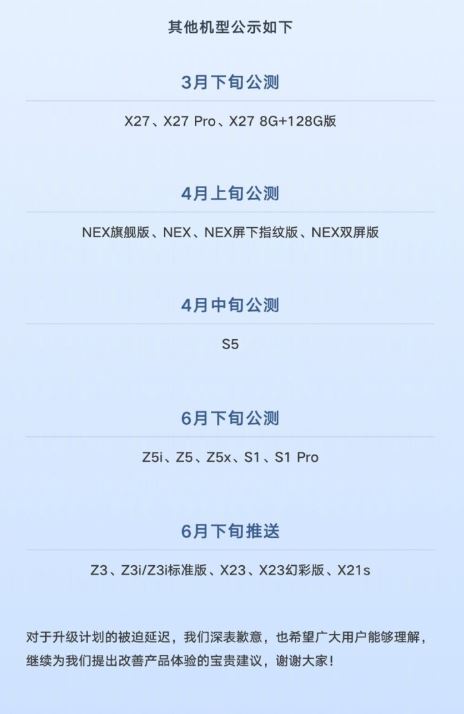 We will keep an eye on the development and will keep you posted once we have more information in this regard.