It has been less than a month after the release of Samsung's new S9 and S9+, the devices started to show issues in the user's hand and it(Samsung) had to issue a statement regarding the issues. While Samsung is busy addressing the issues with its new flagship S9 and S9+ the next big thing in the Samsung Galaxy line up, The Note 9 pops up in Geekbench with 2190 single and 8806 multi-core scores which are almost in line with its current line up the S9 and S9+.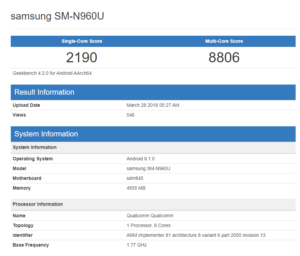 The device N960U can be the next US version of Note 9 as it shares similar naming scheme with its predecessor the Snapdragon and US version Note 8(SM-N950U). Just like last year, there seems no differentiation in the internals, with Snapdragon 845 and 6GB of RAM Note 9 is going to come with the same specs as the new S9 and S9+. There is an updated version of Android, Android 8.1.0 that is running on the next Galaxy Note. Samsung started rolling out Android 8.0 update to its last year's flagships- S8 and Note lately and at this point Note 9 is the only device with Samsung brand name that is on Android 8.1.0 at least for the prototype.
According to koreaherald, Samsung-Electronics is busy in equipping the fingerprint sensor inside the display of the Note 9, which come up with three or four solutions and finalizing one among them to adopt the technology. If you follow the electronics industry especially mobile, you should be aware that Samsung makes beautify smartphone panels and including a much-awaited fingerprint sensor under it for its next big mobile device is like a feast for the fans and the mobile industry as well.
Rounding off the rumors, the Samsung Galaxy Note 9 might have a fingerprint sensor under the display with the top of the line internals the Snapdragon 845, 6Gb of RAM and runs on Android 8.1.0.