We know that Project Treble enables installation of AOSP Oreo based custom ROMs to those smartphones that come with Oreo OS on-board. Samsung's latest premium flagship Galaxy S9 is  Project Treble compatible as it comes with Android Oreo out-of-the-box.  So, recently a tester from XDA was spotted using a Samsung Galaxy S9 AOSP 8.0 Oreo Project Treble based ROM created by developer phusson. The tester iamanotkurtcobain reports that all of the major features are working just fine with the custom ROM. This includes various attributes such as Wi-Fi, Bluetooth, NFC, etc. We have discussed more working and non-working features below in details.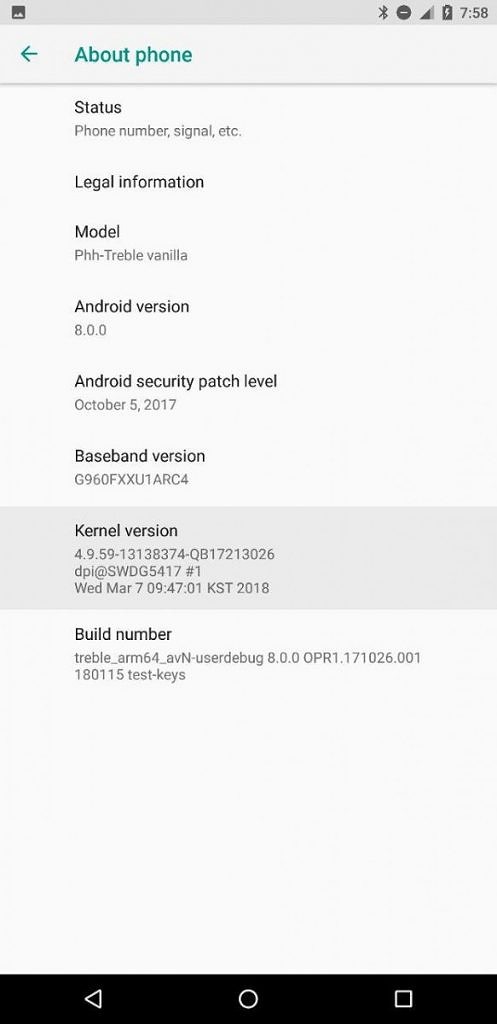 Now that you are seeing the image above you may ask why the security patch is ages old. Well, the reason is Android 8.1 Oreo ROM didn't boot on the Galaxy S9. So the tester had to use the latest 8.0 system boot image available. Developers are currently busy fixing this compatibility issue, so soon we will see the device sporting Android 8.1 Oreo.
Samsung Galaxy S9 is a dual SIM smartphone launched in February 2018. The phone comes with a 5.80-inch touchscreen display with a resolution of 1440 pixels by 2960 pixels. It runs on 1.7 GHz octa-core Samsung Exynos 9810 processor and 4 GB of RAM. It comes with Android 8.0 Oreo out-of-the-box. This device packs a 64 GB of expandable internal storage. Galaxy S9  brings a 12-megapixel primary camera on the rear and an 8-megapixel camera on the front.
What Is Project Treble.?
Project Treble is Google's brainchild. It came into existence to solve the ever pertaining slow system updates. OEM specific OS updates are sometimes even slower. Most of the times you can see users complaining of not getting the update in time.  Google's Project Treble will put the OS framework separate from the vendor's implementations. Manufacturers will be able to provide latest system updates by updating the OS framework.  Treble has now been integrated with Android Oreo 8.0. It's mandatory for all the Android 8.0 based devices to have it.
What's Working: Galaxy S9 AOSP 8.0 Oreo Project Treble
Above you can see the tester is using a phh-Treble custom ROM. So here is the list of the attributes that are working fine with the Galaxy S9 AOSP 8.0 Oreo running the phh Project treble based ROM.
Wi-Fi
Hotspot
NFC
fingerprint scanner
camera
mobile data
Audio
Video
Limitations
Now the OS is Android 8.0 oreo and not the 8.1 Oreo. Developers are still busy fixing the same. The no of testers is very less so the testing process is quite slow. Also, this Galaxy S9 AOSP 8.0 Oreo is currently compatible only with S9 devices running on Exynos processors. Project Treble based custom ROMs require unlocking of Bootloader which is possible on an Exynos variant of this smartphone.
Contrary to this on Snapdragon models, an unlocked bootloader is not supported for custom ROM usage. Also, flashing TWRP builds is not possible by simply flashing boot image through system partition.
You May Also Like,
Future of Galaxy S9 AOSP 8.0 Oreo Project Treble
Availability of kernel source is a big advantage for the developers to bring out more custom ROMs. We can say that Galaxy S9 AOSP 8.0 Oreo Project Treble will have more custom ROMs in its pocket. Although now only Exynos variants are eligible but given the efficiency of Snapdragon variants we can soon see custom OS rolling for SnapDs too.
Follow GetDroidTips to get all the latest updates on Galaxy S9 AOSP 8.0 Oreo Project Treble.