Genshin Impact is all set for its version 1.1 update that will bring a lot of changes in the game. A number of new events will also feature in the updated version. Version 1.1 has four new characters Zhongli, Childe, Xinyan, and Dionna. You will get a lot more adventurous experiences in the world of Teyvat, exploring Abyss Domainslus and farming to get your characters Ascension levels as high as they can go!
Genshin Impact Diamond in the Rough is a quest that features in the new version. In addition to this quest, Wonders of the World achievement: Beginner's Luck can also be unlocked in this. Here is a guide on how to unlock and complete Genshin Impact's Diamond in the Rough quest.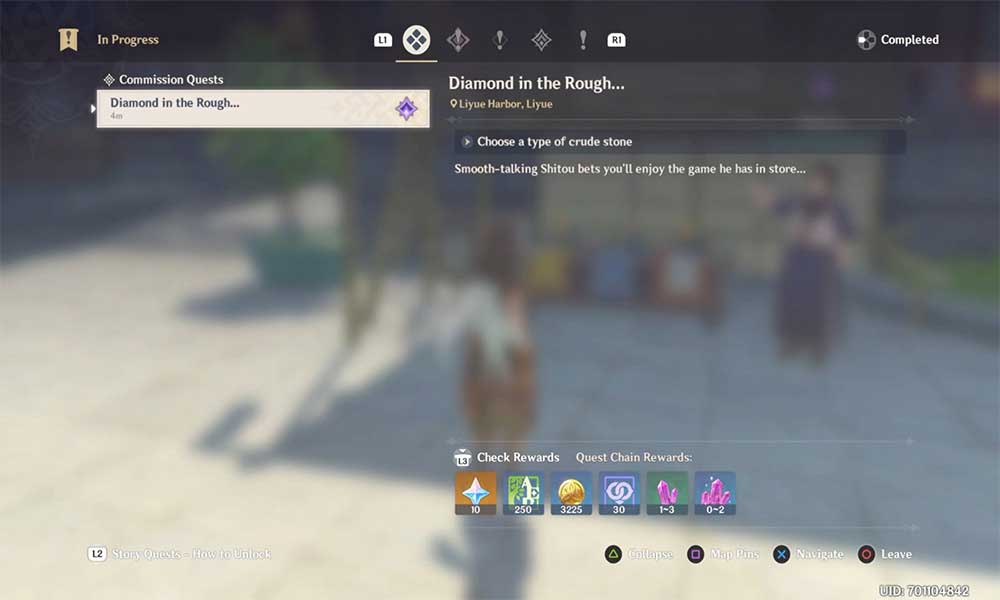 How to Complete Genshin Impact Diamond in the Rough
To begin the quest, go to the Liyue Harbor. There you have to look for the merchant Shitou. If you cannot locate the merchant there, then head to the Alchemy NPC at Liyue Harbor and then head north. You will be able to find Shitou there. Speak to the merchant, who will let you play a game of guesses.
There are certain tricks that will help you to answer his questions correctly. If you are able to make the right guesses, you can unlock the Wonders of the World achievement: Beginner's Luck.
First of all, Shitou, will ask you to try your luck on a stone. The merchant will give you three options, which are:
Go on then
What kind of stone?
Where are the stones from?
You are not always able to choose from the options. Many times the second and third options can not even be selected. Whether they can be or cannot be selected, you should always choose the first option and thereby take the conversation forward. After further conversation with the merchant, he'll ask you for your budget and will again present you with options to choose from. Four new options will appear:
200 Mora
400 Mora
600 Mora
Haven't you inspected them all already?
Here you should always pick the third option, which is the highest amount. After this, the merchant will show you three stones of different colors to pick from. Your job is to guess which one is the right stone.
You will see four new options appearing, as portrayed in the picture below.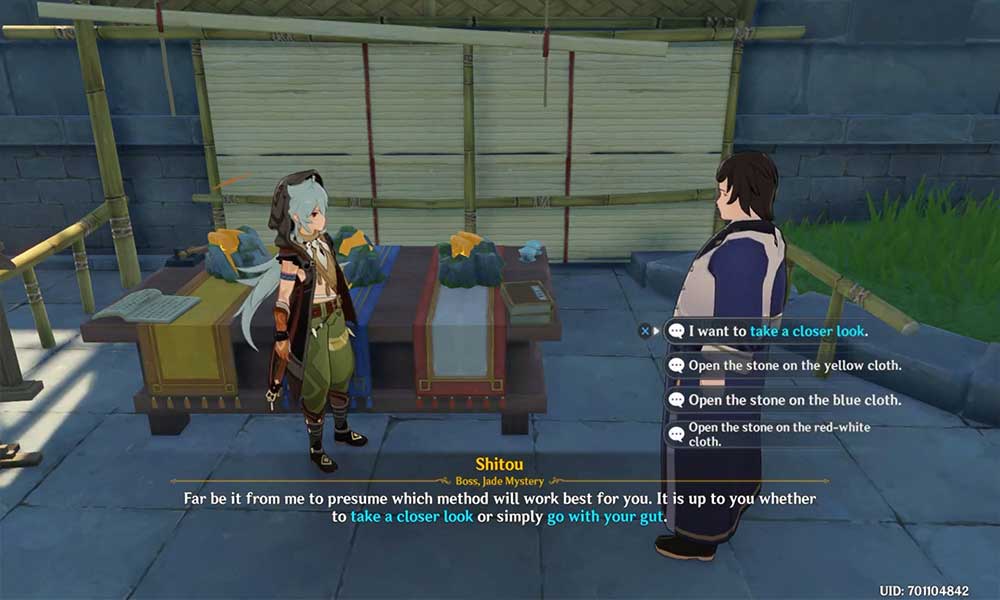 The Strategy to Complete Diamond in the Rough
Select the first option, i.e., to take a closer look. This option will enable you to take a closer and better look at the stones. If you look closely, you will notice that one of the stones is more brightly colored as compared to the other two stones. The color of this particular stone is your answer. This difference in color may be very subtle and slight sometimes and very clear at different times.
Many times players have reported that they could not notice any difference in the color brightness of the three stones. You should carefully observe every stone and if you cannot find any difference, then you have to take a guess and randomly select one of the options. There is a 33.33 percent chance that you will get it right.
Whether by luck or by observation, Shitou will declare you as a winner once you get the correct answer, which will end the quest. With the success of the quest, you'll be rewarded with 3200 Mora, 1 Cor Lapis, and 10 Primogem.
Wonders of the World achievement: Beginner's Luck can also be unlocked now. Now if your guess is wrong then you may be able to play the quest as this quest regularly appears on a Daily Mission again. For more gaming updates, subscribe to our YouTube Channel. Also, check out our Gaming Guides, Windows Guides, Social Media Guides, iPhone, and Android Guides to know more.