Borderlands 3 is an action role-playing first-person shooter video game from the house of Gearbox Software and published by 2K Games. The game is available across all platforms including Xbox One, Play Station 4, and Microsoft Windows. Later a version for Apple iMac devices was also launched. After its launch in September 2019, the game became an immense success and currently one of the most loved games. Today our guide is about Frozen Snowshoe in the game and how you can get it.
Talking about the gameplay, players complete quests along with side missions in the game. There are four classes available in the game, named as Amara, FL4K, Moze and Zane and players playing will be of any one of them.  Moreover, during your progress in the game, you unlock new abilities and gain experiences. In Borderlands There is a unique shield called Frozen Snowshoe. Most of the users are curious to know about it as well as how they can get it. So we decided to bring up a guide that will throw some light on the Frozen Snowshoe. If you are one of those, then you have probably landed on the best page. So without any further ado, let's get started.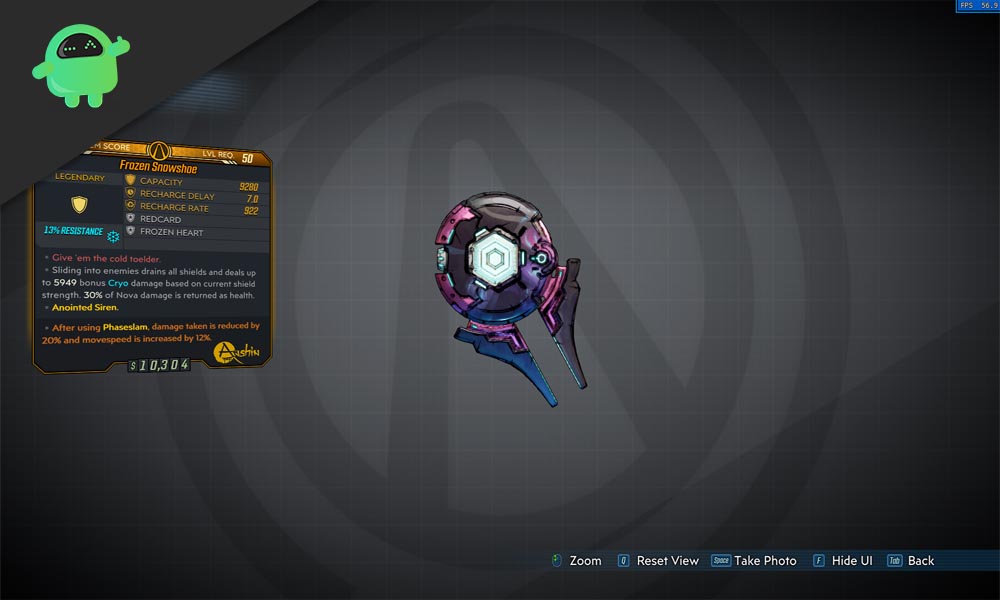 What is Frozen Snowshoe?
The Frozen Snowshoe is a legendary shield in the game Borderlands 3. Most of the players want this Shield due to its outstanding ability to freeze the enemies. Moreover, along with that, it even damages. When the users slide this Shield over the enemies, it breaks them along with Cry damage based on the current level of the Shield. On top of that, the players also get an additional 30% damage back as health. Lastly, if the enemy is able to break your Shield, it will further do more damage that will cause a Cryo Nova. Now the Cryo Nova will instantly freeze the enemies, and now that will be your turn to take over him. Now we will move on to guide the players on how they can get this great Shield.
How to Get Frozen Snowshoe in Borderlands 3?
As of now at the time of writing this guide, the Frozen Snowshoe is considered the best Shield in the game. But to get your hands over it, you will have to go to the Takedown at Maliwan's Blacksite event. You will find it in the side mission of Maurice. Also, you will have to farm for the encounters with Valkyries and Wotan the Invincible as they drop it.
However, the chance of a successful drop is relatively very low. Fortunately, it seems more common if you play on Mayhem difficulty level, but that's a whole different story. The best this to note is, the Shield stands very impressive in comparison to other shields available in the game. The instant freeze ability due to Cryo Novas and the return of health can be considered the reason for excellent enemy control along with the sustainability.
One thing to remember is, currently you can run the Maliwan Blacksite event as a solo only. That makes is very difficult as the enemies will be in the protection of Wotan's Shield, and that gives comparatively less chance to revive yourself. If you want to fight for Frozen Snowshoe anyhow, you are going to require a lot of patience.
Wrap-UP
This guide was to help the players of Borderlands 3 who want to get their hands on the Frozen Snowshoe. After following our guide, the players will play more patiently and thus get their hands on this Shield. We hope this guide helped you. If you have any queries or feedback, feel free to comment down below with your Name and E-mail ID. Likewise, check out our iPhone Tips and Tricks, PC tips and tricks, and Android Tips and Tricks for more such tips and tricks. We urge you to participate in the $100 giveaway by subscribing to our YouTube Channel.