Sucker Punch's latest game, Ghost of Tsushima, holds the unique distinction of being the final major game exclusive to the PlayStation 4, before the launch of the next-gen PlayStation 5 console. As you take the role of a valiant Jin Sakai, taking down invading Mongols to liberate the Tsushima Island, you will need to obtain more powerful weapons, armor sets, and stances in order to survive the increasingly dangerous situations that you will have to face.
One such armor set is the legendary Ghost armor – the dynamic black armor set that has been heavily featured in the game's marketing ventures. Every armor set you obtain in the game offers special bonuses other than their defense rating. In the case of the Ghost set, it encourages stealth mode during gameplay, which is generally favorably looked upon and rewarded in this game. Thus, it is to your advantage to obtain this powerful armor set as soon as possible.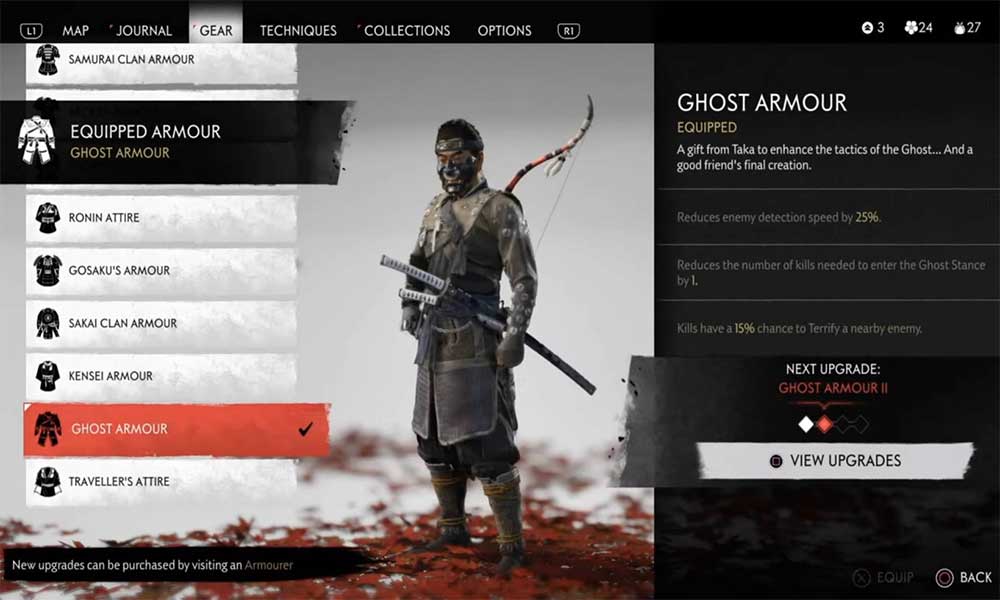 How to acquire the Ghost armor set in Ghost of Tsushima
Fortunately, obtaining the Ghost armor set in Ghost of Tsushima is fairly straightforward. This is available as a part of the game's central quest itself. That said, it is still beneficial to know when you are going to come across it. This will enable you to decide whether to continue with the main story or take up a side mission. You will acquire the Ghost armor set automatically while finishing the final quest of Act 2, "From the Darkness."
Obviously, this means that you will have to rely on other armor sets during Act 1 and most of Act 2 as well. After you have successfully finished most of the side quests in both of these Acts, you can focus on getting through the story quests until you finally arrive at "From the Darkness." In this quest, you will have to make your way through the Mongol-captured first keep of Castle Shimura. Since the enemy forces in this place are overwhelming, you need to rely on stealth for most of the part.
You will have to win the boss battle against Ryuza at the end of this quest. Following that, you will be rewarded with the Ghost armor set. It offers you a number of benefits, such as:
Decreasing your foes' rate of detection by 40%
Providing a 30% chance of scaring foes in the vicinity after you kill some of their comrades
Lessening the number of kills, you will need to go into the Ghost stance by two.
Additional Hints
As you can see, these advantages will come in handy when you are in stealth mode. You can use it to sneak around the Mongols and launch a lethal attack from the shadows. This armor will help you through most of the third act of the main storyline. You will be able to upgrade it similarly to the other armor sets in the game as well.
That is it for now. We hope you had a great time experiencing the benefits of the Ghost armor in Ghost of Tsushima. If you liked this guide, remember to check out our other Windows Guides, Gaming Guides, Social Media Guides, iPhone Guides, and Android Guides to read more. If there are any queries or suggestions, comment down with your name along with the email ID, and we will reply shortly. Also, subscribe to our YouTube Channel to watch awesome videos on gaming and smartphone tips and tricks. Happy Gaming!