All video games have photo mode these days, and it is a popular feature that is quickly gaining popularity. In Ghost of Tsushima, Sucker Punch has managed to implement a wonderful photo mode feature-packed with various shoot modes and angles. It is not the perfect photo mode that is currently available in the market. However, Sucker Punch has managed to overcome some of its drawbacks by offering weather and time of day adjustments.
In Ghost of Tsushima, there are several picturesque areas on the island, for instance, the Omi Monastery or Equinox Flower fields, that make the photo mode highly useful. Apart from going there and taking a screenshot of these people, players can make use of the photo mode in Ghost of Tsushima to make things look better.
Unfortunately, accessing the photo mode in Ghost of Tsushima is not clear. This is where our guide comes in handy, as today we will look at how you can use Photo Mode in Ghost of Tsushima and all the effects and options available.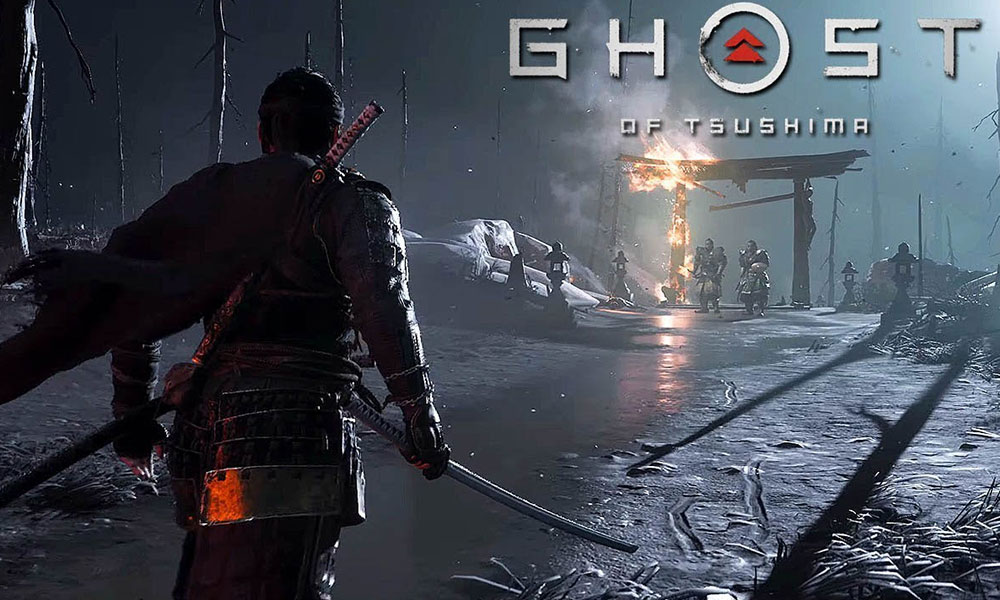 How to Enable/Disable Photo Mode in Ghost of Tsushima
Here's all that players need to know on how to find photo mode in Ghost of Tsushima.
Click on the Options key from the controller.
Navigate to Options from the Menu 
Click on Gameplay
Scroll down to Photo Mode
Select it as On or Off
The Photo mode option in Ghost of Tsushima can be toggled on or off.
How to Use Photo Mode in Ghost of Tsushima
Here's all that players need to do in order to use photo mode in Ghost of Tsushima.
Find a suitable area and set Jin over there.
Select right D-pad to open photo mode
Make the desired setting selection.
Snap using the PS4 share button
Select right D-pad again to close photo mode
Effects – Photo Mode in Ghost of Tsushima
Once players have discovered the photo mode in Ghost of Tsushima, they will notice a column at the bottom lefthand side. This column includes all the different effects available.
Here are all the available effects in Photo mode in Ghose of Tsushima:
Tracking shot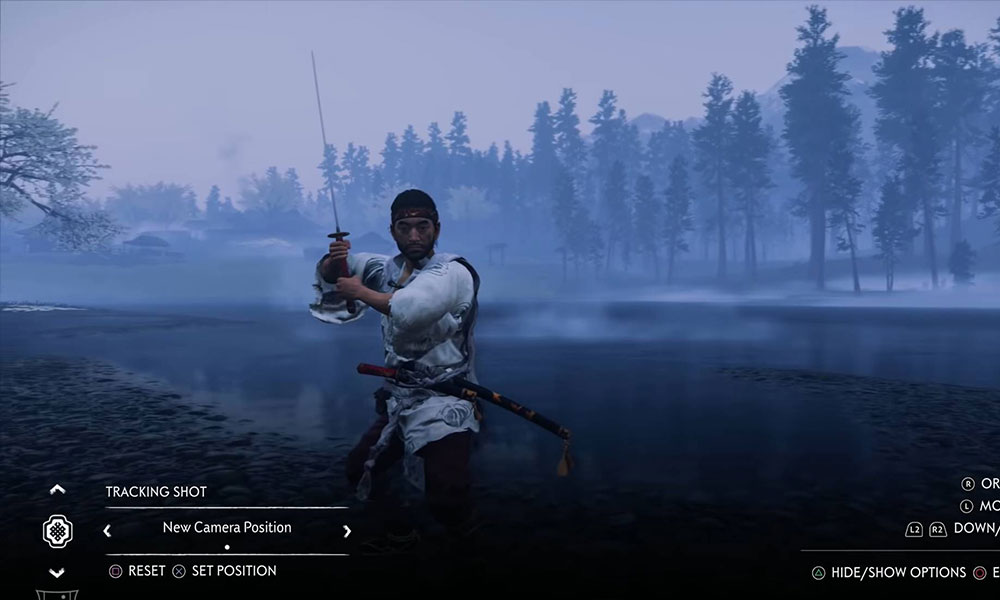 Different kinds of camera angles can be saved using tracking shots. Players can easily switch between the shots to decide which one is better.
Focal length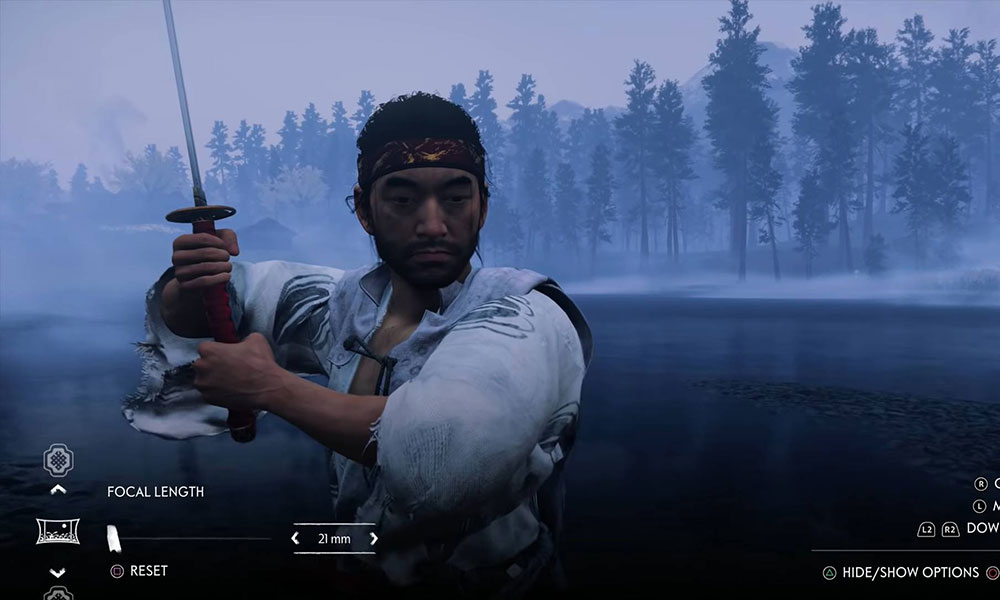 Focal length allows players to zoom with great abilities in and out of a frame. This comes particularly in handy when there are close up shots or wide shots required.
Roll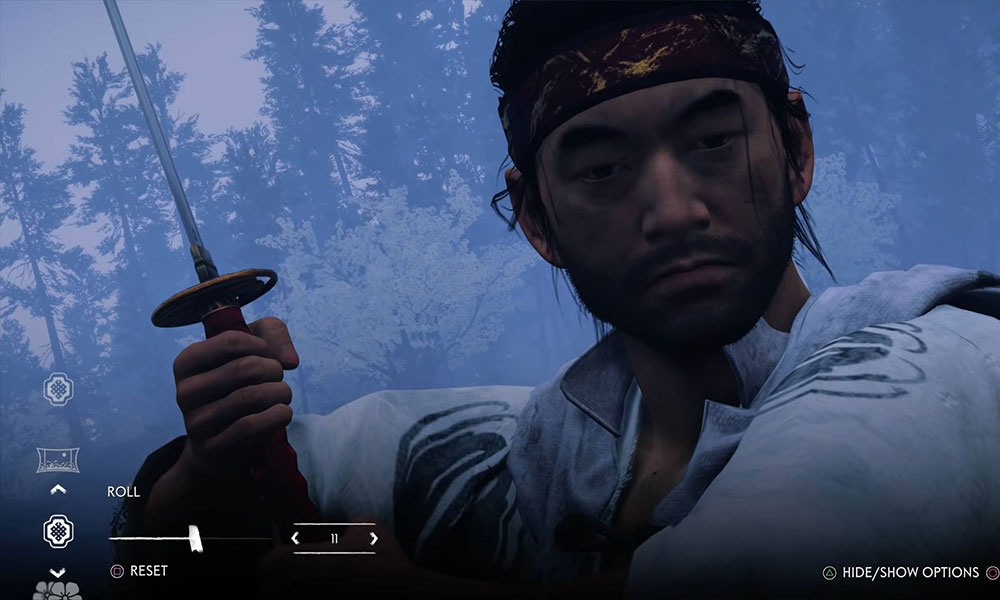 Using roll, players can adjust the angle at which they take a screenshot.
Depth of field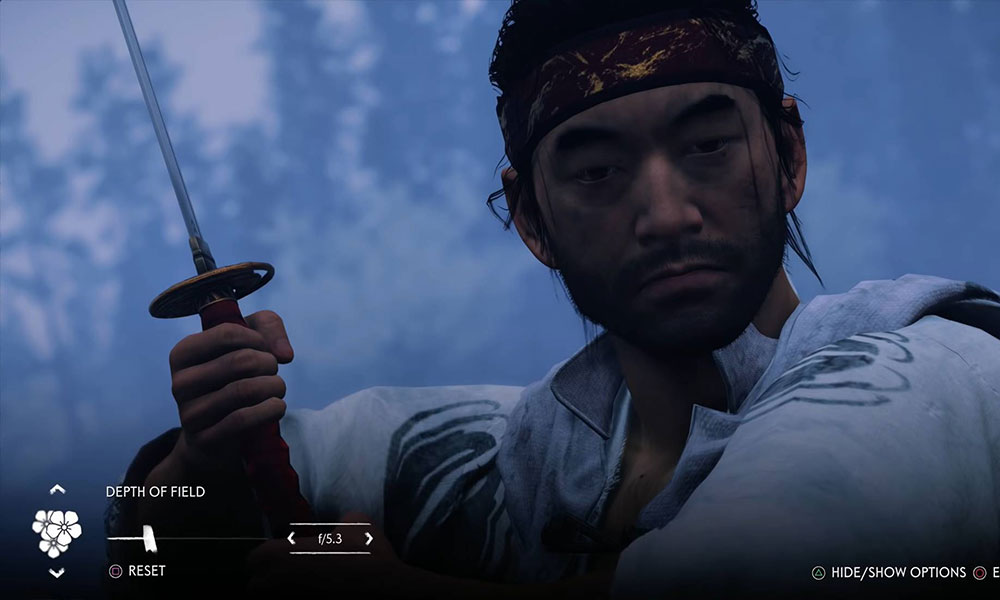 The depth of field can be adjusted to provide a bokeh (blurry) effect around objects, just like the DSLRs out there. As players move the adjustments for this feature, an object that is in the background, foreground, or middle-ground will appear blurred out.
Focusing distance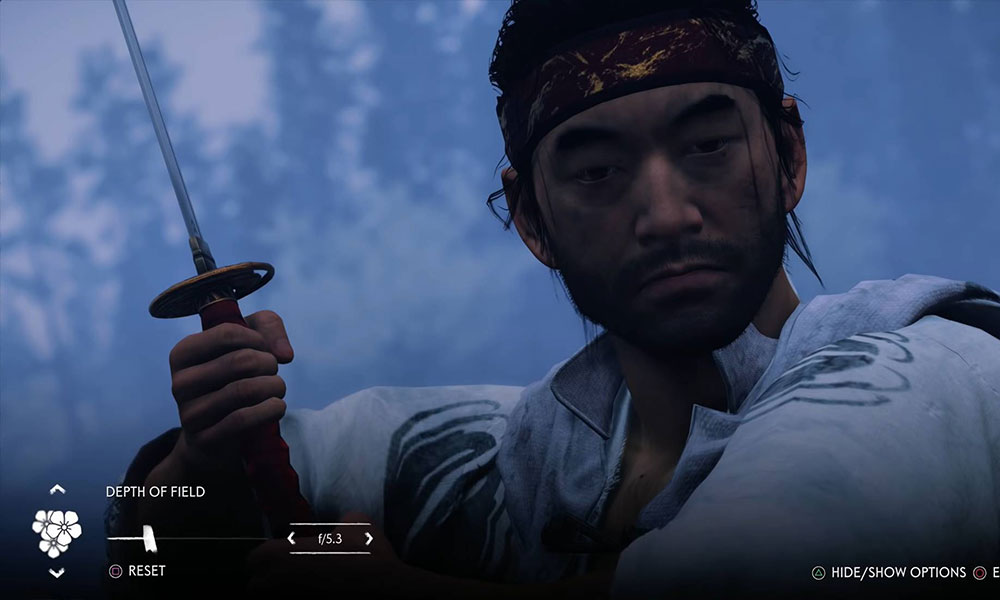 Focusing distance sets the distance at which the camera will focus on the screen. Players can adjust this depending on how much of the environment they want to capture. This feature works independently in the depth of the field.
Time of day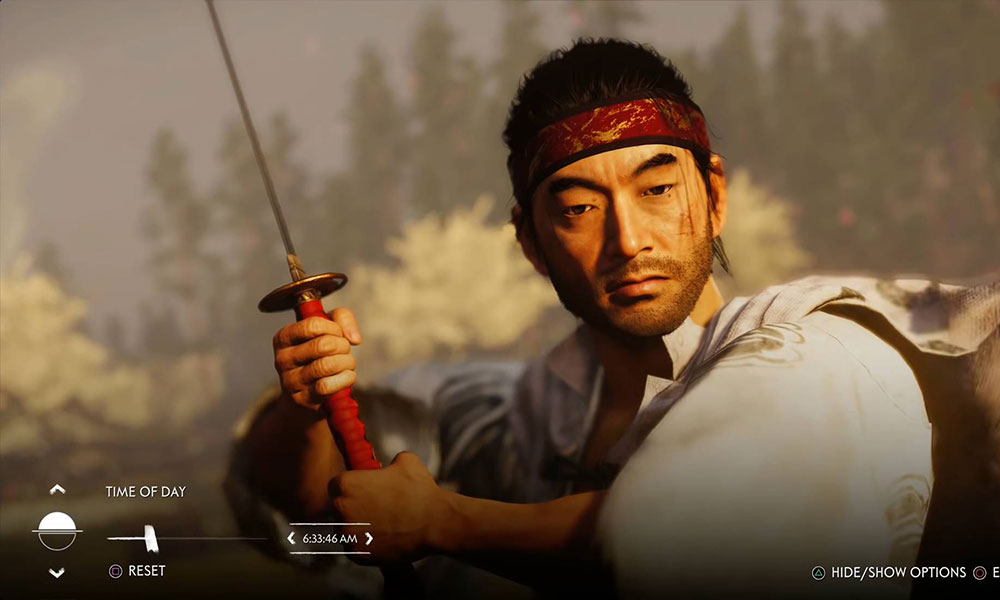 Time of day feature allows players to set the time of the screenshot down to the very last second. This feature will change the shadows, Sun position, Moon positions, and how the light will appear on different objects.
Weather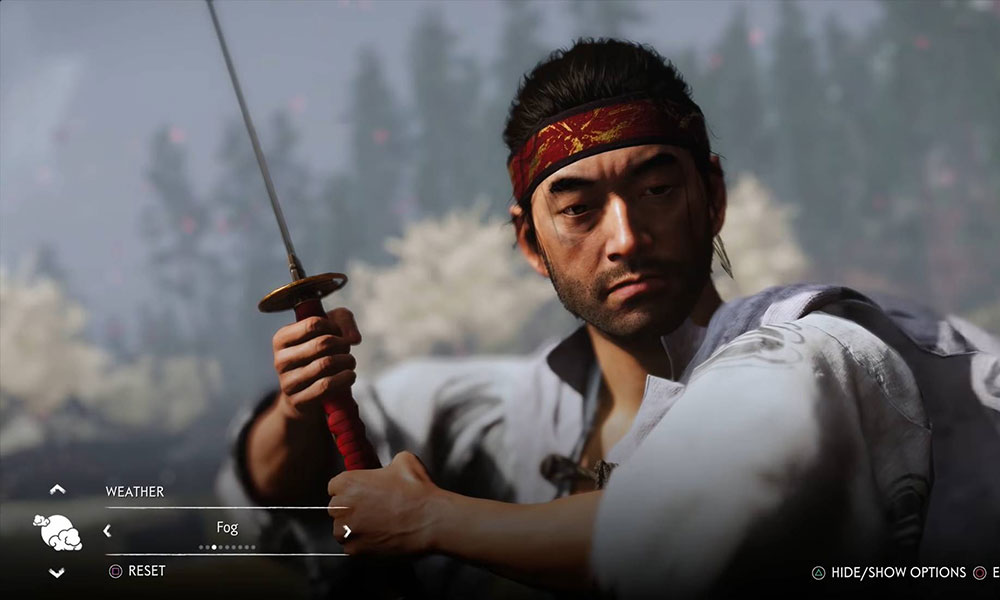 The weather feature can change the weather of the screenshot. Players can have a typical sunny, dry day with clear blue skies to a thunderous dim-lit foggy scene.
Animated environment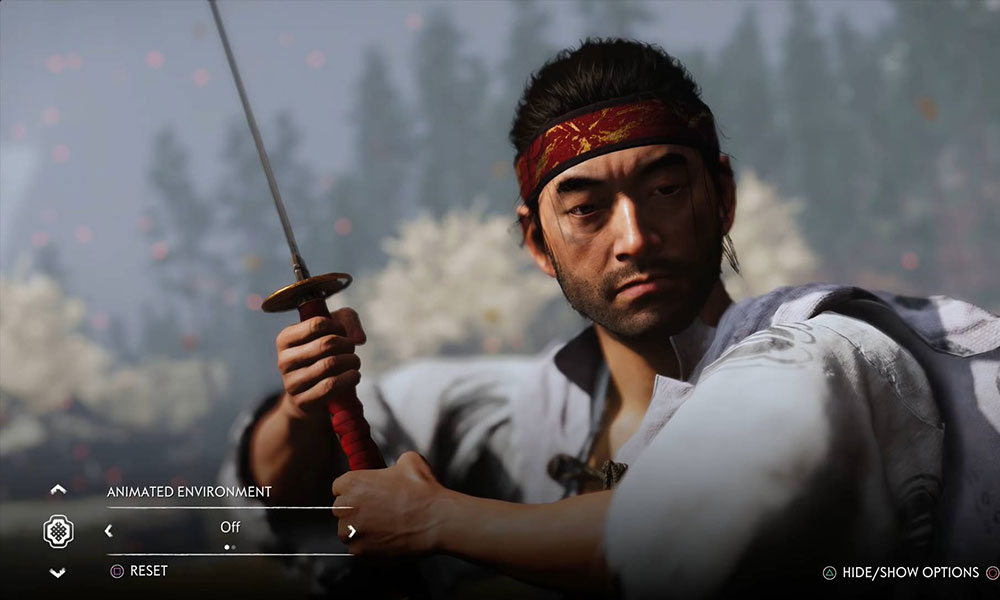 The animated environment is enabled by default in photo mode, and it allows the leaves and grass to move about in the screenshot. This can be toggled off from the settings menu.
Jin Emotion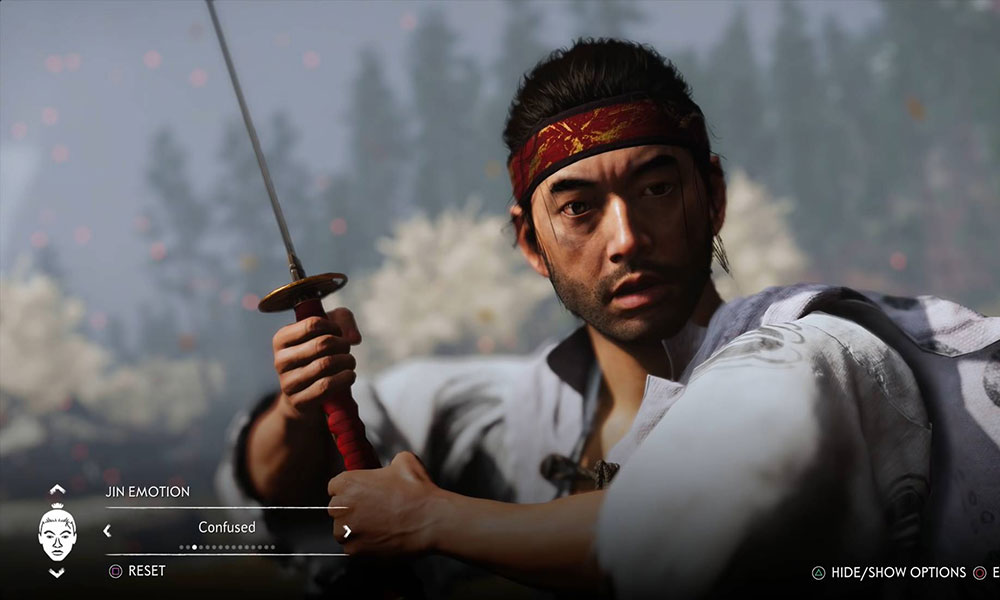 Players can change the way Jin's face appears in the screenshot with this feature. Jin can be angry, sad, happy, or even dead.
Mask (Helmet)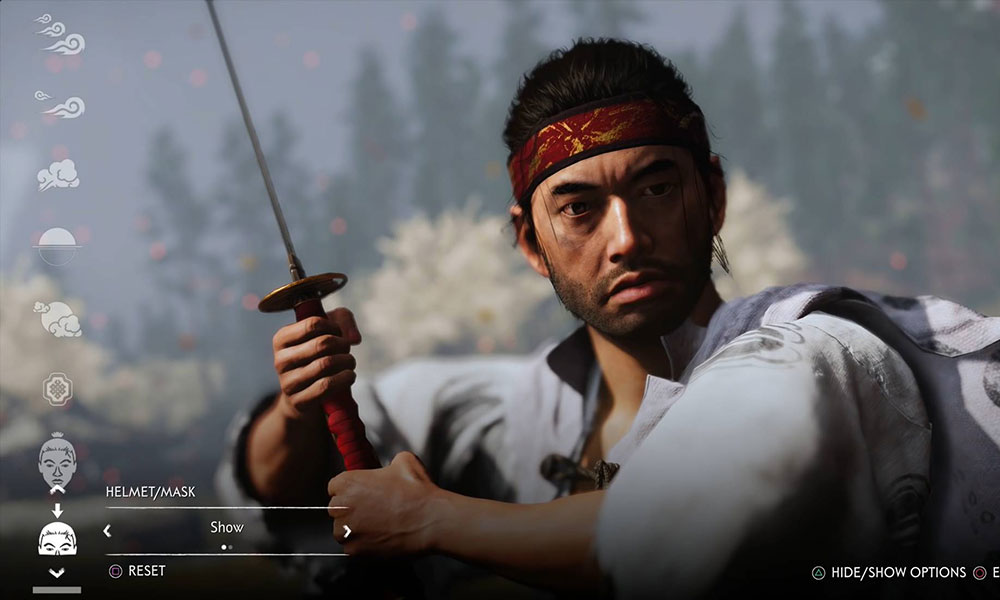 Players can opt to have Jin's mask or helmet present during a screenshot.
Cinema Bars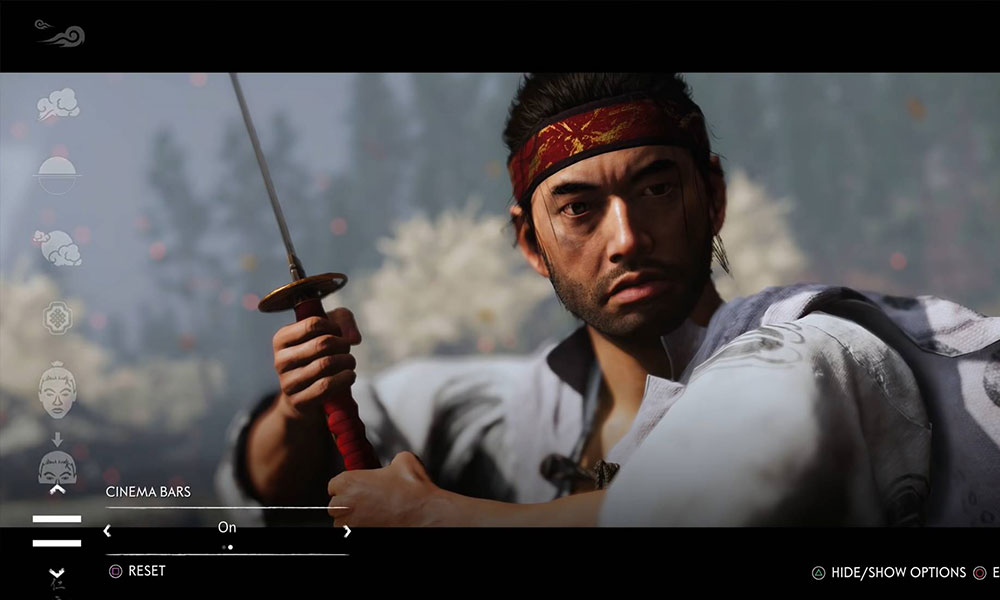 Cinema bars will add black bars in the header and footer portion of the screenshot, giving it a cinema-theatre look.
Stamp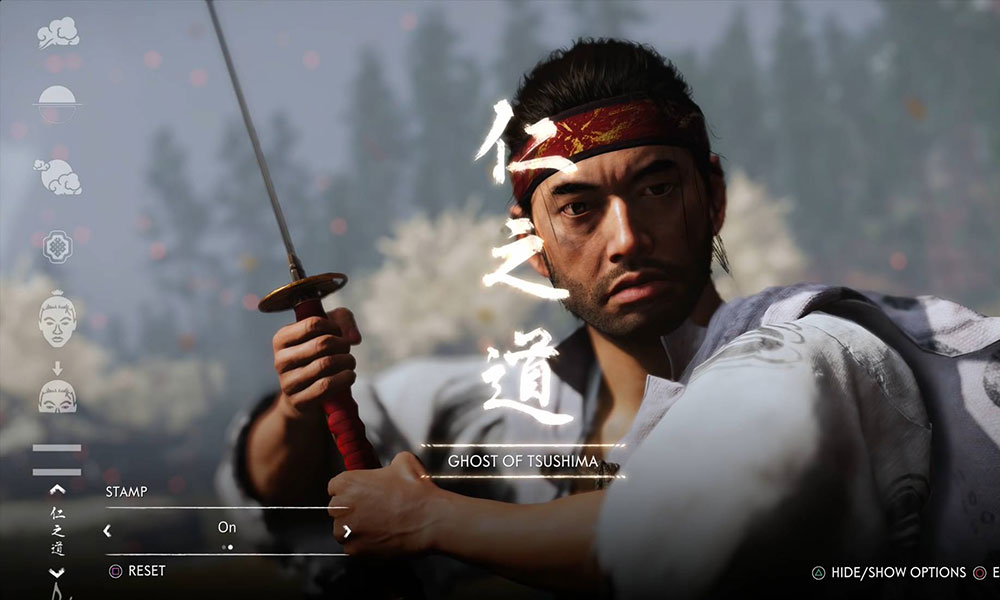 The stamp will add the signature Sucker Punch – Ghost of Tsushima stamp in the middle of the screenshot. It will appear in English and Japanese.
Music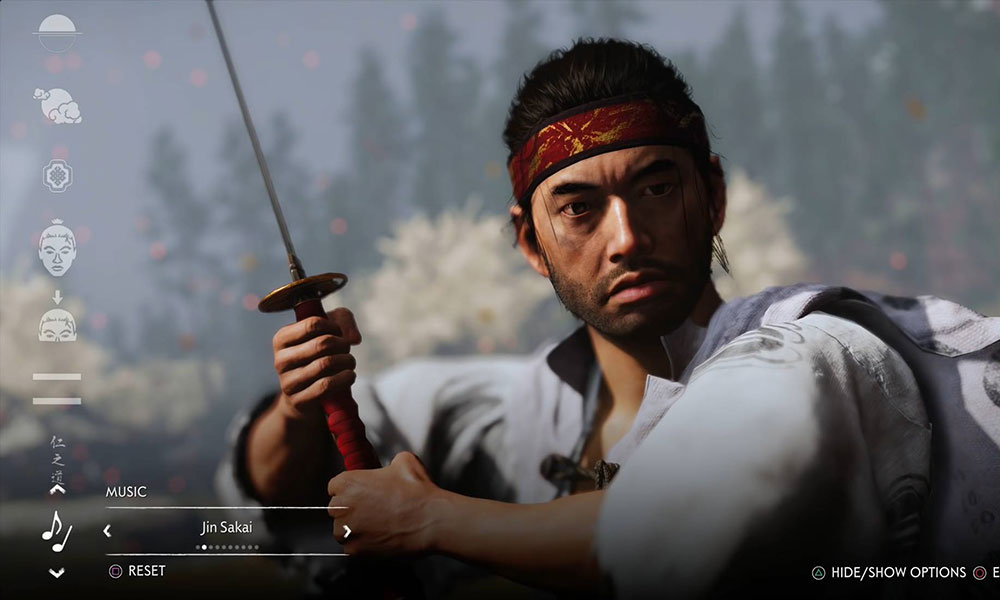 The music feature will allow players to create short video clips of the current screen, by adding various OST of Ghost of Tsushima as background music.
Colour grading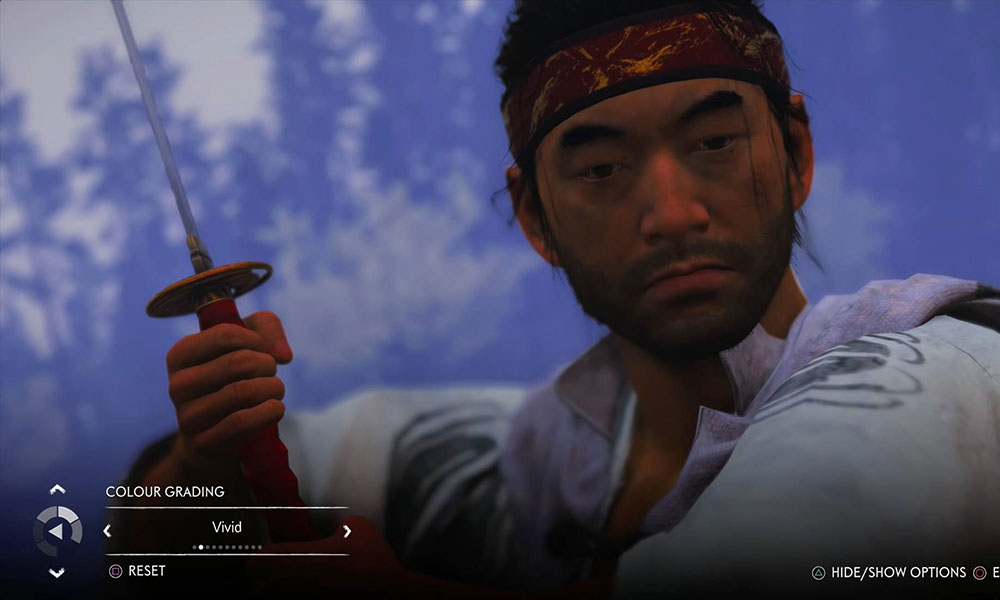 Players can apply a certain number of filters to the current screen based on their preference. The number of filters is limited. However, they do offer different coloring schemes.
Colour grading Intensity
Colour grading intensity allows players to tweak the intensity of a selected color grading feature. All the filters can either be turned down or up based on player preference.
Exposure Bias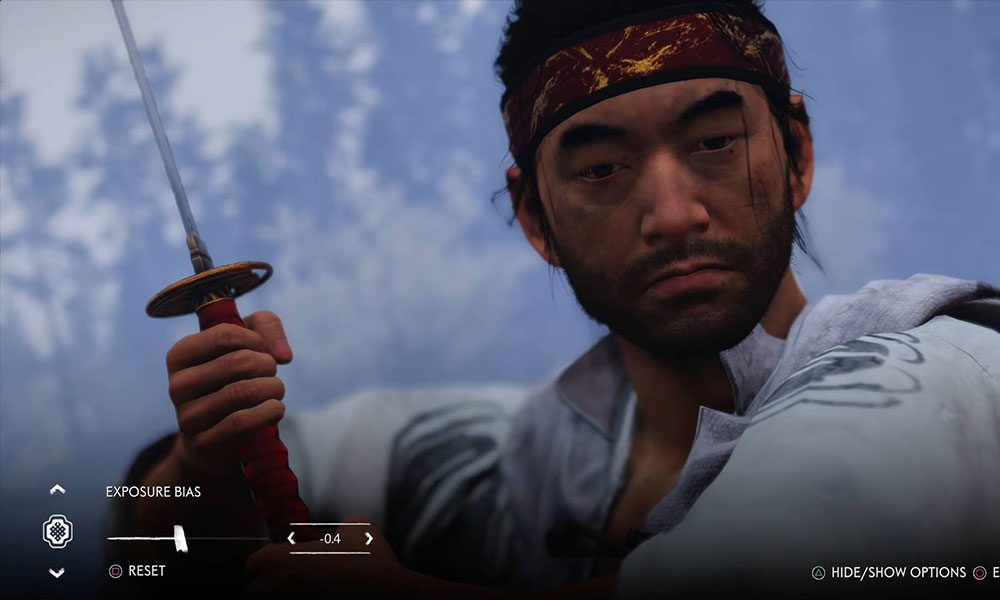 Exposure bias allows players to set how bright or dim they want their screenshot to be. Turning it all the way up will completely white-wash what's on the screen and vice-versa.
Particles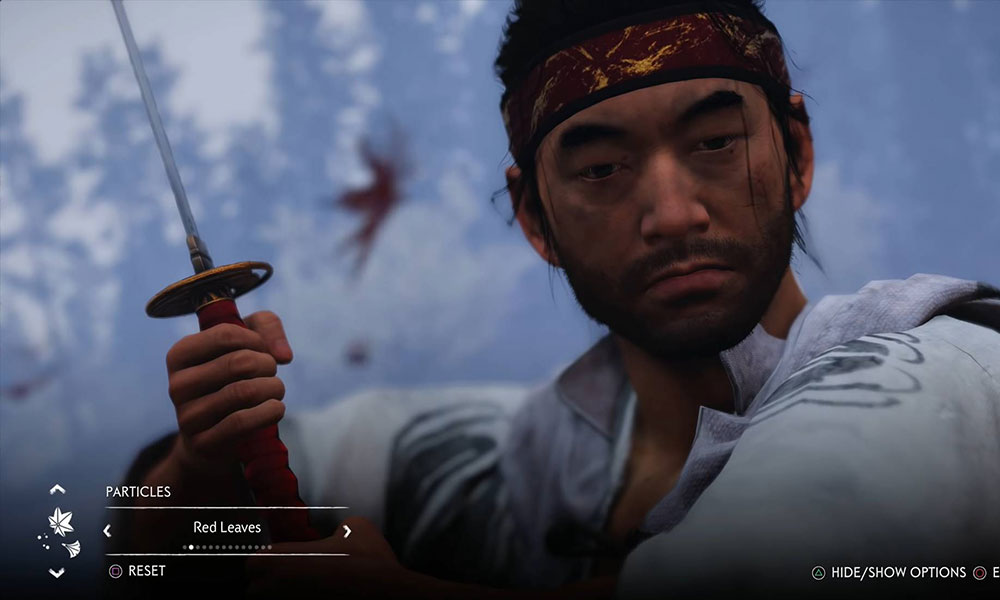 Players can opt to set particles as on/off in the dynamic environment. These particles are all the little things that move about within the screen, such as leaves, bugs, butterflies, flowers, or fireflies. By turning them off in the dynamic environment, all the particles in the scene will freeze.
Particle Intensity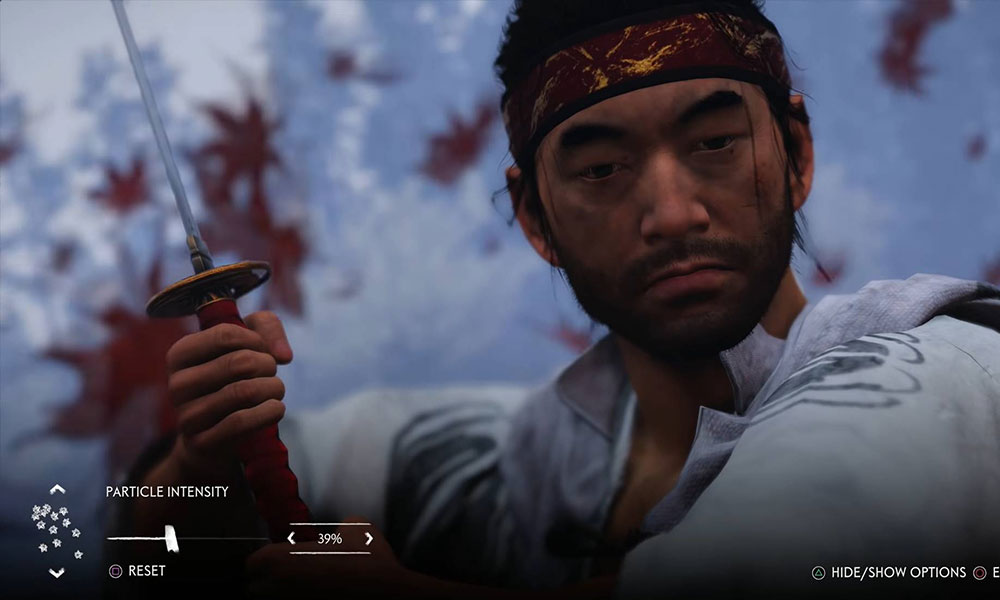 Particle Intensity allows players to define how many particles they want their screenshot to capture. By turning this feature up, will cover the screen with as many relevant particles as possible. Turning this feature down will remove all particles from the screen.
Wind speed
Wind speed allows players to adjust the rate of wind speed in the environment. This feature only works if the dynamic environment is enabled. Players can capture Jin's cape, trees, leaves, and other movable objects that react to the wind's speed.
Wind direction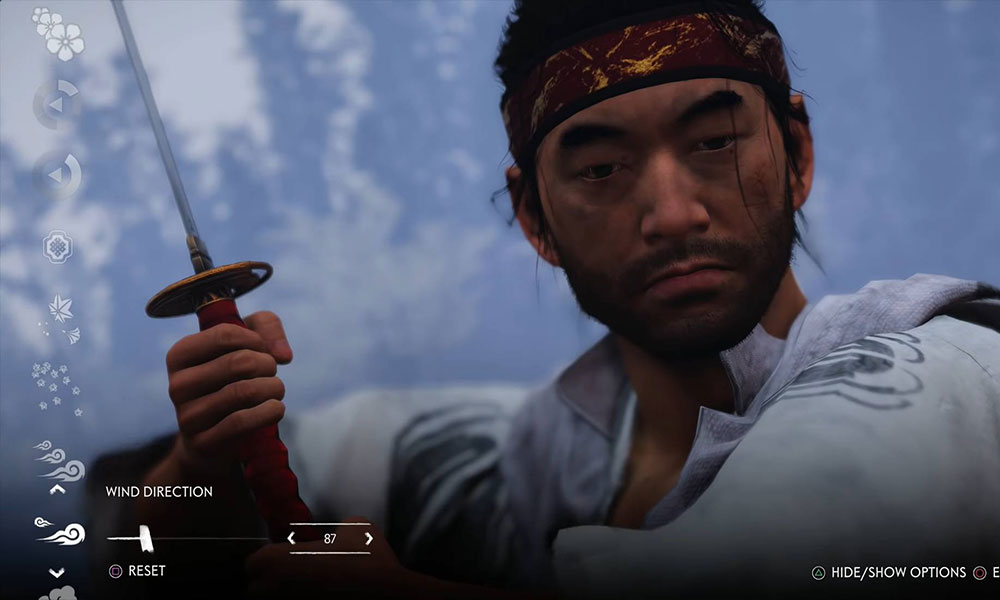 Wind direction allows players to change where the wind blows. Players can control where the particles and other movable objects will point to once there is sufficient wind speed.
Clouds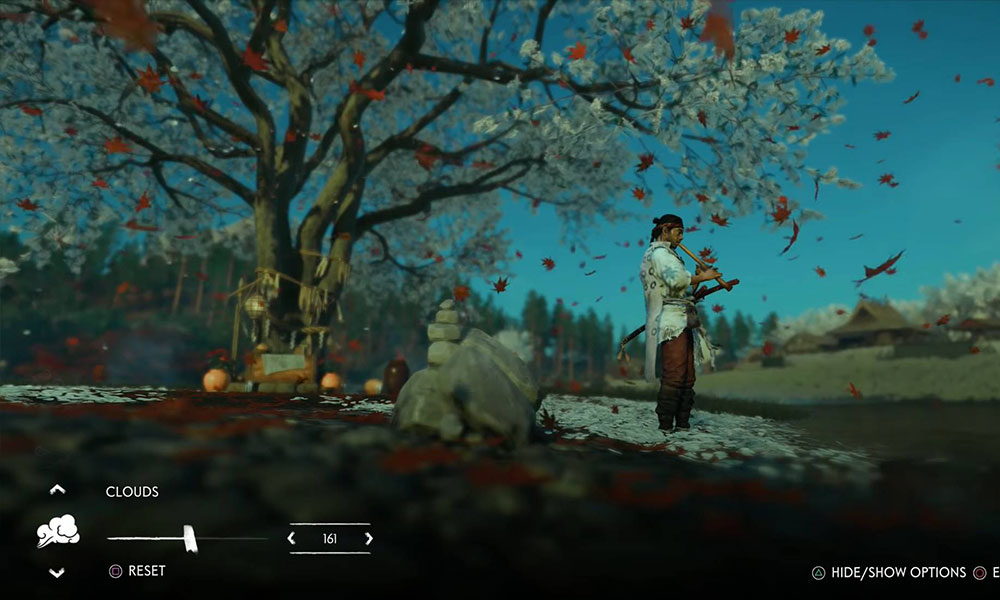 Players can enhance the cloud presence on the screen. However, this feature may not work as effectively with screens where they are little clouds, to begin with.
Players can also adjust the frame of their screenshot to move it upwards or downwards by moving the left or right trigger. To reset the current tab, players can press on the square key on their controller.
How to view screenshots in Ghost of Tsushima
Once players have selected and adjusted the required photo effects, they can press on the square key from their controller to remove the photo mode menu. Pressing the Share key will take the screenshot.
In order to view the screenshots, players can check their capture gallery in their PS4 like with all the other screenshots.
That sums up pretty much everything that players need to know about photo mode in Ghost of Tsushima. The process isn't all that complicated, but it can take up quite a bit of the player's time and energy depending upon the level of details, coloring, and modifications needed.
Creating the perfect shot is possible with the photo mode in Ghost of Tsushima and its wide range of effects onboard.
That's all we have for you. We hope this guide helped you to use the photo mode in Ghost of Tsushima. If you liked this guide, remember to check out our other Windows Guides, Gaming Guides, Social Media Guides, iPhone Guides, and Android Guides to read more. If there are any queries or suggestions, comment down with your name along with the email ID, and we will reply shortly. Also, subscribe to our YouTube Channel to watch awesome videos on gaming and smartphone tips and tricks. Happy Gaming.