Doom Eternal, sometimes also referred to as Doom 5. It is a first-person shooter video game that was launched on 20th March 2020. The game is available for all major platforms including PC, Xbox One, and Play Station 4. A version for Nintendo is also planned; however, it will come up later. Doom Eternal is the direct sequel to the Doom 2016 video game. And these are all part of the Doom series developed by id Software company, America.
Doom Eternal, when launched, mostly received excellent reviews. And everyone praised the game for its storyline, campaigns, graphics, visual effect, and a great soundtrack. The game within ten days of its release sold more than 5 million copies. That can be considered significant even in the time of Outbreak. Now this game has a variety of outfits and skins that can be claimed by the player once he completes a specific mission. However, the gamers are interested in getting the fabulous gear that is Gold Armour Skin. The outfits don't give any special powers or abilities. They are just for flair. So now we have brought this guide for the users to hint them on how they can get this Gold Armour Skin outfit. So let's start.
How to Unlock Gold Armor Skin on Doom Eternal?
Blood and Viscera are the two leading fashion equipment in the Doom Eternal, and so is the Gold Armour Skin. But to be honest, getting the Gold Armour Skin in Doom Eternal is a reasonably difficult task. That can be completed by some players only. However, you must never lose hope and think that you are among those some players who will get the Gold Armour Skin. So let's get to know the ways by which you can get that.
Firstly, you have to set the game difficulty level on "Ultra Nightmare." As the name suggests, its a real nightmare to complete the game in that mode. But all you can do this, just keep on playing in a rip and tear fashion. And the Dooms Gold Armour Skin will be yours. But fret not, its really not that difficult if you have the courage and confidence you can easily get that.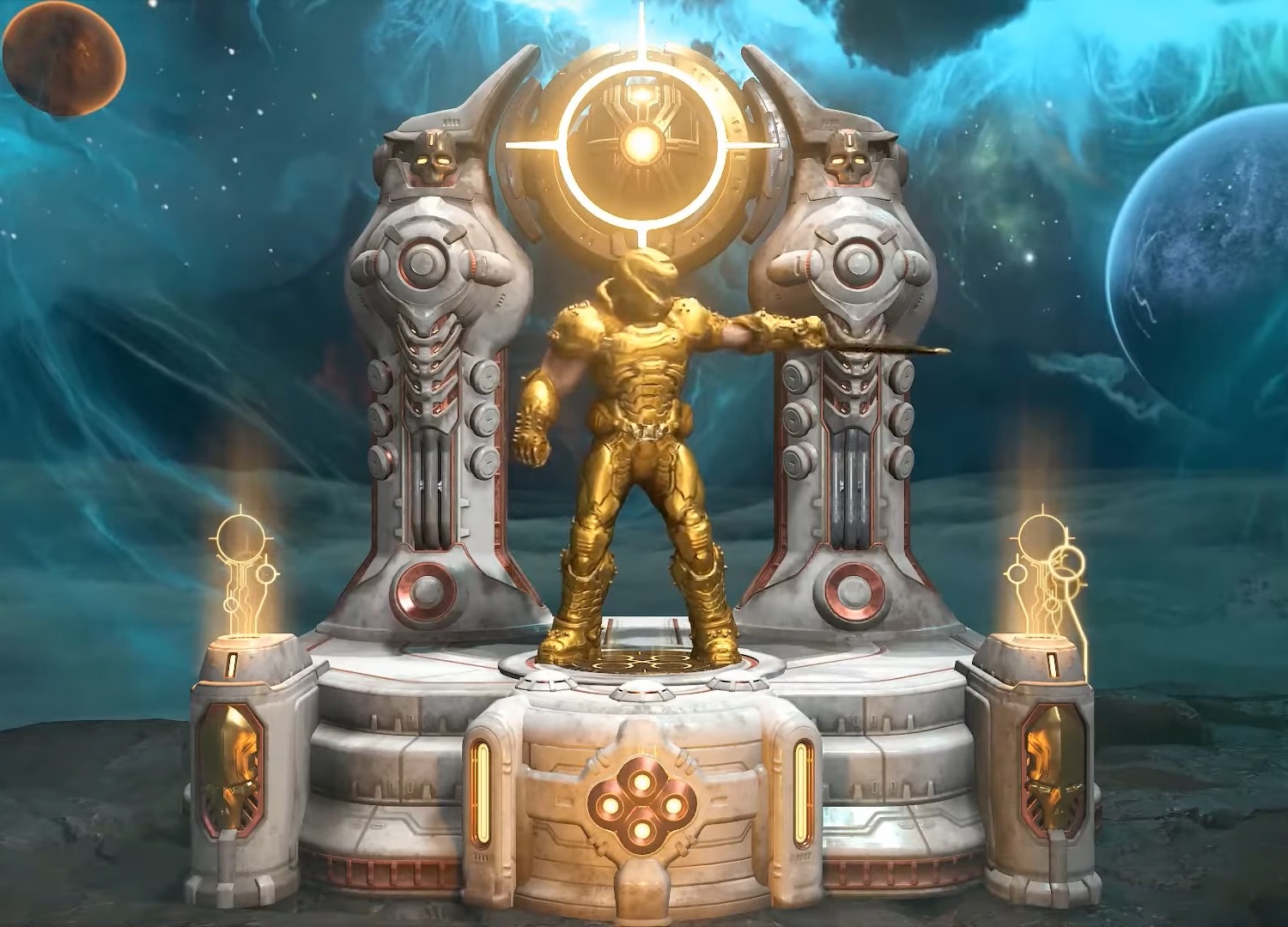 Gold Armour Suit must not be confused between the Phobos Armour that is also in golden color, but getting that one isn't that tough. You can get the Phobos Armour by completing the extra live mode with ten extra lives in your hand, and you will be rewarded with the Phobos Armour.
When you play the game in Ultra Nightmare mode and win that, you not only get the Gold Armour Skin, you also get a glory avatar. That is the Immortal Banner. If you get the Immortal Banner on your Avatar, the player on your opponent will be frightened to fight with you. Afterall you are one of the great Doom slayers who have earned the reward. So the primary key to this Gold Armour is confidence and courage. Happy Slaying.
Wrap-Up
This guide to help the players who want to get the impossibly shiny Gold Armour Skin. After following our guide and playing with dedication, they will be able to achieve it. We hope this guide was helpful to you. If you have any queries or feedback, feel free to comment down below with your Name and E-mail ID. Likewise, check out our iPhone Tips and Tricks, PC tips and tricks, and Android Tips and Tricks for more such tips and tricks. Thank You.