August Month is here! Finally, Google is ready with another security patch for the new month. Google started rolling the August security Patch 2017 for both Nexus as well as Pixel line devices. The roll out has begun and it is still supporting Nexus and Google Pixel device. This is for the device still running the Android Nougat and not for Android O Developer Preview.
You will start seeing the notification in next few weeks on your device. If you can't wait for the notification to hit your device. Then you can flash the entire factory image and sideload OTA. However, users are not recommended to go with flashing option as it is a lengthy and complex procedure. It can also make your device run out of every installed app and stored data. We recommend waiting for the OTA update to reach your phone.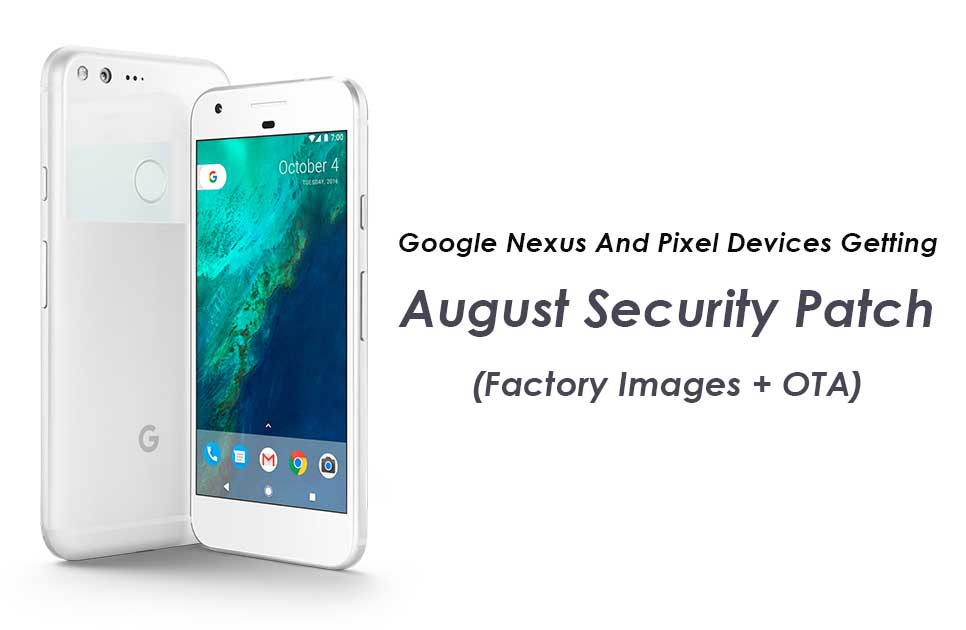 Google Nexus and Pixel devices getting 2017 August Security Patch
Supported devices for Google August Security Patch update are Pixel XL, Pixel, Pixel C, Nexus 6P, Nexus 5X, Nexus Player, Nexus 6, and Nexus 9.
According to Google, latest August 2017 Security Patch update resolves many issues in the security patch dated 2017-08-01 and 2017-08-05. Click Here for detailed info about this Security Update. This update is mainly focused on fixing the security issue to safeguard from the malware and vulnerabilities. With this update, you can expect some minor performance improvements. We always recommend to flash latest monthly security patch update on your phone to keep your phone safe from various security vulnerabilities.
If some individual experiences are to be believed, there are separate build of the August security update for Nexus and Pixel devices bought from Verizon, Fi carriers as well as Deutsche.
As per a community of users, the true reason for August security Patch is to eliminate the sporadic freezing issue arriving since a few weeks on Nexus and Pixel devices. Many people are checking the already live OTA and factory images to grab more and more information on this. The update has already started rolling out through OTA and will continue for weeks to come. Therefore if you were eagerly waiting for the same, the time has finally come for another update for you Nexus or Pixel phone.
Here is the download link to flash Factory Image on Pixel and Nexus device :
Pixel Supported device for August Security Patch 2017 :
Pixel XL: Android 7.1.2 —NHG47Q (Verizon), NJH47F, NKG47S (T-Mobile, Fi carriers), NZH54D (Deutsche Telekom)— Factory Image(2) (3) (4) — OTA (2) (3) (4)
Pixel: Android 7.1.2 —NHG47Q (Verizon), NJH47F, NKG47S (T-Mobile, Fi carriers), NZH54D (Deutsche Telekom)— Factory Image(2) (3) (4) — OTA (2) (3) (4)
Pixel C: Android 7.1.2 —N2G48C— Factory Image— OTA
Nexus Supported device for August Security Patch 2017 :