Google I/O 2018 brings us a lot more than just Android P and smarter intelligence. Power of AI now reflects on Google Photos too. New updates are now rolling for the Photos App. One of the new feature users are going to experience is the color pop feature. It will smartly keep the color of the subject of an image while the backdrop will be turning to black and white.  To be able to enable Google Photos Color Pop Feature you need to update the App to the latest version. The Photos App v3.20.0.196057580 enables this feature. The updates are now gradually rolling out to everyone. Users can check their Play store for updates.
Though this feature looks promising, there is no scope for manual color pop. A user cannot use it as per there own wish on any image. It is more AI driven, as it will pick and color pop an image and ask the user to save it. We believe maybe this feature is still under testing. Personally, we updated our device to the latest version of Photos, but we never got a smart suggestion to color pop any image.
This feature and the fact about non-manual edit was revealed by a Reddit user who shared a photo that was smartly picked for color popping. Here is that image which sources back to that user. He says with AI power, photos App will select a suitable image. Then it will do the color popping in the background. One cannot simply apply this feature on his own.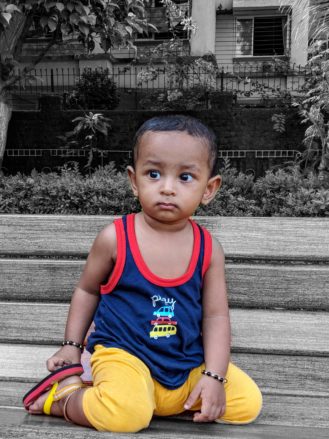 As you can see the subject of the image which is the child and the color of his body and clothes remain colorful while the background is black and white.
As the update is still in its early phase of rolling, instead of waiting you can download the latest version 3.20 of Photos App from APK Mirror to enable the color pop feature. Apart from the Google Photos color pop feature, AI will now direct the users to enhance an image on its own like adjusting contrast and brightness.
So, grab this new Photos App update and see whether AI picks up any image and de-saturates it on its own. Share your experiences with us.