The Nagasaki Ultralight Glider is a really fun glider to enjoy the spectacular city of Grand Theft Auto V from the aerial view. It has really lovely handling and is very beautiful to look at.
Suppose you are wondering how you can get yourself one free. Well, we are here to get you a Nagasaki Ultralight Glider for free in Grand Theft Auto V.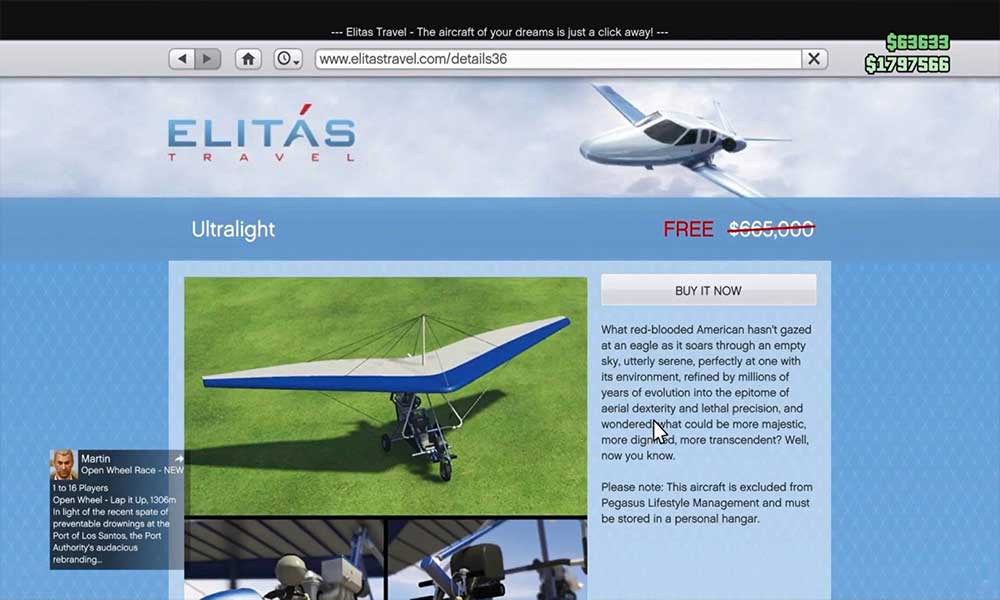 How to get the Nagasaki Ultralight Glider?
The next week is going to be very interesting. Rockstar Games is going to do a giveaway of the Nagasaki Ultralight glider. This glider would have otherwise cost you $500k when you were at the Elitas Travel.
The Rockstar Games giveaway is said to be a part of the Pilot Week in the Grand Theft Auto Online. This will see a lot of discounts as well as promotions, which will be added to the game this week.
You can expect double rewards on the Air Cargo Sales, double rewards at the Flight School, and triple rewards in the Stockpile game mode. You can also get the Hangars and other Upgrades at 50% off. This discount will be accompanied by a selection of vehicles as well as garage properties.
If you are a Twitch Prime owner with a Rockstar Games Social Club linked to it, you will be rewarded even more. These benefits include free cash as you play the Grand Theft Auto V throughout this week. You can earn up to GTA $1,000,000 during this week.
We hope this guide helps you get the Nagasaki Ultralight Glider in GTA V online. If you liked this, do remember to check our other Windows Guides, Gaming Guides, Social Media, iPhone Guides, and Android Guides to read more. If you have any doubts or feedback, comment down with your name along with the email ID, and we will reply shortly. Also, subscribe to our YouTube Channel for awesome videos related to Android and Gaming. Thank you.