As smartphone technology advances, more consumers increasingly desire to gain as much control of screen real estate as they can. This led smartphone manufacturers to start reducing the size of bezels on these smartphones, resulting in the 18:9 aspect ratio that can be spotted on every major flagship smartphone in 2017. The next step is getting rid of on-screen navigation buttons, but OEMs haven't started implementing this by default, so users have to find a way to do it themselves. If you wish to activate gesture-based navigation on Pixel 2 and Pixel 2 XL, here is a guide to help you.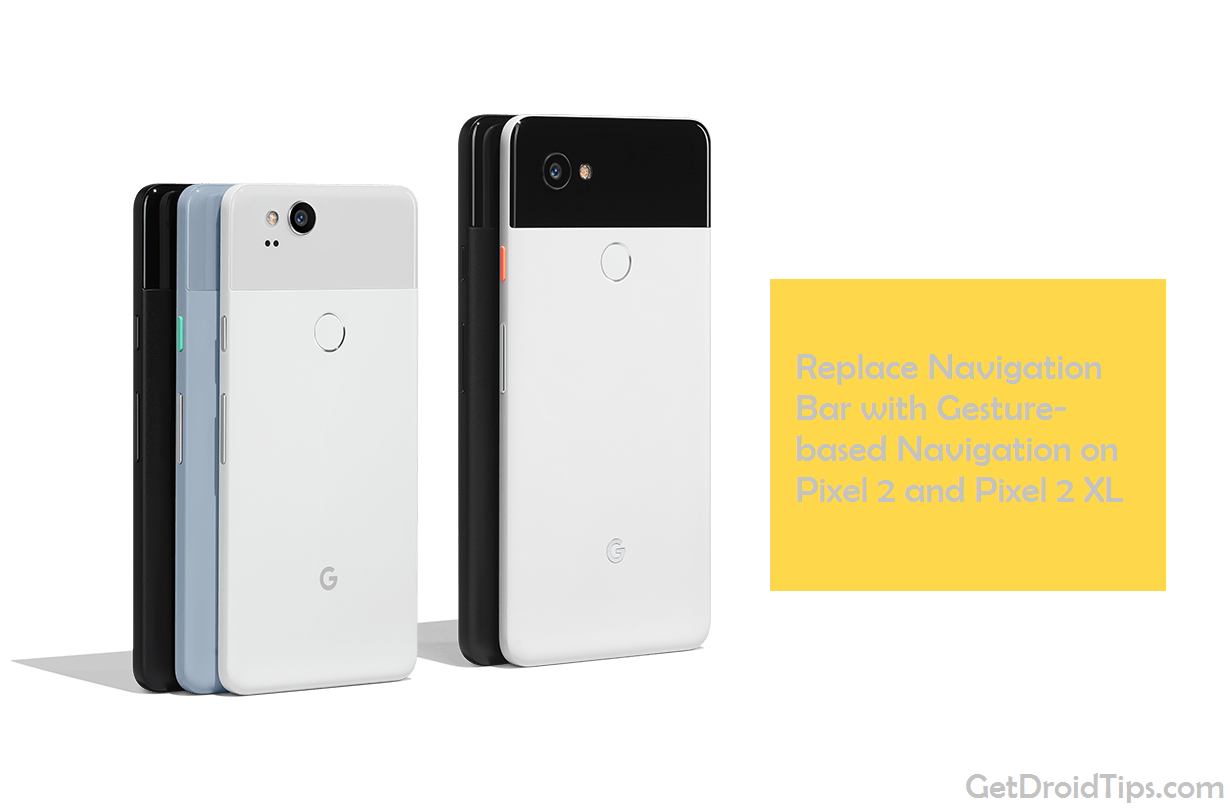 We've published numerous guides on how to remove the navigation bar on many smartphones and replace them with applications designed to enable navigation by gesture. The option to do this has even be added by default in the latest beta software update for the OnePlus 5T, but for Google's Pixel devices, you have to go through a longer process to get it done, or wait in hopes that it will be added as a default option in a future software update like in the case of the OnePlus device.
There are a few things you need to set up on your Pixel 2 smartphone before you can do this, though, and I will describe them below. If you've done these before, you can skip them and go straight ahead to the process of replacing the navigation bar with gesture-based navigation on your smartphone.
Pre-requisites
For this tweak, you'll have to flash a zip file through recovery, and the custom recovery we use for this is TWRP Recovery. Thus, you need to install TWRP Recovery on your device, and for this, you need to unlock your bootloader.
Unlock Bootloader on Pixel 2 and Pixel 2 XL
Your bootloader needs to be unlocked before you can install TWRP Recovery or any custom recovery on your smartphone. We have an extensive guide on this, but here's the summary of how to unlock the bootloader on your Pixel 2 and Pixel 2 XL:
Install ADB and Fastboot on your PC.

Enable Developer mode on your Android device by tapping continuously on Build Number in your phone About Phone settings.
Open up the Developer Settings, find the OEM Unlocking settings and toggle it on.
Next, you need to unlock your bootloader. If you've performed an advanced tweak on your device before, you've probably done this and you can skip this step. Note that unlocking the bootloader will wipe your device data.
Run adb on your PC with your device connected via USB cable.
If your smartphone is running on Lollipop (Android 5.1) or lower, run the following command fastboot oem unlock. Else if it's running on Marshmallow (Android 6.0) or higher, run fastboot flashing unlock.
Use your Volume buttons to move up and down and highlight Yes, then press your power button to confirm the process and your bootloader will be unlocked.
Install TWRP Recovery on your Pixel 2 and Pixel 2 XL
We've published an extensive guide on how to do this, but here's a summary:
Download the latest TWRP img file here and extract it into the same folder in which you installed ADB and Fastboot.
Power off your device.
Boot the device into bootloader. To do this, press the Volume up and Power buttons together until the bootloader menu comes up.
Connect the device to your PC via USB.
On your PC, navigate to your ADB installation folder. Right-click on an empty space within the folder while holding the shift key on your keyboard, and click Open command window here.
Run the following command in the open command prompt:
fastboot flash recovery [filename.img]
Please replace [filename.img] with the name of the TWRP Recovery img file you downloaded followed by the .img extension.
The flashing process will begin. Once it's done, run fastboot reboot to reboot the device. You now have TWRP installed on your Android smartphone.
Download
Process
Copy the file downloaded above into the root of your phone's internal storage.
Boot your Pixel 2 smartphone into TWRP Recovery.

Turn off the phone.
Press and hold the power button and volume button together for some seconds until the phone boots into recovery.

On TWRP main menu, click Install.
Navigate to the location of the file in your internal storage and select it.
Swipe the confirm flash button to begin flashing the file.
When the flashing is done, click Reboot on the TWRP main menu to reboot your smartphone.
What Next?
Once you reboot your smartphone, you would want to immediately go to the Google Play Store and install a gesture navigation application because the navigation bars would have been removed and you won't be able to go back, home or open the Recent Apps menu again. You can try Swipe Navigation as we've confirmed it to be one of the best options among the hordes of applications that offer the same functions on the Play Store, but you can also try out Pie Controls.